Biddable World 2014: What We Learned About Digital Advertising
On Tuesday 21 January 2014, a bunch of us headed over to Bloomsbury in London for the first Biddable World conference. As the name suggests, it was focused on biddable media, with speakers covering topics across paid search, display, and Twitter and Facebook advertising. Overall, it was a great day offering something for everyone, from relative newbies in the biddable media space to old hands.
I particularly enjoyed gaining insight from speakers who use digital advertising from different aspects of business. Agencies, clients and those who work in technology all have their own take on the subject, and it was interesting to hear what everyone had to say. A particular mention has to go to Nick Christian from Lastminute.com for what seems to be the most popular slide, judging by the number of retweets it received.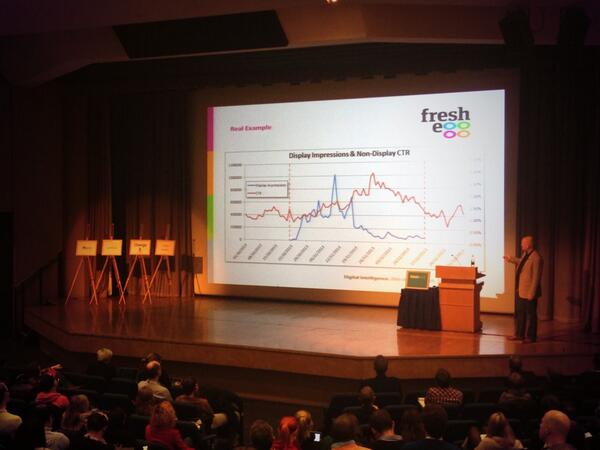 Fresh Egg's head of international search, Nate Wood, presenting at Biddable World 2014
And, of course, our very own Nate Wood (head of international search at Fresh Egg) delivered a talk with some fascinating insight and research into the power that view-through advertising has on brand perception, how this can affect your direct response campaigns, and how you can go about measuring that impact. If you weren't lucky enough to see him live, you can take a look at his slide deck below.
Here are some highlights from the team at Fresh Egg. You can also join in the conversation on Twitter using hashtag #biddableworld
Nicola Moody, senior account manager
"For me, one of the most interesting topics discussed at the Biddable World conference was the move towards 'flow/sequential advertising' – this was discussed by Martyn Bentley at Chango and Jon Myers at Marin, as well as being alluded to by various other presenters throughout the day.
"According to Martyn's research, it's estimated that people swap between devices around 21 times per hour, e.g. phone to PC , TV to tablet etc., and the number of people viewing multiple screens, e.g. watching TV and using a tablet at the same time, is only set to increase during 2014. Given how seamlessly consumers move between devices and screens, it makes sense that advertising needs to evolve in this direction.
"It was interesting to hear Martyn's thoughts on how the future looks – making connections between what someone is viewing on TV and serving them related ads on their hand-held devices and/or PCs, allowing a seamless flow between devices as they watch, research and purchase. In terms of targeting this is a very exciting development – it will allow advertisers to target consumers seamlessly across devices and in real-time, based on what they are viewing, and subsequent messaging or whether to service people further ads at all can be determined based on the viewer's reaction to the first ad.
"The other exciting development related to this is the same thing happening across digital and outdoor – Martyn talked about the idea of outdoor digital display panels pushing messages to people real-time – when they are standing at a bus stop, tube station etc. – by linking up with their mobile device and what they are viewing on it at the time. I think the whole idea of a seamless viewing/browsing/shopping experience across devices is a very exciting development and one to watch!"
Lisa Rippon, account director
"The thing that really resonated with me (not solely related to biddable media) was another prediction for 2014 that Martyn Bentley at Chango made: marketing 'silos' will continue to disappear as it becomes less clear who is responsible for a particular conversion within a business.
"With multi-device advertising innovations and consumers being exposed to so many different forms of advertising every minute of the day, there are ever-increasing issues around attribution. Who takes credit for the conversion when it's often influenced by so many different channels and on so many devices? With this in mind, it makes even less sense for teams to work in silos than ever."
Stuart Stubbs, web developer
"As a developer I have not had much exposure to PPC and display. The conference helped as it gave an exposure to a variety of different areas. My main take away from the event is that it is very important that all of the teams in a digital agency, from social to design, need to work closely together as technology is moving forward very fast. The main focus for every area is moving towards a 'person', from likes, dislikes, age, gender, and location, including offline and online activities. This being said, there are many areas of advertising that everybody sees on a daily basis that we don't even realise, with mobile activities ever increasing and becoming more important."
Will Barnes, junior SEO engineer
"Playing with Twitter on and off for a few years, I was quite excited to hear that there would be a talk on Twitter advertising by Heather Robinson. Her talk looked at a number of tips that every social media strategist should have at their disposal, as well as suggesting an awesome technique of promoting your most engaging tweets that are tracked in your Twitter analytics. I'd never thought of using this little technique on Twitter before, and could really see the benefit of it in understanding what your audience really finds engaging.
"Another little trick that stuck in my mind came from Jon Myers on Facebook advertising. He suggested that your Facebook adverts should be changed every two to three days to keep them engaging; and with the fast paced world of social, where content needs to be fresh to be engaging, I couldn't agree more. Often I will see the same advert over and over again in my News Feed and find myself eventually becoming blind to it – keep those adverts fresh."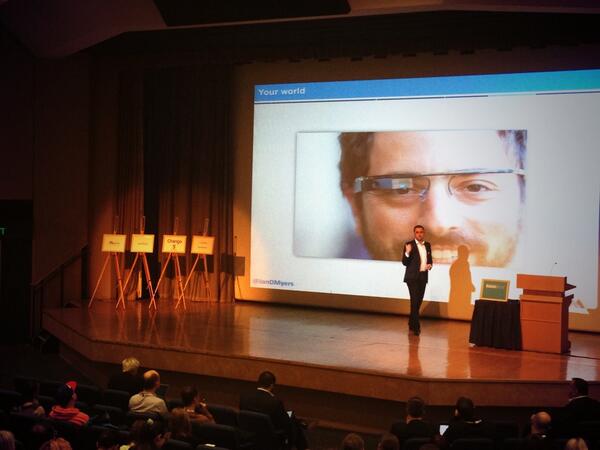 Jon Myers, VP at Marin Software, presenting at Biddable World 2014
Ollie Battams, head of design
"There were some really interesting talks at the Biddable World conference. I went to gain insight into online advertising and took away some really useful tips. My main takeaway was around the importance of knowing your audience and how best to target users through online advertising. There were some interesting facts, along with great tips for advertising through social channels.
"A talk that particularly interested me was from Jim Banks. His talk – Every Picture Tells a Story: The Role of Display Ads in the Biddable Media Mix – was about display ads and how you can use them to create certain reactions from users by using graphics and text in certain ways."
So there you go, great to see so many insights and learnings from the team over here at Fresh Egg. For me, there seems to be an ongoing trend in the last few years of talking about multiple devices, multiple channels and attributing properly across all of these (and now Google's Universal Analytics promises that you'll be able to pull in offline sales data), but we're yet to see anyone convincingly come up with a solution to properly attribute across all of these.
Channels are still often managed separately, and the majority of marketers still seem to be working on a last-click attribution model, despite admitting they don't consider it to be the correct one. Could this be the big thing in 2014?
Want to know more about paid media and advertising, and how it can be used to help your business? Contact the Fresh Egg team today – we're happy to help.