CRO and the Customer Journey - tips for transaction
My last blog looked at how CRO can optimise your website for the research and consideration stage of the customer journey. Now it's onto that all-important purchase.
Have you ever wanted to buy something so much, that you didn't care how painful and time consuming it was to buy? Maybe the item was only available on one poorly optimised website, and you had to persevere through usability hell to purchase.
You fought and stumbled through:
Re-completing forms
Calling customer support
Setting up an account with a password that Einstein would be impressed by
Ten points for dedication. But most of your website users won't be up for wading through such friction.
So in this article let's look at CRO tips to optimise the user journey through the purchasing stage, using some techniques we employ here at Fresh Egg to improve customer experience and ease purchase decisions.
The selection and transaction stage, the ultimate tipping point in the conversion journey
10 CRO Principles to optimise the selection and transaction stage of the customer journey
Employ these principles to help persuade, build brand confidence, remove blockers and provide customer satisfaction at a crucial time in the journey.
1. Run surveys to understand your user's language, needs and fears
Surveying your users at different stages of the purchasing process will help uncover what may be hampering their journey of checking out.

For example:
Survey users before checkout, especially if you can target those who appear to be on the fence about purchasing. Be careful you don't put them off making a purchase – this survey shouldn't be intrusive and it'll be key to monitor user behaviour.
You could ask, Did you find everything you were looking for? Or; Do you have any concerns before purchasing today?
Survey users after they've checked out, and before the thank-you page.
You could ask, What convinced you to buy? Or; Was there anything that made you hesitate before buying?
Top tips for running surveys:
If you have high traffic, try an optional survey accessible from the corner of a page.
If you have low traffic, try a modal overlay popup – but monitor for performance impacts.

A modal popup can return 8x the response rate vs. an optional survey positioned in the corner of the screen, but should be used with caution:
Ensure users can easily exit the modal and that it doesn't hurt their experience (keep track of this by monitoring the exit rate of users).
Ask no more than three questions, ideally ask only one or two.
Ask open-ended questions to uncover honest answers.
500 useable responses should be more than enough to deliver actionable insights.
At Fresh Egg we utilise surveys alongside other research methods to feed into a prioritised conversion optimisation test plan.
2. Show clear prices and fees
As shoppers, we dislike unexpected additional costs. In fact it's the number one reason for abandoning a checkout ( source). Reassure shoppers with no hidden costs and smart messaging.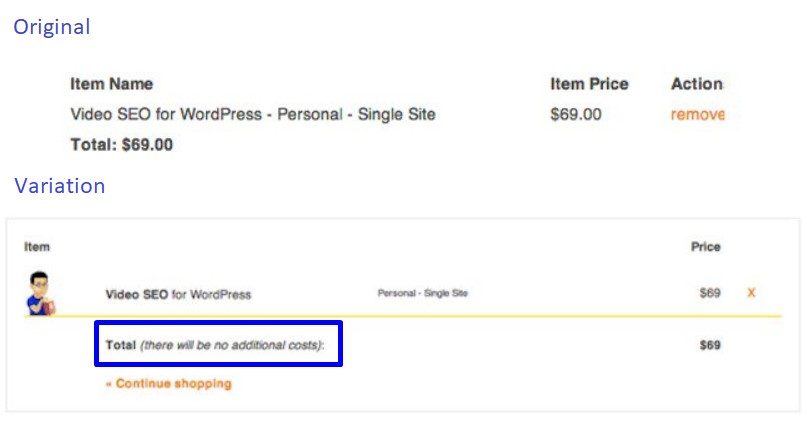 Yoast added copy showing "no additional costs". This, together with additional improvements, produced an uplift of +11.30% in conversions.
3. Ensure experiences are fast
Studies show high consumer expectations for page load times – just two seconds. A performance difference of just 0.25 seconds is enough to make or break a web experience for the user – therefore providing a competitive advantage for the business.
And it's not just page load times that matter – the speed of other on-page elements is also key to success. If you employ an auto-suggest search box for example, ensure it is just as lightning fast as the rest of your site.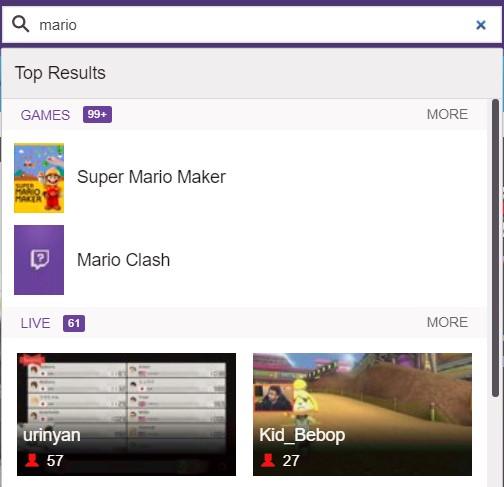 Twitch.tv provide a great example of a fast auto-suggest that with a variety of useful results
4. Analyse the checkout process and optimise forms
Uncover areas of friction on forms with Google Analytics or better yet, specific analytics software. At Fresh Egg we've greatly improved forms and user purchasing experiences thanks to analytics insight tools like Hotjar and Formisimo.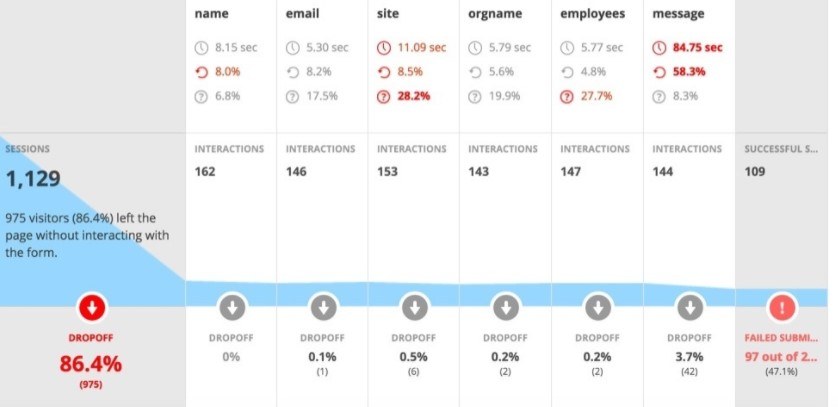 Specialised form tracking tools can quickly uncover areas to optimise your forms (above: Hotjar form analysis)
Nielson Norman highlights 10 best practices to follow for form design – employ as many of these as you can to fully optimise the forms within your checkout process.

5. Keep your checkout process simple and distraction free

Our attention span has fallen from 12 seconds to 8 over the last 15 years. It sounds obvious, but checkout needs to be smooth, simple and distraction free.

Long and complicated checkouts will hamper conversion rates. A US study has shown 27% of online shoppers abandoned an order solely due to a "too long / complicated checkout process". The same study showed an ideal checkout flow will contain only 7-8 input fields, yet checkout flows on average contain 15 input fields (source).

Aside from removing unnecessary form fields, a typical method of speeding up the checkout process is to offer registration at the end of the process (after payment) as opposed to before, or integrating third parties such as PayPal.
6. Convey security and trust
We're more likely to buy from companies and checkout processes that we know and trust (Authority bias). Use copy and imagery to convey security, trust and authenticity.

Threadless.com convey security and trust through both language and imagery, at the payment stage of the checkout journey


7. Make voucher code input areas less visible, or invisible
If we think we've missed a special offer, we're less likely to buy (inaction inertia effect). Additionally, if a user notices a voucher code field during checkout they may leave the process to find a code and abandon the task of purchasing altogether.
Some steps to avoid these pitfalls:
Applying voucher codes automatically , and notifying users during checkout
Significantly decrease the visibility of the voucher code input (for example using a text link)
In one case study, Fresh Egg achieved a 12.9% increase in conversions by de-prioritising the voucher code area and improving the copy on a client's checkout page.
8. Start with small easy tasks, and show progress
We are more likely to commit to larger tasks if we have performed smaller actions already (Commitment bias). Consider your checkout process: are the first steps clear, quick and simple? Dr. Robert Cialdini highlights the commitment bias as one of six key principles of persuasions.
Our efforts increase as we move closer to our goal (Goal gradient hypotheses). A 10 space coffee card with two pre-completed stamps will be completed faster than an 8 space coffee card with no stamps.
Does your reward scheme offer an initial free bonus, or holiday bonuses?
Does your checkout process convey the distance to purchasing?
9. Ensure the transaction ends on a high
We mostly judge experiences on their peaks or by the end of the journey (Peak-end rule). You should consider how to delight your customers after their purchase. Be it at the confirmation page, the email receipt, or when they receive your product.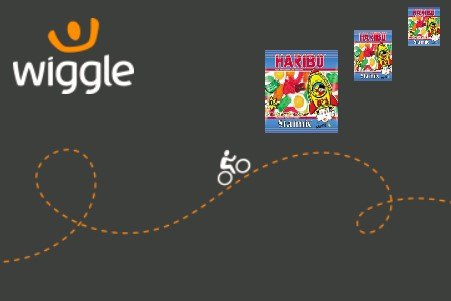 Retailer Wiggle employ the peak-end rule by including a small packet of sweets within every order
10. Add personalisation
Personalisation has become crucial for driving customer acquisition, engagement, retention and an increase in conversions. Classic conversion optimisation focuses on providing the best experience for the average user, but is evolving with the tide of personalisation. Injecting customisation and tailored content into your design will take you to the next level.
Examples of ecommerce personalisation:
Shopping cart abandonment emails
Sending automated shopping cart emails to users who have abandoned the site have always been a smart tactic to encourage them back to complete the purchase.
Product recommendations
Diving into user data to show personalised product recommendations in the shopping cart or on product pages based on previous interactions.
Read our three-part blog series on personalisation:
Part 1: Personalisation – what you need to know and why
Part 2: Why Google Analytics is crucial for personalisation
Part 3: The personalisation puzzle – how to use first & third party data
Fresh Egg case study: 69.9% uplift in revenue

One of our clients saw the following improvements thanks to personalisation on their site:
Product recommendations added at the shopping cart:
+10.8% uplift in revenue, +5.2% uplift in orders.
Product recommendations added at the product page:
+69.9% uplift in revenue, +11.9% uplift in orders.
Shopping cart abandonment emails
+£18,540 in additional revenue per annum.
We improve customer experiences throughout the purchasing journey for all of our clients.
Learn more about how customer experience journey mapping and CRO can transform your revenue just like the above example with our free online video training series on all things CRO.
Got a question? talk to us .
Make your website work smarter and turn more visitors into paying customers.
Our FREE CRO training series will help you identify and break down the barriers to conversion on your site, increase revenue and maximise ROI.