Integrating CRO: How to Ensure Conversion Rate Optimisation and Social Media Work Together
The strength of any digital marketing campaign is found in combining your resources and channels to achieve the greatest impact possible. All of the marketing channels a company utilises can work in their own silos, but they will never reach full potential if they stay in those silos.
In this latest blog post of our integrating CRO series, we look at how conversion rate optimisation (CRO) and social media can work together to get the most out of your social campaigns and split testing.
How can the two disciplines complement each other?
In this section, we give examples of how CRO and social media can complement each other.
Testing social content
Any form of content you own on social media platforms can be tested and optimised for your target audience – for example, advertisement and organic messages. Optimising your social media content could prove beneficial for your site traffic, by bringing a greater number of engaged visitors to your site, or improve the engagement with your social activity on the platforms themselves.
With little effort, you can split test the effectiveness of your organic social messages and content. For example, you can experiment with posting content in different formats – trying different messages and copy, or testing to see whether attaching images impacts engagement or click-through rate (CTR). Although this type of split testing will never be completely scientific, limiting the variables – such as the time of day you post – should still give you valuable insight.
After Twitter's update in October 2013 to make images attached to tweets automatically open, HubSpot tested whether attaching images to tweets had an impact on the number of leads generated via the platform. It found a 55% increase in leads when images where attached. HubSpot's method involved posting the same message on different dates, but around the same time of day – one tweet with an image and one without.
Below is an example of one of HubSpot's Twitter experiments:
How to Create Five Fabulous Infographics in PowerPoint http://t.co/t4T61Esbrj pic.twitter.com/MOK3TWV9tU

— HubSpot (@HubSpot) November 2, 2013
How to Create Five Fabulous Infographics in PowerPoint http://t.co/QNvq7LVEkp

— HubSpot (@HubSpot) November 3, 2013
Although the examples shown above display great results for HubSpot's testing efforts, this does not necessarily mean that the impact will be the same across the board. Almost every website is different in its functionality, service offering and audience – as is every social media platform. Therefore, just because a particular approach has proved effective for one business, doesn't necessarily mean it will be effective for you. This is why Fresh Egg always advises to test any changes you make to your own online presence.
Audience intent and personalisation
At this time where personalisation of online experiences is seen as the next big thing to engage audiences, it is important to not only know who your target audiences are, but also if they behave differently towards your company on different platforms.
Personalisation begins with understanding audience intent and behaviour – what your target users are looking for, how and where they are looking for it and why they are looking for it. It is also important to understand that the same user may behave differently on different social media platforms.
A company that understands this and adjusts its outgoing messages accordingly is KLM (Royal Dutch Airlines). The company has a dedicated social media response team and knows how to engage users on different channels.
It uses LinkedIn for more serious and informative content, Facebook for lively conversations and discussions, and Twitter for quick one-liners and a few jokes (as seen in the examples below).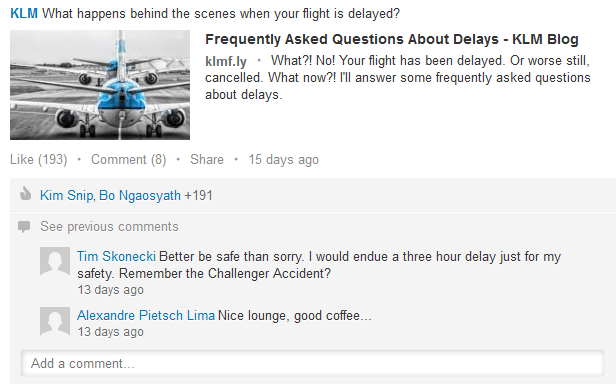 KLM on LinkedIn, where it sends out more informative messages
----------------------------------------------------------------------------------------------------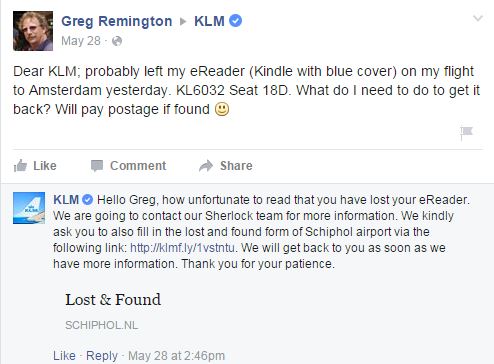 KLM on Facebook, responding to questions
----------------------------------------------------------------------------------------------------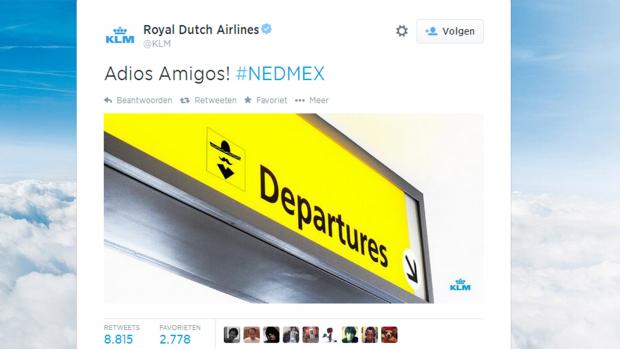 KLM on Twitter, tweeting jokes during the football World Cup in Brazil (photo credit: KLM)
----------------------------------------------------------------------------------------------------
 In actual fact, this KLM tweet caused a fairly hefty social media backlash. The tweet referred to the Mexican football team, who had just been knocked out of the 2014 World Cup by the Dutch team. However, it did get nearly 10,000 retweets and 92,000 @KLM mentions, before being deleted and apologised for.
As well as this, personalisation in terms of social media isn't just confined to the platforms themselves. A simple way of providing onsite personalisation to your site users is to have a different web experience, depending on the traffic source the user arrived from. To continue the KLM example, users from LinkedIn are probably more likely to be looking for detailed and informative content, so it stands to reason that this is the type of content they should be presented with when they visit the website via that platform. In contrast, lively and conversational content could have a stronger impact on visitors coming via Facebook.
Optimising social sharing
Although social sharing is often seen as a micro conversion for a company, it can have a large impact in the future and on brand awareness. Making it easier and more user-friendly to share your content can actually have a large impact on your users' sharing behaviour.
A good example of testing social sharing buttons comes from BuzzFeed, which has seen great success in optimising its social sharing buttons. It started out by testing the shape and location of the buttons, before moving forward to some more complex tests, i.e. platform- and referrer-dependent buttons. BuzzFeed changes the order of the buttons according to the social platform the user came from. For example, if a user comes from Twitter, the first share button in the row will be for Twitter:

(BuzzFeed's standard and Facebook-referrer share buttons)

(BuzzFeed's Twitter-referrer share buttons)
Get test inspiration from social media
Social media is also a great source of test inspiration – looking at what your customers are saying on your own social media profiles can highlight usability problems that need combatting.
There are users who take to social media platforms to complain or compliment your services. In the complaints, you'll find direct clues as to where users are struggling and need more help. An example of a company monitoring its social media coverage to improve user experience is fast food chain
. People were worried about eating at the restaurants because they didn't know the nutritional content of the food served. Wendy's then created a dedicated page with the relevant nutritional information.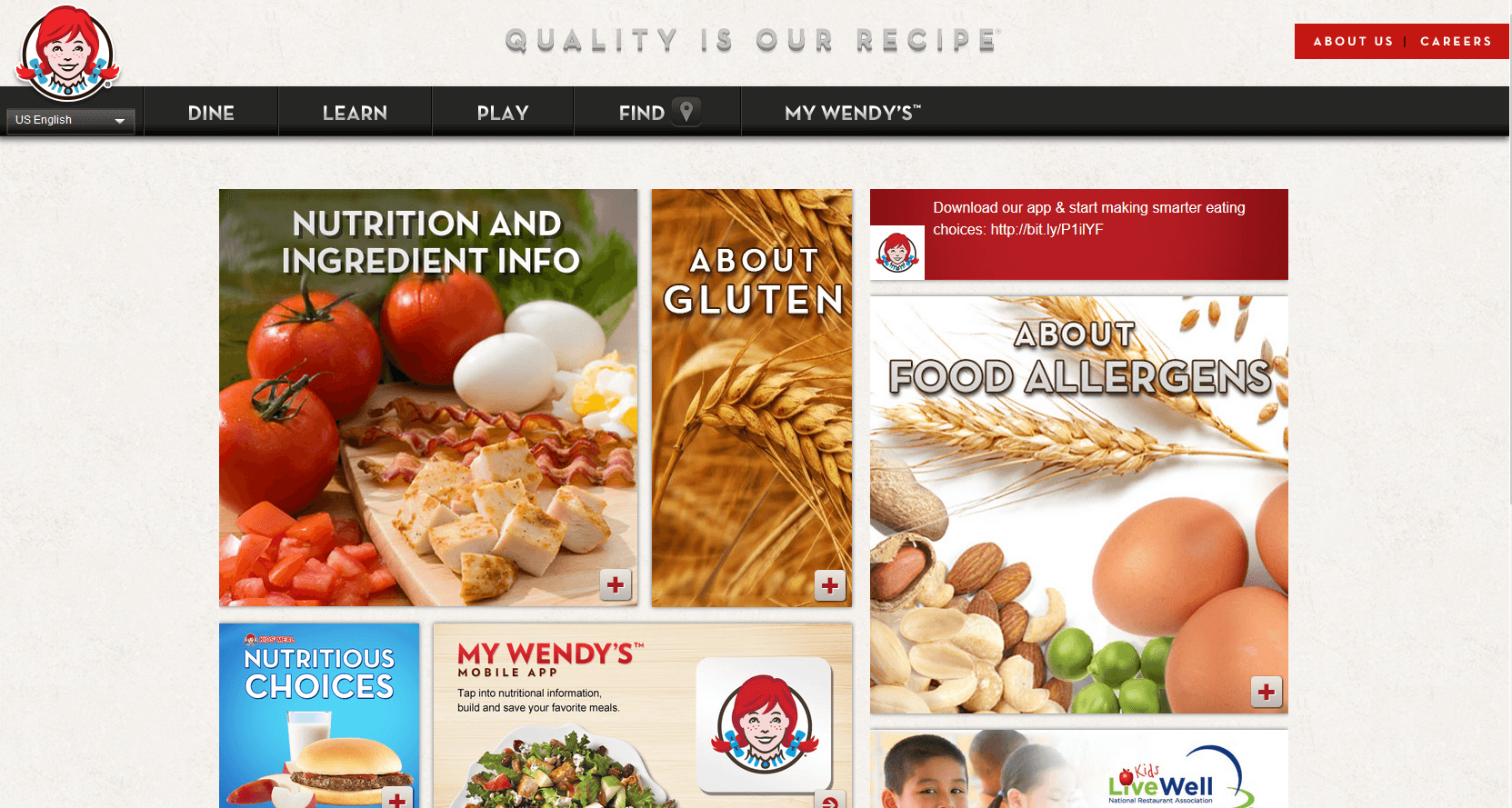 (Wendy's dedicated nutrition page)
In the compliments, you'll find opinions about your brand that you may be able to use in your marketing or display more prominently on your website. For example, an online retailer might notice that customers talk about its delivery time positively on social media. The business can then use this in new marketing efforts, or display this more prominently on its website, for example within a unique selling point (USP) bar.
Based on the evidence above, it's a good idea to monitor your social channels for negative and positive sentiment to find issues you need to work on, and positives you could accentuate.
What are the challenges?
In every case where you combine different teams and disciplines there will also be challenges. Here, we take you through some examples where you need to be careful when combining CRO and social media.
Consistent messaging
'Often when a page's bounce rate is high, it could mean that users were not presented with what they were expecting. This expectation could have been set by a persuasive message on a social media platform, which in the end did not reflect what the landing page offers the user.
'This can cause problems if social media is being used to promote a landing page on which various elements are currently being tested. If users are presented with content that doesn't match the messaging they have clicked-through from, they're more likely to exit the site quickly. This can dilute the sample size of the test, or even skew test data by making it seem as if the content is not performing as well as it might had the social messaging been more appropriate.'
A great way to drive more traffic to important pages on your website, or even to pages on which tests are being carried out, is by promoting them on social media. However, make sure you drive the right audience to these pages. Driving users who are not interested in the content or cannot find what they were expecting to see have a high chance of leaving. The challenge here is to keep consistency across the messaging on social media that is supposed to drive traffic to a test, and the message that the landing page conveys.
Susie Cox, social media strategist at Fresh Egg, gives us her view on how Fresh Egg tackles this challenge:
"When promoting a client's content on social media, I will always make sure the message reflects what is written on that page, so you haven't got inconsistencies and the user experience isn't compromised.


"On Facebook in particular, there can be 'clickbait' headlines and images that obviously encourage users to click-through. When they do click-through, however, the content doesn't always match the headline.


"At Fresh Egg, we work on the basis that we will write social media content that reflects what is written on the page we're promoting. So usually, when promoting a page on a social network like Facebook or LinkedIn, we will either take the title of that article or the first paragraph from the content and rewrite it to a skimmed-down version for the social platform. For Twitter, this can be a challenge because of the character limit, especially when you factor in the link, plus perhaps a hashtag and image as well."
Little control over social media
The only thing you really control on social media – as a company – is your outgoing message. Users will make the decision if they wish to engage with it. Users can decide to compliment you, criticise you, or even 'troll' you.
Creating posts that are poorly written, able to be interpreted in different ways, provoking, or jump on anything that is trending regardless of relevance can not only be bad for your brand image, but can also drive a lot of irrelevant traffic to your website. This is an audience that is highly unlikely to convert because visitors have arrived at your site with a different intention than to buy your products or services. As such, tests you're running on your website can suffer from skewed test data.
Sometimes, naively attempting to take advantage of trending topics can go really wrong for brands. A leading frozen pizza brand jumped on the tweet #WhyIStayed in September 2014, without checking the context. The hashtag was meant to create awareness for domestic violence, while the pizza brand used it to promote itself, tweeting "#WhyIStayed You had pizza". Once the brand became aware of the context, the tweet was deleted and an apology campaign followed. This example shows just how harmful not considering the context or relevancy of your social activity can be.
A million apologies. Did not read what the hashtag was about before posting.

— DiGiorno Pizza (@DiGiornoPizza) September 9, 2014
The solution here is to make sure that your social messages are of high quality and that the context in which they will be read is always considered. Self-promotion is of course acceptable but make sure that the context is appropriate and fits with your company's brand.
Summary
Although CRO and social media may seem like a strange combination at first, they can benefit and complement each other. Social media can drive motivated users into your onsite tests, and testing different experiences for different social channels can create unique experiences that improve conversion.
Here at Fresh Egg, we work closely with our social media team to make sure our campaigns are fine-tuned to support each other, and to ensure we optimise opportunities within CRO and social.