At Fresh Egg, we know our people are our biggest asset, so it's important to make any new member of the Fresh Egg family (or Fregger, if you will) feel welcome on their first day – and every day – at our Worthing offices. One of our goals as a company is around supporting and retaining top agency talent, and for us delivering against this goal starts before they walk through the door.
Creating a structured and welcoming induction and process helps our new joiners feel valued, engaged, and gives them everything they need to hit the ground running from day one.  So what does it feel like to be a new joiner at Fresh Egg?
You'll have induction sessions for all functions across the business, not just your own.
Collaboration is key at Fresh Egg, so we bring this to life for our new joiners from day one. Every new joiner at Fresh Egg will open their email inbox to a series of invitations to induction sessions with every Head of Department. As well as understanding the functionality of each team, this also means our new joiners fully understand dependencies between departments, with full visibility of what their colleagues do.
You'll have an agency buddy.
Let's be honest, no matter who you are, any first day in a new role can turn even the most confident people into a bundle of nerves. So, each new starter at Fresh Egg has a buddy. Their buddy is someone from a different team and will be someone we have handpicked. On day one your buddy will take you for lunch and check you're OK, answering any questions or queries you might have about life at Fresh Egg.
We start as we mean to go on with Trello.
Trello is a tool we use at Fresh Egg to organise our workload across the agency. We'll get you logged in so you can see planned sessions both companywide and specifically for your role, and have access to reading materials and links to policies and information. Trello will soon become the central resource that you can repeatedly turn back to for a number of needs – just like it is for the rest of us here.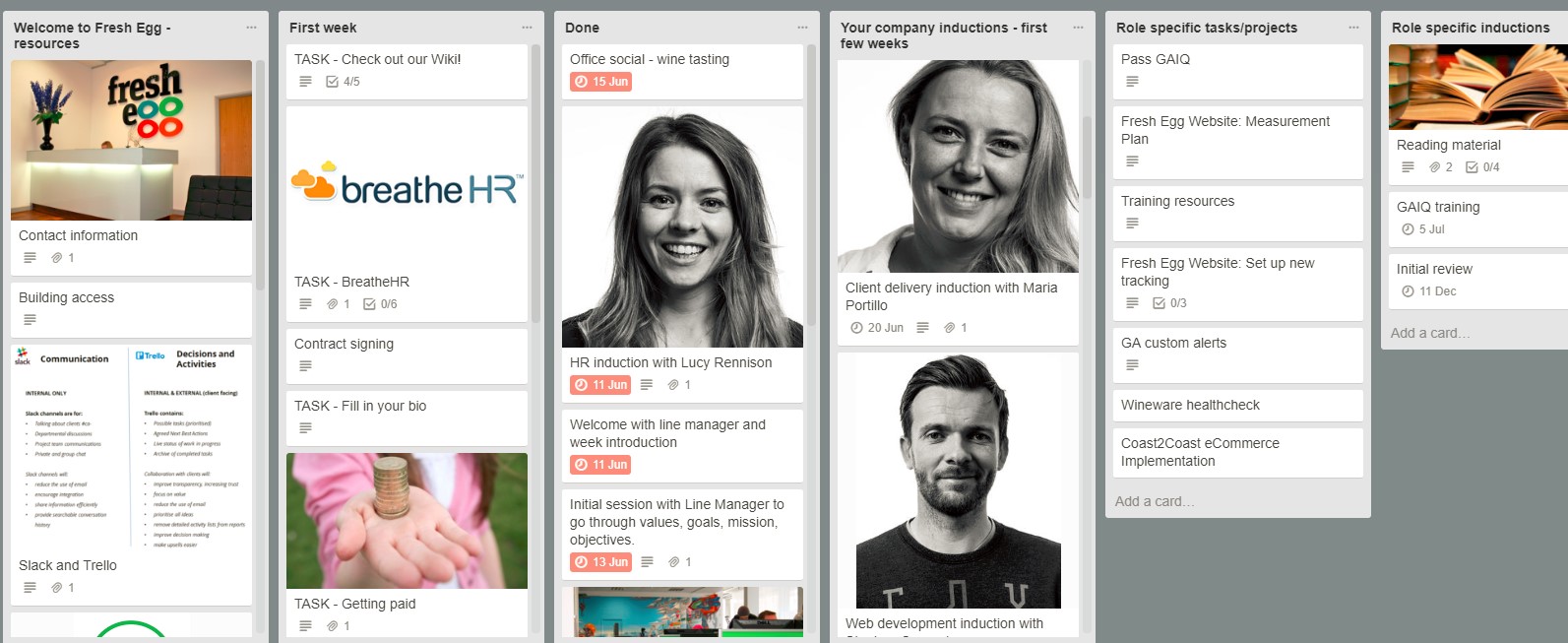 A pre-populated Trello board for a Fresh Egg new joiner.
We send you stuff in advance.
There's nothing worse than turning up blind to a new role with no idea what to expect. So that's why we let you know we're thinking of you and we're prepared for you, by sending you your Trello board and other materials to give you a head start and a glimpse of what's to come. Being prepared like this means you feel part of the team before you even start, and can get cracking from day one – with the support of your buddy if needed, of course.
No awkward first week vibes.
No one likes those awkward twiddly-thumb moments during the first week of a new job whilst settling in. We make sure you feel comfortable and productive from day one by giving you some tasks to complete. This means if you have any 'down time' between induction sessions, you have something to do and aren't waiting for direction.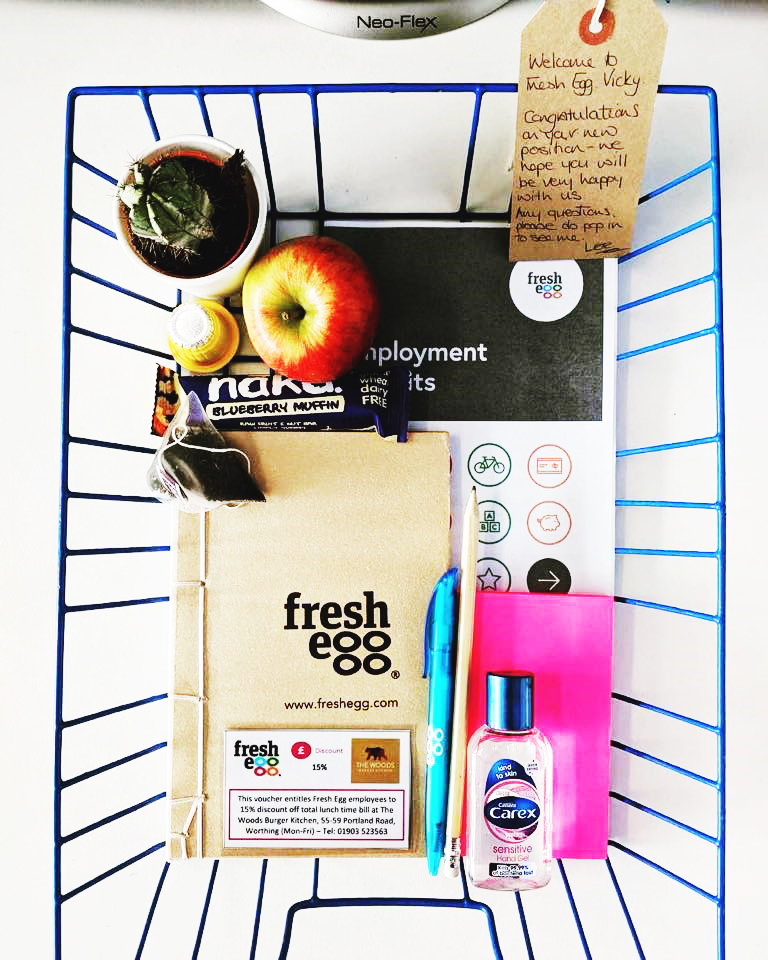 A welcome pack will be on your desk on your first day with Fresh Egg. 
We do the same for every new starter.
Everything that we do, we do for everyone. No matter your role, seniority or background, it's the same thorough, engaging and inclusive induction process, to make you feel part of the team straight off.
We're always trying to improve.
Once you've been at Fresh Egg for six months we meet to review your induction and how we can help you progress going forwards. It's also an opportunity for you to feedback to us on how we can improve our induction process. For example, after receiving feedback from previous new starters, we changed our induction to spread across the whole of your first week with a welcome pack laying out the sessions you'll attend across the agency.
Are you interested in working with us at Fresh Egg?  Why not look over our current vacancies or you can get in touch if you would like us to keep you on file and let you know when a relevant role becomes available.