The Fresh Egg Recipe Club
Written by Fresh Egg - 29 Apr 2014
Not to toot our own horn, but the team at Fresh Egg are a skilled bunch. We don't just have digital marketing expertise, but among us there are also many talented chefs and bakers.
We decided to put this talent to good use with the launch of the Fresh Egg Recipe Club. So what's the deal? Once a month, a member of the club is assigned a day to bring in a dish of their choice. It can be absolutely anything; the only rules are that they are able to provide the recipe so anyone else can make it as well if they want to.
First up was Worthing Account Director, Cath Foster and her beautiful bake – Chocolate marble cake. Here's the recipe, some photos and what those on the tasting team thought.
Chocolate Marble cake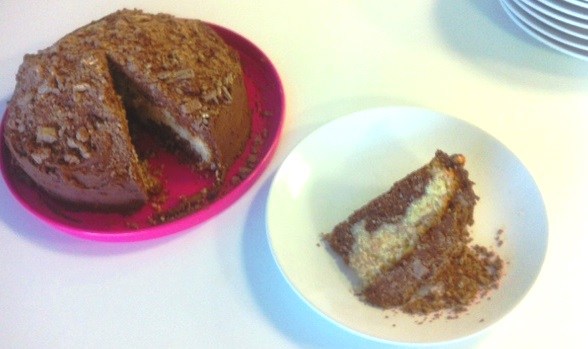 225g butter, softened
225g caster sugar
4 eggs
225g self-raising flour
3 tbsp milk
1 tsp vanilla extract
2 tbsp cocoa powder
1 ½ packs Cadbury's chocolate buttons crunched
Method:
Heat oven to 180C/gas 160C/gas 4. Grease a 20cm cake tin and line the bottom with a circle of greaseproof paper and the sides of the tin with butter. Beat the butter and sugar together, and then add the eggs, one at a time, mixing well after each addition. Fold through the flour, milk and vanilla extract until the mixture is smooth. If you are posh and have a food processor you can add all the ingredients (except the cocoa powder) and whizz for 1-2 minutes until smooth.
Divide the mixture between two bowls. Stir the cocoa powder into the mixture in one of the bowls, then add in the crushed chocolate buttons. Take two spoons and use them to dollop the chocolate and then vanilla cake mixes into the tin, alternately. When the mixes have been used up, tap the bottom of the tin on your work surface to ensure that there aren't any air bubbles. Take a skewer and swirl it around the mixture in the tin a few times to create a marbled effect (rather than the layered effect that I achieved!).
Bake the cake for approx. 45-55 minutes until a skewer inserted into the centre comes out clean. Turn out onto a cooling rack and leave to cool.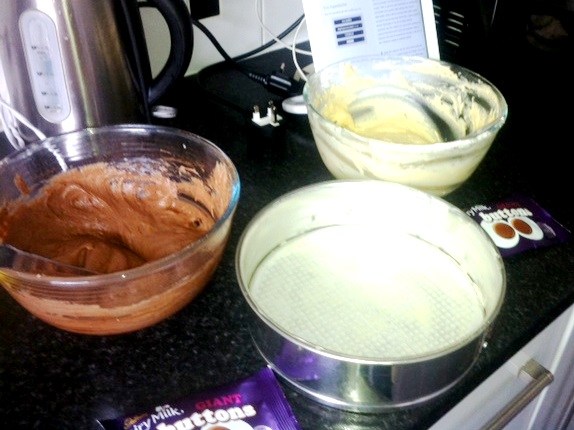 Chocolate Icing
100g unsalted butter
300g Icing sugar sifted
40g Cocoa powder sifted
40ml milk
½ pack of Cadbury's chocolate buttons melted
3 x flakes
Gold dusting powder (not essential!)
Method:
Beat the icing sugar and butter together (beware of the sugar dust cloud). Once mixed together add in the cocoa powder. Add the milk, a tablespoon at a time, and beat until the milk has been incorporated. Add the melted chocolate (can be quickly melted in the microwave for about 20 seconds). Once all the ingredients are combined, beat on a higher speed for about 5 minutes until it is light and fluffy.
Top the cake and sides with the icing once the cake has cooled, crumble over the broken flakes and then sprinkle with gold dust.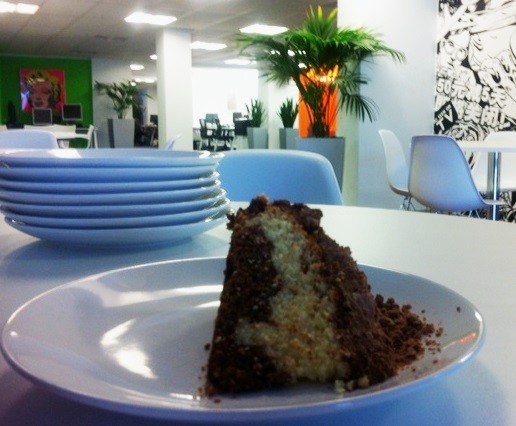 So what did people think of Cath's marbled masterpiece?
Kelly Wright, Project manager
"Yuuuuuuuummy – considering I was in a 'I'm going to eat healthy' mentality this morning I was easily enticed by the look of Cath's gorgeous marble cake. It tasted just as scrummy as it looked and one I would certainly like to try at home with my boys"
Martin Cannon, Senior web developer
"Very good, nice and chocolately"
Steve Jones, Senior SEO engineer
"Superb – ideal for the chocoholic but not sickly – lovely balance of sponge and gooey-ness"
Laura Ward, Directors PA
"Great consistency, delicious icing and very rich. Couldn't have eaten much more, but then it is not even 10am yet"
If you try this one at home, do let us know what you think in the comments section!