Southampton's Guildhall was filled to the brim last night with the very best digital talent the South has to offer for one the highlights of the awards calendar - the Wirehive 100 and Awards.  The Wirehive 100 and awards showcase digital excellence and recognise the outstanding work and exceptional individuals we see time and again from agencies in the southern counties based outside of London.
As we sat at our table, you could have been forgiven for mistaking it for the Oscars with the gents looking dapper in their black tie and the ladies looking like they had just walked off the red carpet.   The whole team and I were full of anticipation as Fresh Egg had been shortlisted in 7 categories.  With baited-breath we waited as each category was announced ...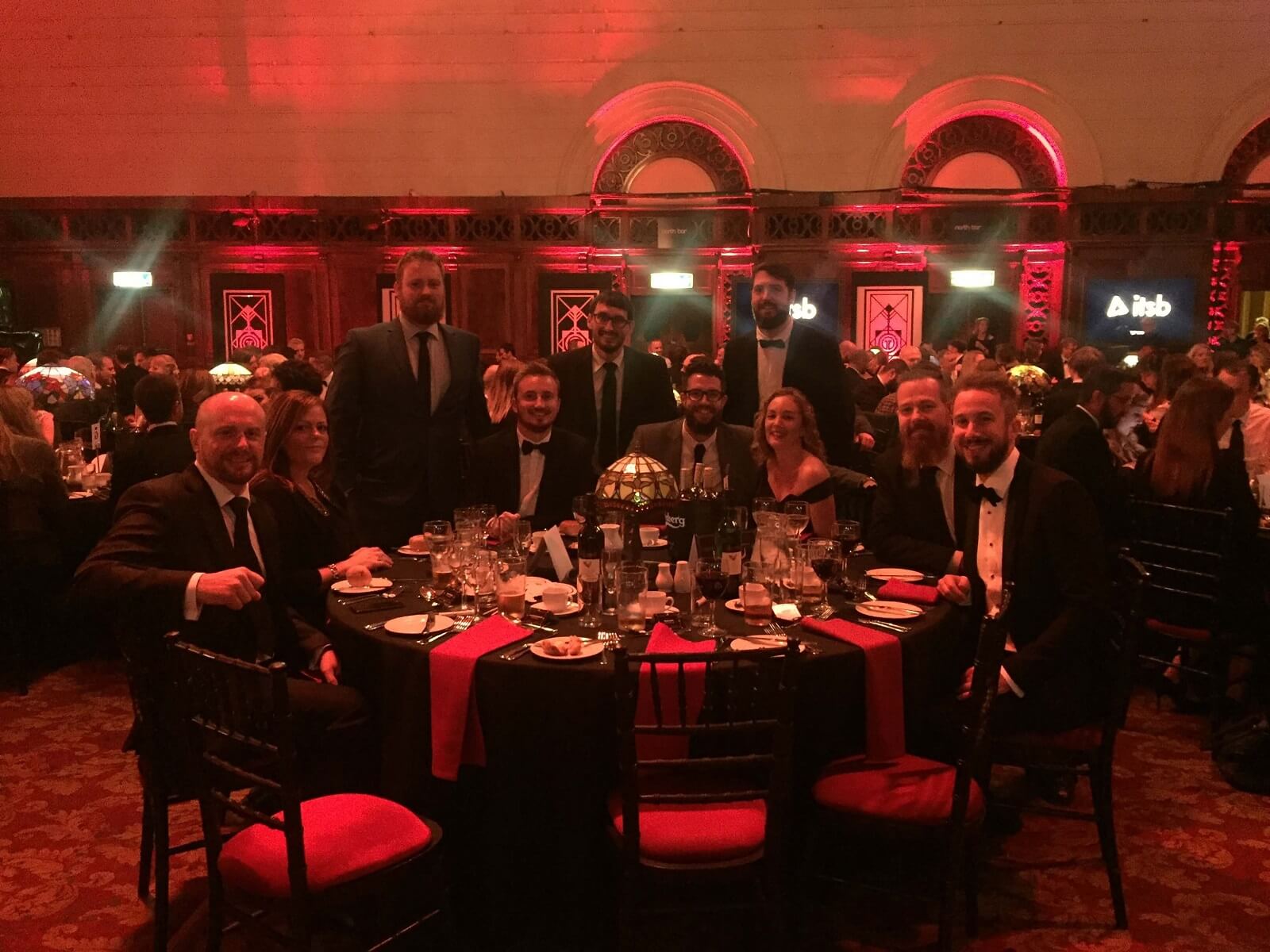 With our glasses clinked and refilled (many times) and the acceptance speeches made we are very, very, very VERY proud to announce that Fresh Egg has been awarded 2 wins and 3 runner-up accolades and, not forgetting, we were also the winners of the selfie competition as we used #donaldtrunk to tell us to Make Awards Great Again!  Here's how we got on ... 
WINNER - Consumer Site of the Year for our work with Nationwide Vehicle Contracts.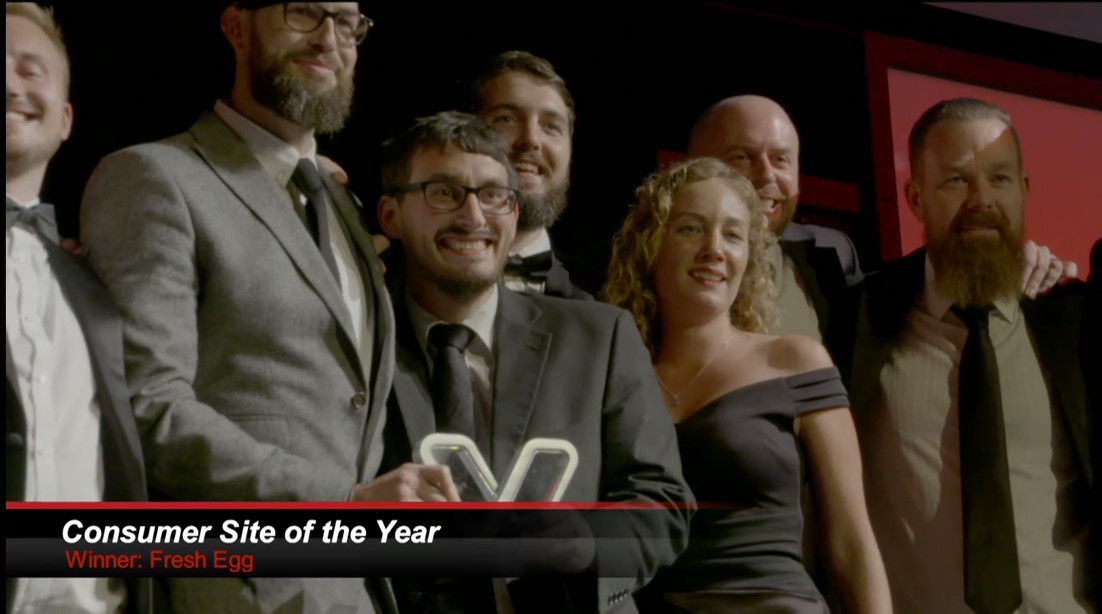 An incredible achievement and accolade for the team here at Fresh Egg to win this award as we have been working with Nationwide Vehicle Contracts (NVC) for the last 15 years.  When we were appointed by NVC back in 2003 by, who at the time did not even have a website, we had no idea the of the journey that our two businesses would share.  The main reason such a long-lasting relationship with such a huge amount of mileage? Put simply, it's the results and year on year growth that our expertise has, collectively, driven into their business.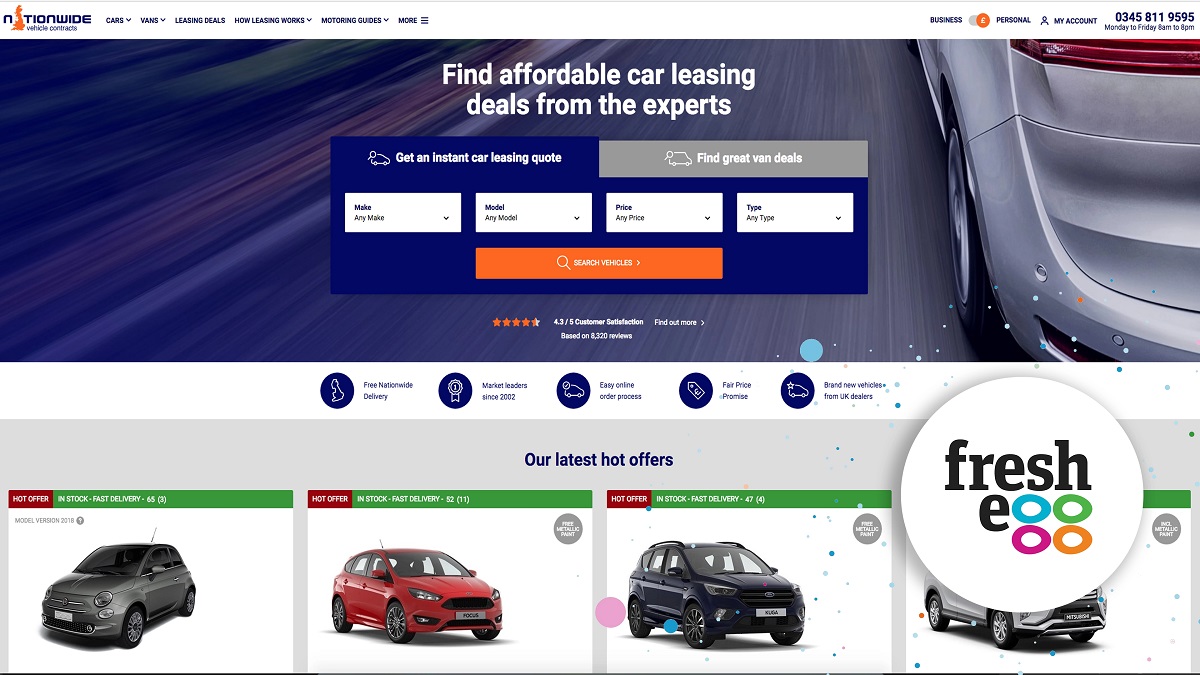 Central to this success has been the ongoing design and development of the NVC website – a website that we built for the first time in 2006 and, ever since, we continue to make ongoing improvements, tweaks and fine-tuning to increases its performance.   
The NVC site plays a key role in car leasers as they enter the purchase stage of their journey. Above all price is one of, if not the overarching consideration.  The manufacturers do the brand job; always have and always will.  The leaser has already bought into the make and marque of the car.  The predominant role of the NVC site is to capitalise on that desire and give car leasers exactly what they want when they want it at exactly the right stage their journey.
With that in mind, the design and structure of the NVC site ensure car leasers can:
Easily search and access the best deals with minimal cognitive load.
Compare vehicles, price points and features.
Submit their finance application online – an industry leading USP for NVC.
WINNER - Best Use of Data, Analytics and Insight for our ground-breaking work for the NHS and the Good Thinking service.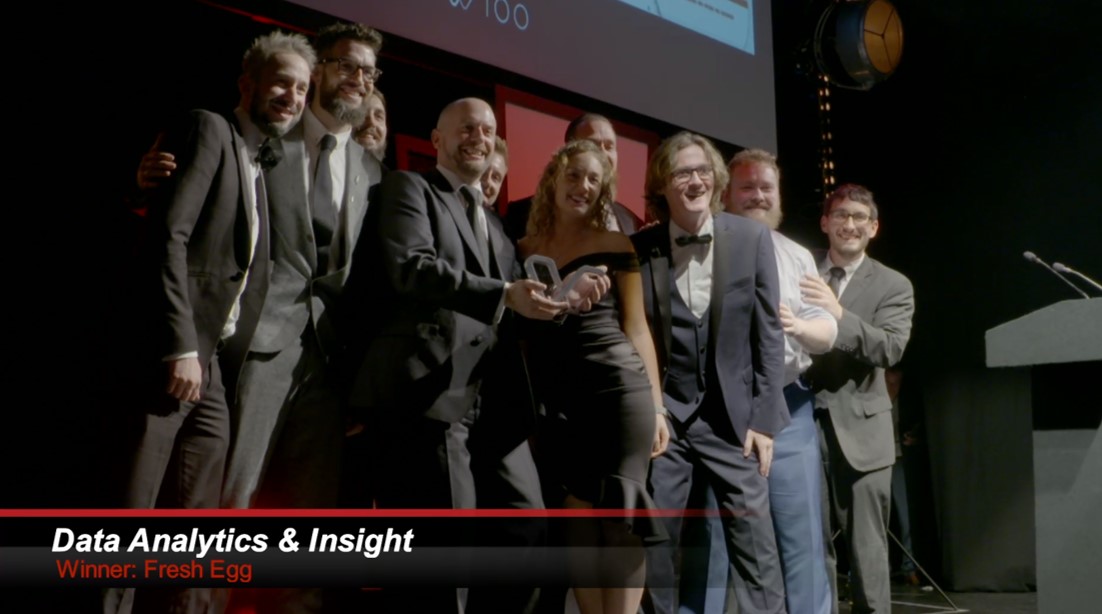 Another incredible accolade for this ground-breaking piece of work. Our entry focussed on how we applied our Customer Experience (CX) discovery and, by using a combination of empathy and CX journey mapping and COM-B behavioural analysis, it was then enriched with social listening and keyword research data to uncover real conversations, trends and patterns of behaviour.
Our CX Journey Mapping provided us with the "moments of truth" to investigate further through our data analysis.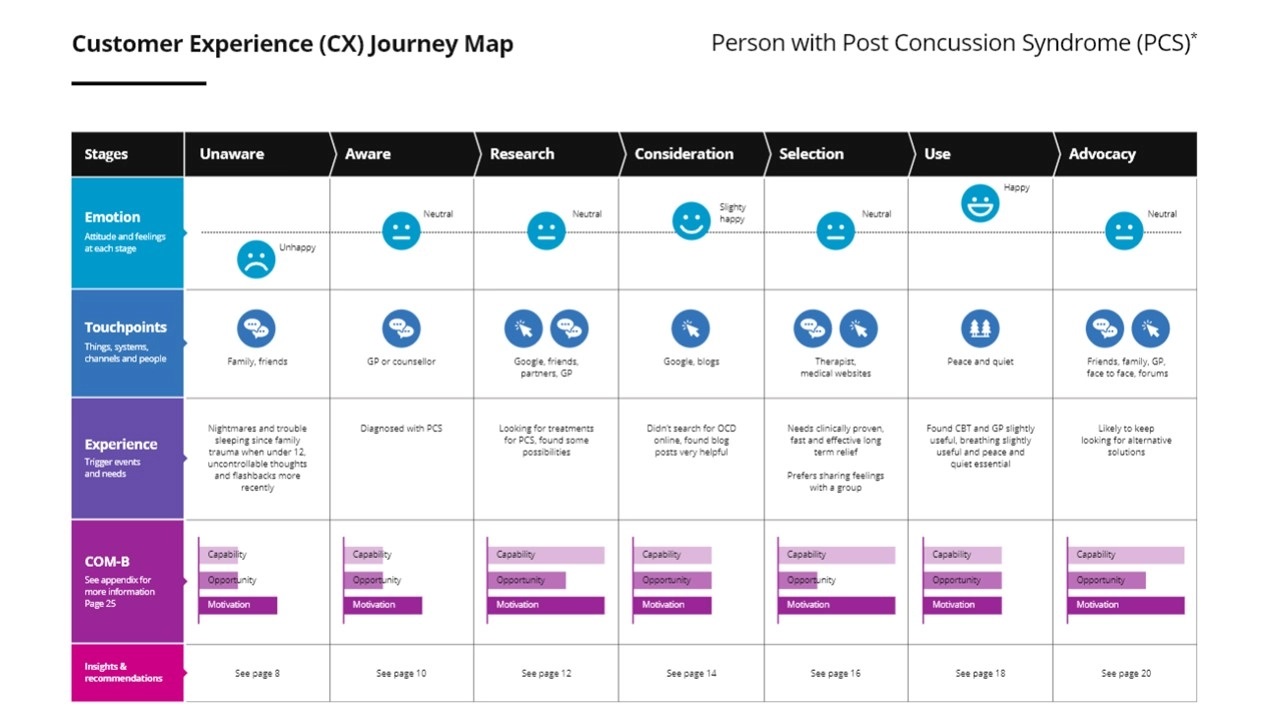 Organic search data provided a window into what Londoners are really thinking and feeling. 
People trust Google and tell it, or ask it, things that they may not tell, or ask, anyone else. They feel free to be open and honest because they know that Google won't judge them.  As their search intent becomes clearer through their logged queries, so too do the insights that can be gleaned from this data.  As Seth Stephens-Davidowitz, author of Everybody Lies, argues: "for a variety of psychological reasons, Google search is one of the best places to source unbiased audience information".
Social listening provided rich demographic insight and real-life / real-time conversations and trends. 
We were able to build a well-rounded, vivid and colourful picture of Londoners by marrying our data with external sources including Pulsar and Brandwatch, Search Intent, location-based search and a mixture of first and third-party social data.
RUNNER-UP - Best use of Data, Analytics and Insight for our work with Mindtools.
(Yes, we took both the win and the runner up in this category! A double yolk as coined by Ed Byrne).
Our Conversion Rate Optimisation (CRO) team have been working with Mind Tools to improve the performance of their online subscription business model.  Mind Tools help 27,000,000 people each year to learn management, leadership and personal excellence skills through high-quality learning resources.  Established in 1996 and based on the UK's south coast, Mind Tool's business has grown into one of the world's most popular on-demand career and management learning solutions.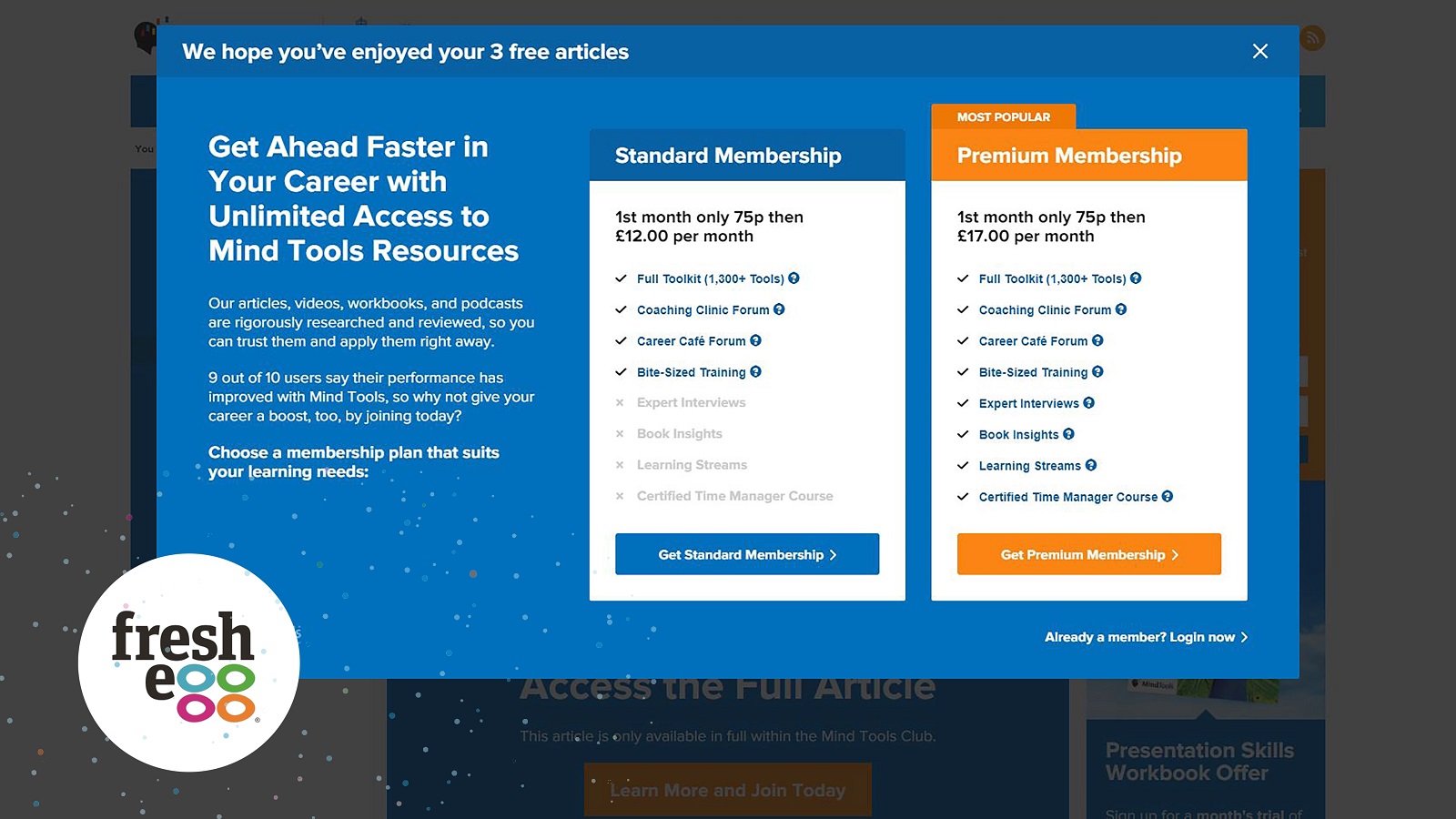 The core issue faced by Mind Tools was a low conversion rate for users signing up to become paying members. Thousands of users were accessing free content, but comparatively few were going on to become paying members. Enter the Fresh Egg CRO team, stage right …
The solution was to introduce a Smart Metering system, which limited the number of articles that non-members could view for free, rather than offering certain pieces of content.
The Smart Metering project represents far more than just a website optimisation; this project used data, analytics and insights to identify and scientifically measure a hugely impactful business change.
This was a massive change for Mind Tools, and they would not have taken the leap had our solution not been proceeded by our rigorous approach.
RUNNER UP - Agency Team of the Year for The Open University Team at Fresh Egg.
"We were looking for an opportunity to take a step back and review our student recruitment website more strategically.  We had been working on a range of improvements, across several disciplines (SEO, content, UX etc) and it was time to pause and reflect.  The University was also embarking on a major strategic review and we wanted to create a user-centred design input into this.  Fresh Egg won the pitch for the work and delivered a very thorough, well researched and incredibly well-presented set of outputs in a very tight timescale.  From our perspective, the multidisciplinary team they put together for this work was key to its success."
Mark Young – Acting Director of Marketing
RUNNER-UP - Best use of Search for our ground-breaking work for the NHS and the Good Thinking service. 
Our entry shared how the work was not about reaching hundreds of thousands of people through by investing a bottomless pit of cash into paid search but how we delivered a micro-ta­­­rgeted PPC campaign with a strategy founded from a ground-breaking, integrated approach.
The overall objective of the project is to improve the mental health of Londoners by encouraging them to self-manage their wellbeing, enabling the NHS to:
understand the different needs and wellness journeys of specific audience groups. reach and engage people at key stages in their wellbeing journeys with targeted micro-messaging.
position itself at the forefront of search results for popular search terms surrounding lack of sleep, anxiety, feeling low and stress.
alleviate the pressure on the already stretched physical NHS resource by intervening early and empowering people to help themselves.
We applied our Customer Experience (CX) discovery, using a combination of empathy and CX journey mapping and COM-B behavioural analysis, that was then enriched with social listening and keyword research data to uncover real conversations, trends and patterns of behaviour.   The research uncovered exactly what people were searching for and which websites they were finding at different stages of their journey which laid the foundation for our paid search activity.
And lastly ... if that weren't enough ... 
We also won the the selfie competition with our #donaldtrunk telling us to Make Awards Great Again! (Nice one Hans!)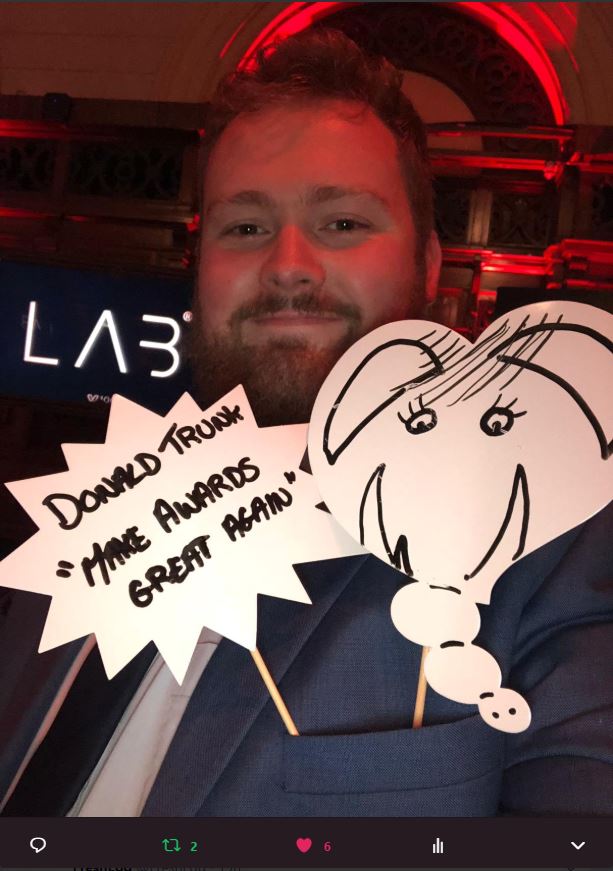 _____________________
I could not be prouder of everyone at Fresh Egg as everyone, and I really do mean everyone, has had some involvement in helping us towards this incredible result for the agency.  Over the last couple of years, the agency continues to grow in its capabilities, which is all down to the quality of the people we are lucky enough to have working for us and the incredible standard of work they continue to deliver for our clients.  For all of us at Fresh Egg, this recognition from Wirehive is the perfect way to end a brilliant year for the agency.   
Pip Stafford – Founder and Business Operations Director.