Training:
Introduction
to CRO
Our fast-paced training session will help you power-up your understanding of Conversion Rate Optimisation (CRO) and give you an understanding of commencing a test culture and the benefits of doing so.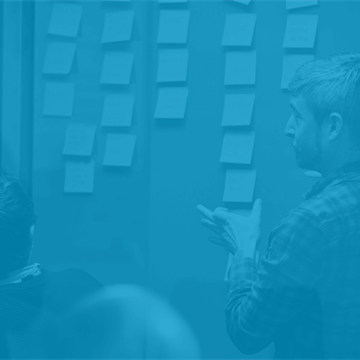 Introduction to CRO
Next course: 5th March - Cost: £199 (inc. VAT) per person
Training conducted by:
Dinah Alam: Head of conversion services | Luke Hay: Head of user research
Course duration:
2hr 15min
Course summary
This high-intensity online training course will provide all attendees with a solid basic understanding of CRO and key benefits.
It's ideal for anyone looking to gain a broad overview of conversion rate optimisation, what it involves and how best to approach it.
It will be run in two parts with a short break between them and finish with a valuable Q&A session.
Aimed for those with no prior experience or beginners in CRO, at the end of the session, you'll be familiar with a structured process, supporting tools and skills needed, some broad methodology and principles, and a how-to review the UX of your website for conversion opportunities.
What attendees will learn:
What you can achieve with CRO
'Test and learn' - a best practice approach
Methodologies and activities involved
Tools, skillset and resources to consider
The importance of data integrity
Reviewing the user experience for opportunities
Creating hypotheses and a test plan
Open Q&A
Who should attend this course:
Our fast-paced yet comprehensive course has been designed for anyone new to CRO or beginners in this field. It aims to give attendees enough understanding of the discipline to kick start it successfully in their organisation or business.
Reserve your place on this CRO course on 5th March
What our delegates say...
I think Julian really understood what we want out of our analytics which made the training feel very relevant to us and therefore engaging. It was reassuring to have an indication of which of the reports in GA are the most useful and likely to generate actionable insights, vs which ones we can safely ignore.

Alex, The Health Foundation
The team ran two excellent training sessions for us, led by Julian Erbsloeh, the training sessions were for audiences with mixed prior knowledge levels but were both incredibly useful to everyone in the room. There was plenty of hands-on activity to ensure everyone was engaged throughout the training. We'd love to work again with Fresh Egg team, and I would highly recommended.

Roxanne, fashion retailer
There was a really good mix of quick wins (for example, configuring default channel grouping) as well as longer-term projects for us to think about (for example, how we can use segments to track journeys across the website in a meaningful, insightful way).

Kate, The Health Foundation
Find out more about our analytics and data training modules and courses
Discover our other digital marketing training courses