Online
SEO training
Master onsite optimisation, understand Google's algorithms and learn how to implement and measure SEO campaigns with technical SEO experts, Fresh Egg.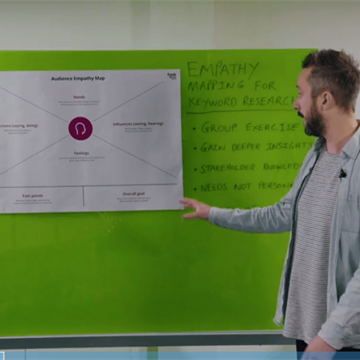 Our SEO training modules.
Find out more about our SEO training modules (click a link to jump to a section)
Advanced technical SEO
Course summary:
This training course will cover advanced technical SEO elements to ensure search engines can crawl and index your content. You'll learn how to monitor and identify technical SEO errors, identify crawl rate issues and utilise log file analysis to understand which pages Googlebot is crawling.
We will cover common technical SEO mistakes, like misuse of canonical tags, hreflang, faceted navigation and JavaScript. We will demonstrate practical examples, and you are welcome to bring current issues you are experiencing to the training session.
What attendees will learn:
The best tools for monitoring performance and completing technical SEO audits
How to effectively implement international SEO
Learn how to correctly index content with the use noindex, canonicals, redirects and HTTP headers
JavaScript best practice
The best architecture solutions for crawlability and internal linking optimisation
What structured data is, and why you should be using it
How to technically implement accelerated mobile pages (AMP)
Watch an excerpt from one of the training modules.
Creating and executing an SEO strategy
Course summary:
This training course will cover the key pillars of an effective SEO strategy. You will learn how to set realistic objectives for SEO, how to create a measurement plan and the tools you'll need to monitor SEO performance.
The course focuses on broader SEO concepts rather than specific tactics; this will help you define which workstreams you should work on and help you identify SEO opportunities. You'll also learn the biggest blockers to getting SEO done and how to overcome these.
What attendees will learn:
How to develop a one-page SEO strategy
How to put a robust measurement plan in place and what the key metrics are to measure SEO performance
What you need to know about your content, technical SEO and brand reach to create a successful SEO strategy
Forecasting SEO performance and measuring the impact of changes
Optimal team structure for delivering effective SEO
Creating content to match search intent
Course summary:
This training course will give you a framework to complete comprehensive keyword research to identify how users are searching in Google across different stages of the customer journey.
The first step to growing organic SEO performance is thoroughly understanding how your audience is searching. During this course, you'll learn how to create content which meets users' search intent and develop a content strategy that will help grow your website's organic visibility.
What attendees will learn:
How to perform keyword research for different audience groups
How to use tools to build BigQuery lists based on user needs
The four needs that trigger a user to start searching in Google, and how to adapt your content for user needs
How to think about the user behind the query and what this means for content creation
How to complete a content gap analysis to identify if your content matches users are searching
Watch an excerpt from one of the training modules.
Where search is today and how you can beat your competition
Course summary:
This training course will cover how Google search results have evolved and what tactics you need to be focusing on today to maximise your search visibility. You'll learn how new technology is impacting how people discover information and how this affects search strategy.
Google has made over 3,000 changes to its search results over the past year and ran over 44,000 experiments. We will cover the hot areas in search you should focus on and the future of search.
What attendees will learn:
What an answer engine is, and how this impacts your search strategy
How Google Discover and queryless search can inform your search strategy
How accelerated mobile pages (AMP), AMP stories and progressive web apps (PWAs) impact search
Audience research techniques that will improve your SEO
What visual search is and how it will evolve
Core SERP features you need to be aware of
How mobile has changed the way people search
If you'd like to talk to us about our SEO training options, leave your details below, and we'll get straight back to you.
Discover our other digital marketing training courses