Our next webinar: How to use the Content Cycle to enhance your content strategy
The Content Cycle is a simple, but effective process that will help improve the impact of your content marketing.
Join the discussion on Wednesday 10 June, 3pm-3:45pm (BST)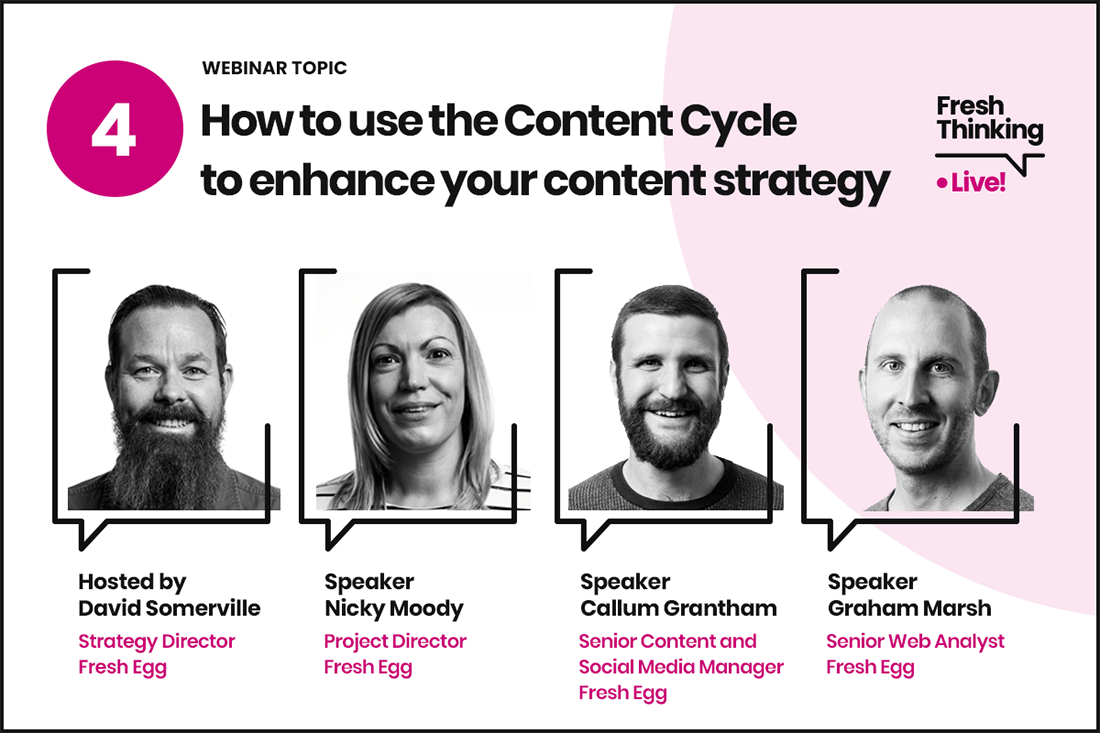 In this webinar, host David Somerville will introduce you to the Content Cycle, with panelists Callum Grantham, Nicky Moody, and Graham Marsh joining David to discuss each of the stages.
The panel will share information the benefits of using the Content Cycle, including:
A way of making you focus on objectives and audiences
Techniques for reporting fully on your content performance, allowing you to help justify the ROI.
A structure to help you to plan and implement your content strategy
Each of the panel will be sharing their thoughts and advice on the different stages of the Content Cycle
Discovery - understanding your objectives, audiences and auditing your content
Planning & set-up - getting everything in place for your content activity or campaign
Execution - producing your content and promoting it to your audience
Reporting, analysis & insight - understanding content performance and impact
Refinement - ensuring you are continually optimising your content approach
Getting involved
There will be an opportunity for you to ask your content related questions during the webinar, which the panel will aim to answer live. Also you can ask a question in advance when you register below.
By the end of the session
As well as learning about the Content Cycle itself, you will hear practical tips and ideas that you can take away to implement yourself. You will also receive links to other useful content marketing resources and guides.

Following the webinar you will be able to review your own content strategy and methods in order to see what you can do it to optimise it.
Who is the webinar suitable for?
This webinar will be useful for anyone working in a digital content team or has responsibility for researching, planning, producing, promoting and measuring content. It's also ideal for senior digital marketers who want an oversight in how to improve the content part of their overall digital marketing strategy.
Register for Fresh Thinking Live! on June 10th
'How to use the Content Cycle to enhance your content strategy'
Keeping marketers up to date in changing times - watch previous Fresh Thinking Live! webinars