Yesterday, Google announced what will soon prove to be a game changer in the web analytics arena: the Google Analytics 360 Suite.
The Google Analytics 360 Suite is a set of integrated marketing analytics tools aimed at enterprise-level marketers. It brings together some of the existing products and adds a number of new ones to form a product suite that may soon rival the Adobe Marketing Cloud.
The internet and how we use it has changed dramatically over the past few years. Analytics platforms have struggled to fully accommodate that change and allow marketers to easily access the data they need for everyday decision making. To be able to tailor our marketing messages to the moment and the user's need, we first need to understand their entire journey and the intent that drives them.
Google listened to enterprise marketers and identified four key needs it now aims to address. The new 360 platform will allow you to:
See the complete customer journey
See useful insights, not just more data
Enable better sharing within your organisation
Deliver engaging experiences to the right people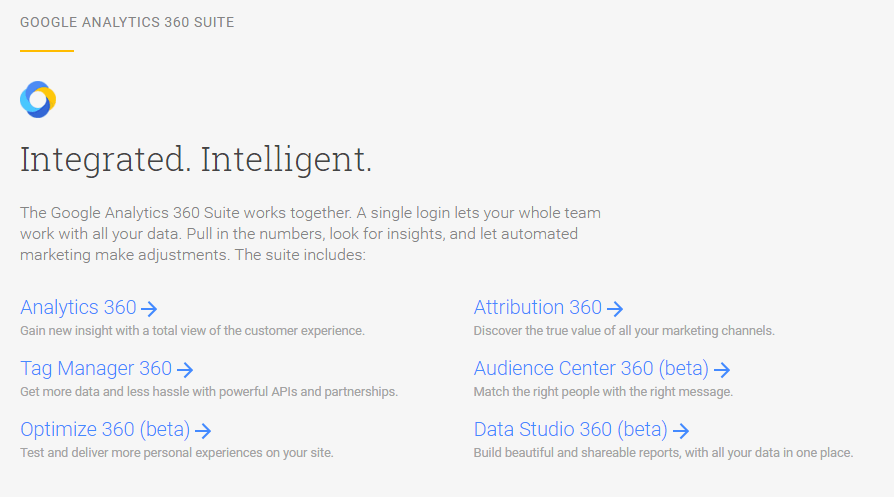 To achieve this, the new Google Analytics 360 Suite consists of six products, four of which are completely new and will first be released as betas to existing customers:
1. Google Analytics 360 (previously Google Analytics Premium) 
The measurement centrepiece of the suite that will see exciting new features being rolled out over the next few months. Features of this platform over and above those of standard GA include bigger data limits, no sampling, raw data exports, and Google Big Query, to name just a few. Current GA Premium clients will be migrated to GA360 later this year
2. Google Attribution 360 (previously Adometry)
According to Google, the attribution platform has been rebuilt from the ground up. Marketers can analyse performance across channels, including offline channels such as TV and radio. Adometry was acquired by Google in 2014 to fill the attribution gap in its services, current clients will be migrated to Attribution360 over the next few months
3. Google Audience Centre 360 (beta)
"A data management platform to help marketers understand their customers and find more like them across channels, devices and campaigns." ( Google Analytics blog). To me, this suggests some sort of algorithmic learning or automated predictive modelling. However, at this stage, we don't have more information than that. Looking at the product page, it suggests that this is where we will be building our audiences in the future, before then pushing them into the other 360 Suite products to remarket, personalise, test and more. This will be an add-on to existing GAP / GA360 subscriptions and charged separately
4. Google Optimize 360 (beta) 
This is the A/B testing and personalisation product Google has been working on for a while. We got our hands on an early prototype at last year's Google Analytics Summit but it all went a bit quiet after that. Whether or not this will be a real contender to Optimizely and VWO remains to be seen. From what we understand at this stage, it will be an additional product that needs to be purchased separately to existing GA360 services. The big news is that it can be purchased as a stand-alone product and it will equally work with the standard version of GA!
5. Google Data Studio 360 (beta)
A data analysis and visualisation platform that integrates data from all six suite products, as well as external data sources. This makes it a powerful addition to the range. I sat in a demonstration of an early prototype of this product at last year's GA Summit and absolutely loved what I saw. I have been eagerly awaiting this announcement and saying I was disappointed to find out it would be released as a premium product only is an understatement! Data Studio 360 will also be a stand-alone product within the suite and will be available separately from the other products. Again, this remains to be confirmed 100% but at this stage we understand that you can subscribe to Data Studio 360 even if you're not a GA360 user!
6. Google Tag Manager 360 (beta)
The paid version of Google's amazing tag management product (GTM) boasts a number of additional features to support enterprise workflow, simplify data capture and improve data accuracy with a set of powerful new APIs. The 360 version of GTM also comes with guaranteed service levels, ongoing training and customer support. As an existing GA Premium (or soon GA 360 client) you will have access to GTM 360 as part of that subscription
You can find detailed information on all of these new (and rebranded) products here: http://www.google.com/analytics/360-suite/
At this stage, the amount of detail you can find for each of the products is still quite limited. The Capabilities section ties these products back into the aforementioned marketer needs by summarising the offering as allowing you to achieve the following:
Build a complete picture – Understand customer behaviour, channel performance and much more in a set of robust reports and dashboards. Not only this but the 360 Suite goes even further by integrating offline data and exploring options to handle big data sets with ease
Connect your insights to results – This is about the seamless integration of GA with AdWords, DoubleClick, AdSense, AdMob and other advertising products, the marketers ability to create behavioural audiences in GA and make them immediately available BidManager and AdWords. This is really powerful and is already available within the free version of GA today. Many of our clients already use this for highly targeted remarketing campaigns
Collaborate across the organisation – This plays on the unique features of GA Premium (i.e. the soon-to-be GA 360 Suite): the un-sampled data, the freshness, access to the raw data and the fact that you can store the data yourself. This title suggests improved organisational sharing and collaboration but that may be a little misleading
Expert service – Enterprise support for all products is what you'd expect at this sort of price point; especially as an enterprise-level organisation will probably be running a team of analysts who should spend their time diving deep into the data, not fixing bugs with the implementation or data collection
One really useful and promising section of the new Google Analytics 360 website is the Resources section, where you'll find a range of guides, articles and whitepapers on all things Analytics. These are not strictly related to the new product suite but universally applicable and useful.
So in summary, this is certainly an exciting announcement by Google! We are really looking forward to getting our hands on some of these new beta products. I am particularly excited to hear that my two favourites on that list will be available separately, as free-standing products too.
For me, Google Data Studio 360 is the big one on the list. Being able to visualise data from a number of different data sources in one dashboard or report and make them look really good is such a huge time saver. I am keen to see how Google's final product stacks up against some of the big players in the market, such as Tableau, and some of the smaller data-viz and dashboarding products as well.
I am also keen to see the usability and power of the Optimize 360 platform. When I last played with it, the UX was really clunky and some of the most basic functionality wasn't there. I am sure these issues have all been ironed out in the past year but will it be enough to go up against the likes of Optimizely and VWO, who have been dominating the ever so popular CRO market in the past few years?
Watch this space for more information as it becomes available. However, if you are looking for some help with your current analytics setup or are ready to get serious about tracking and using data to drive your business forward, please get in touch. Alternatively why not take a look at our analytics training and Google Tag Manager training courses.