Google will no longer be accepting Grantspro status applications – what should you do now?
What happened?
The Grantspro programme has been a real boon for charities, giving eligible institutions up to $40,000 of monthly AdWords budget. The grant has helped many charities to gather donations from the search that otherwise would have put a strain on their digital marketing budgets. For some charities the aspiration to graduate from standard Google Grants into the Grantspro program prompted an effort on optimising existing grants and AdWords activity to meet the eligibility criteria.
However, on Thursday 1st September Google very quietly announced on its Grantspro support page that it would no longer be accepting applications for Grantspro status.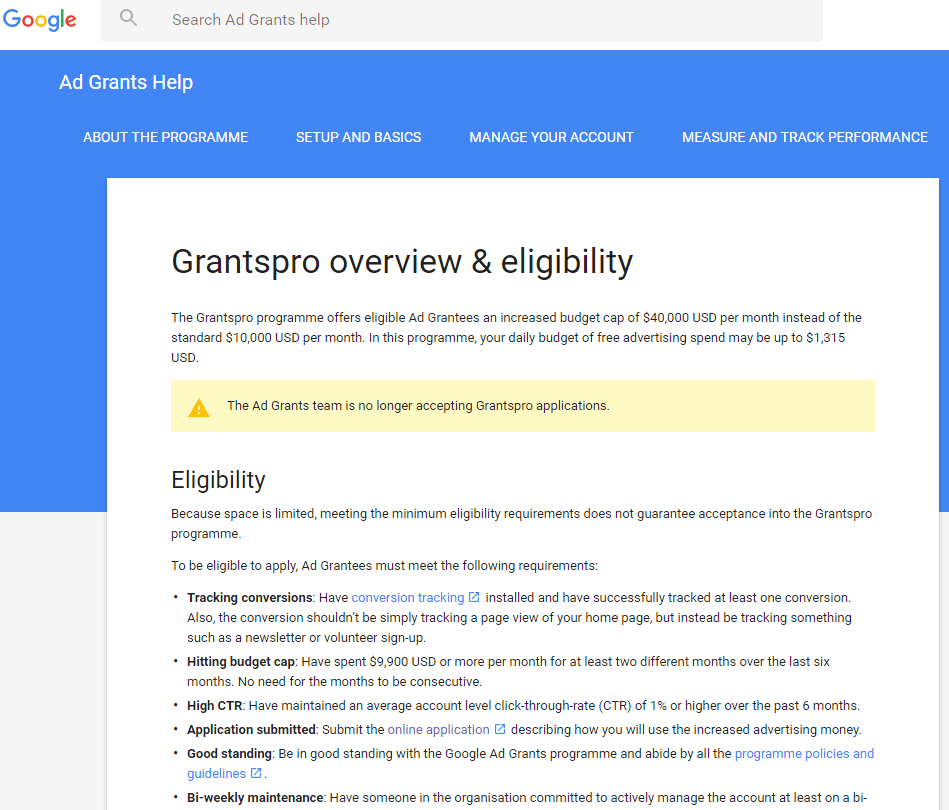 This isn't the first time that Google has paused the Grantspro application process, with a similar action taking place in 2013 when the Grantspro team updated the eligibility criteria. The program was accepting applications again by June 2014. This time, though, it looks as if the action may be a little more permanent. Google's official response to the action is as follows:
"The Ad Grants team is no longer accepting applications for the Grantspro program as part of new efforts to streamline the program. This update aside, the program will continue to remain open and free to all eligible non-profits."
So, what should you do?
With the pause on new applications we recommend the following:
All existing Google Grantspro grantees should continue to optimise their activity to continue to meet your eligibility requirements.
The reported streamlining may change the eligibility criteria, so ensure that you are fully on top of all correspondence from Google and continue to ensure that you are squarely meeting all requirements.
For all existing Google Ad Grants recipients the eligibility criteria can still be used as a goal in your activity optimisation.
All of the criteria indicate a healthy account, with good practice driving performance forward. If you're not already optimising your account with this in mind then now is the time to do so, as the efficiencies gained from having these best practice actions in place can have a positive effect on your overall AdWords performance and Google Ad Grant efficiency.
If you are a charity that has not yet applied for a Google Ad Grant then do so now.
There is not yet any indication that the standard Google Ad Grant program will be reviewed, but we still recommend applying and getting activity set up. Google offer free advertising for your charity and the standard amount of $10,000 per month can provide a real boost to your fundraising activity.
Fresh Egg has helped a number of charities with Google Ad Grants applications, account setup and account optimisation. We have a useful blog post on making the most of your Google Ad Grant that you might like to read.
If you want to learn more about maximising the performance of your Google Ad Grant and upgrade your understanding of paid search, download our ultimate guide to Google Ad Grants.
Talk to us now to ensure your existing Grantspro funding is secured.