Everyone's Gotta Start Somewhere: The CRO Maturity Model Parts 1 & 2
CRO services | 4 MIN READ
One of the key challenges faced by the modern day marketer is solving how to break down the operational silos that hold back digital marketing transformation. In particular, an integrated customer experience (CX) remains an aspiration rather than a reality for many brands. The user experience and conversion optimisation of a brand's website is a foundational building block to improving CX.
In a recent survey by Econsultancy, 90% of organisations reported that they treat their desktop website experience as central to their overall CX. However, in the same survey, organisational structure and lack of resources were cited as the top barriers to improving it (35% and 33% respectively).
There is no doubt that if you are looking to get started in conversion rate optimisation (CRO), the first steps can seem daunting. It can feel a bit like looking up a very steep mountain and wondering how on earth you'll climb it. Luckily, in the optimisation space there is no such thing as failure - and many of those who have led the charge in the field of CRO offer a trail of best practices for others to follow.
One such leader is Tim Ash, curator of Conversion Conference and author of one of the top tomes in the industry, the book Landing Page Optimisation. In this post we'll take a look at Tim's CRO maturity model and using this model as context, identify our recommended steps and stages to help organisations in their optimisation journey.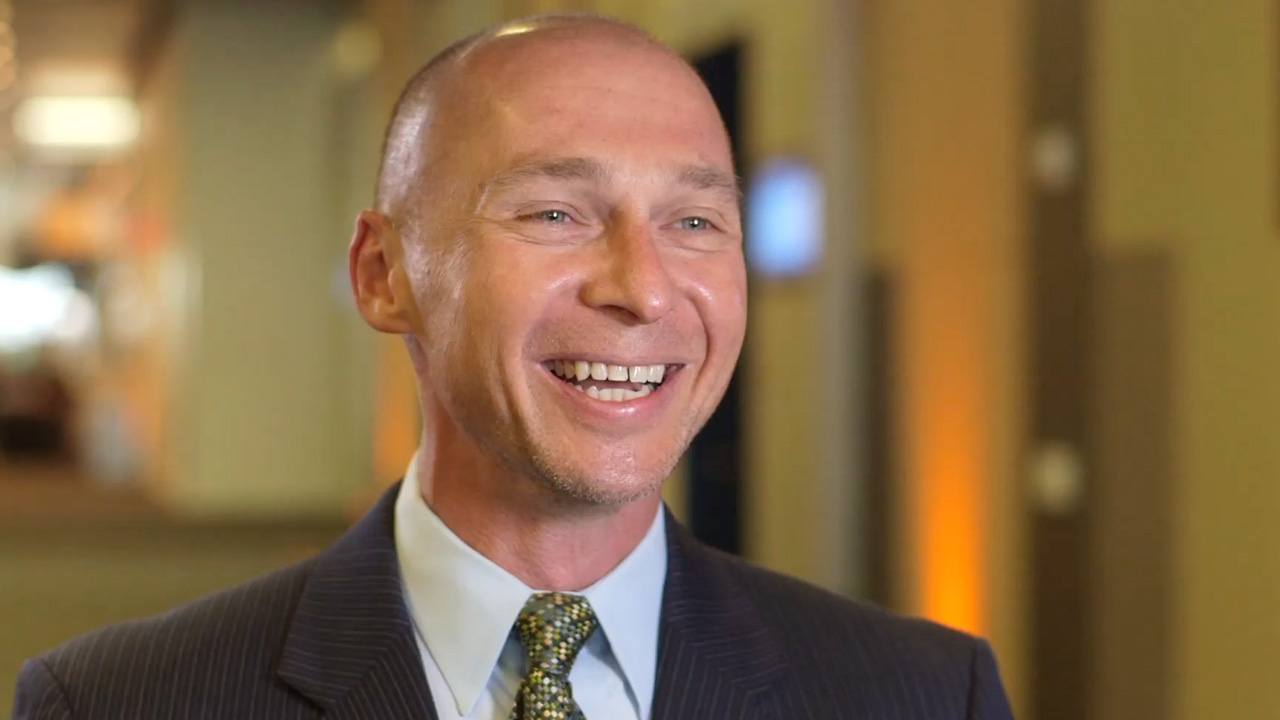 When tackling CRO, the first two things to consider are a realistic assessment of your organisation's current situation and capabilities, your appetite to learn and your preparedness to treat any 'failures' as an opportunity.
Tim's Maturity Model is divided into four stages, each with four key requirements. The chart below maps out the first two stages and requirements: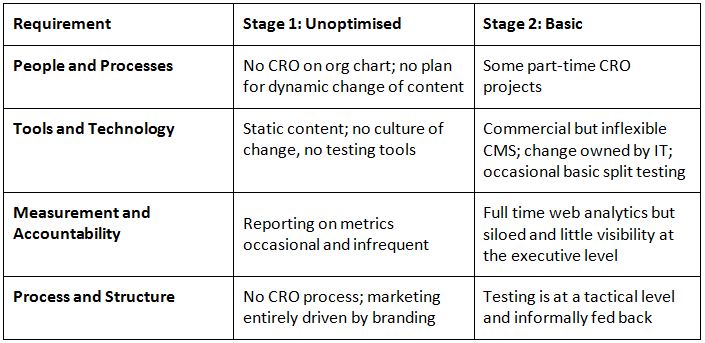 A stage 1 business ("Unoptimised") has no resource allocated to CRO and a disjointed approach to managing digital transformation.
Technical changes are likely to be ad hoc and wholly owned by a technical or IT department, whereas marketing dictates what colours are used, the size of the logo, font and point sizes of text and even what photographic assets are used. More often than not, these two departments are engaged in a perpetual tug of war to get website modifications pushed through. The Web Analyst is the glue that binds any successful optimisation team together – however, they will tend to have marginal influence as their job has become primarily taken up with knocking out retrospective reports that are rarely of executive interest. In terms of optimisation tools: well, quite simply there aren't any.
It's your job to turn all of these raw materials into a practical, living, breathing optimisation monster.
To get started, and take the first step up the proverbial mountain, here are our suggestions to help you:
Get an executive sponsor
This should be someone in your organisation that can be persuaded to support you in your optimisation endeavours and sanction you spending a portion of your time to a trial project.
Fix your data
The accuracy of your analytics has to be absolutely beyond question. Go back to basics and double check that what you are measuring is genuinely important to the business. Then, get a professional health check to ensure your web analytics is set up correctly.
Set realistic objectives
It's unlikely that you will be able to jump from 'unoptimised' to 'fully personalised' in one step. Optimizely's Shana Rusonis mantra is worth remembering: "Optimisation is a journey, not a destination".
Research a toolkit that fits your skill set, budget and aspiration
There is a full range and choice of tools available that cover surveys, AB testing, heatmaps and user testing from free or nearly free up to enterprise. You should do your research and find one that, you believe, is right for business – if you are not sure, seek some consultation.
Build a virtual team
Co-opt resources from your technical and marketing teams so you have a champion of optimisation within each department. Don't try to change a whole departmental culture overnight.
Start thinking like scientist
You may have losing tests or winning tests, but there is no such thing as bad data. Many optimisation projects stall because the first test doesn't show an immediate huge uplift. For the record, multiple tests lose or draw. At this stage you are building a process that will eventually drive long-term return on investment. The important question to ask after your first test is: what did I learn?
If you follow these suggestions it should be easy to make the step up to Stage 2 of the CRO maturity model. As we will explore in the next post in this series, moving up to the next level is a little harder.
For now, we'll leave you with the wisdom of Homer Simpson: "If something's hard to do, then it's not worth doing". When starting out in optimisation, the trick is to make things easy for yourself.
Talk to us, if you need some advice or assistance from our expert CRO specialists