Fresh Thinking Live! launched to help businesses adapt their marketing to the current climate
Fresh Egg is excited to announce the launch of 'Fresh Thinking Live!' - an online discussion between a group of Fresh Egg experts on the most important topics marketers are facing right now.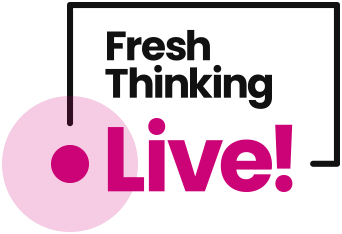 The webinar format will be hosted by a Fresh Egger, who will be joined by two or three colleagues in order to discuss a topic that is relevant to all marketers.
Audience members will be able to watch the debate unfold, but also join in by asking their own questions for the panel to answer.
The topics will change each time and we will be rotating our panel of experts too, so you get to hear from a range of people who can cover subjects including digital strategy, SEO, analytics, conversion rate optimisation and paid advertising.
"We had been talking about finding another way of sharing our ideas and advice with people before the Covid-19 crisis hit, so this just spurred us on to do this even quicker. With the majority of people now based at home and adapting their working days, it made sense to use a webinar format, which allows them to access it easily."

Lee Colbran, co-founder of Fresh Egg
Future Fresh Thinking Live! sessions will be promoted via our social channels, but once you've registered, we will notify you via email so you can book it in your diary.  
And if you're not able to join a session, then we will be sharing a recording with anyone registered as well, so you won't miss out. 
This webinar series will start from Wednesday 8 April at 3pm BST, with a discussion on "How to adapt to changing customer needs" – a subject we know is critical to understand within the current climate. 
Keep learning with Fresh Egg
Join our email list like thousands of other marketing professionals to get updates on key industry changes, early access to free resources and exclusive invitations to Fresh Egg events in your inbox.