How to Use BuzzSumo to Create Heavyweight Content Marketing Campaigns
UPDATE: David Somerville is running a joint webinar with Buzzsumo at 9.30am (BST) on Wednesday 29 July called 'How To Create Heavyweight Content Marketing Campaigns'. 
BuzzSumo is probably one of the most talked about content marketing tools – nay, most talked about digital marketing tools – of the past 12 months.
Its popularity, with thousands of users worldwide, both agency-side and in-house, is largely down to it being really simple to use. However, the tool also offers vital information that can really help you understand how content performs socially across the web.
Fresh Egg was one of the beta account holders of BuzzSumo, giving us the chance to not only test out some of the new features as they were implemented, but also to provide feedback on things that we felt might be useful.
The result is a fully-functioning content marketing tool that can really supercharge your team's planning and execution of campaigns.
Here's our guide to the key ways in which BuzzSumo can help you create effective content marketing campaigns, how some of the Fresh Egg inbound marketing use it, plus some thoughts from an industry expert.
4 ways to achieve content marketing success with Buzzsumo
There are multiple ways in which BuzzSumo can be used to aid your content marketing activities, but here are four tactics that we use regularly:
1. Campaign brainstorming
BuzzSumo is perfect to have on a laptop in the room when our teams are brainstorming for ideas on a campaign or content activity.
Using the 'Top Content' tab, simply type in key words around a subject and you will see a host of ideas and trending topics displayed.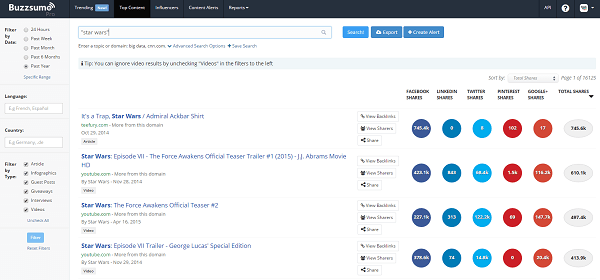 Buzzsumo brings an added dimension to brainstorming sessions by given you data-driven ideas
This also gives you added insight, such as how to best title or format a piece of content you're writing and which social networks that topic is popular on.
You can look at a specific website – either your own or a competitor's – and find out what previous content in a particular topic area has resonated with your audience. Once you have taken this into account, alongside any other analysis (for example, data from Google Analytics), you can see what content formats and subjects perform best.
Fresh Egg's content marketing specialist Sarah Furbank, says:

"Searching for top content by domain is really useful if you're trying to get a view of how
your own content is performing in terms of social shares, or what topics or types of content are proving popular for your competitors. You can then analyse the topics covered and look for trends, or look at who has been sharing that content on Twitter – are the people who have been sharing the content actually relevant to your site's target audience?

"The 'Content Analysis' reports are really useful too. These reports straight away allow you to get a quick overview of how readily your site's content is being shared and on which networks, plus an idea of some other useful insights too – popular content lengths, popular days of publication etc. Using the 'Domain Comparison' reports gives you the same info, but allows you to compare to a competitor of your choice. This allows you to see things like which social networks your competitors are taking advantage of, where perhaps your business can look to exploit further in the future."
The newly launched 'Trending' section can also give you lots of ideas on what is popular in terms of social shares right now online. This is perfect if you have to come up with reactive content ideas or news stories.
2. Competitor analysis 
As well as looking at your own site (or that of a client), you can also use BuzzSumo to analyse the content of your key competitors.
Enter their domains into the 'Top Content' section to see how their content is performing in comparison to your own. Identify what pieces of content are working for them in terms of social engagement and then create target lists of content ideas for your strategy.
Fresh Egg's senior inbound marketing manager Ryan Ogilvie, says:
"BuzzSumo is a great tool and one that I have used for various different aspects of inbound marketing.

"One of the parts of BuzzSumo I have used the most is to simply put in a URL of a website to assess the top shared content. This not only allows for a quick assessment of which content is working for a given client or competitor, but also allows for analysis as to what content isn't working. This, partnered with the 'Influencers' section of BuzzSumo, can give great insight and can come in useful when brainstorming ideas on what campaigns to push forwards with in the future.

"I have also used the 'Content Alerts' section of the tool to help keep on top of when and where my clients are being mentioned across the web."
As well as this, the 'Content Reports' section allows a side-by-side domain comparison for elements such as:
Average shares by network
Average shares by content type
Total shares by date published
Average shares by content length

Content reports allow analysis of a single website or two websites side-by-side 
3. Influencer research
Another key function of BuzzSumo is the ability to identify key influencers. You can immediately see who are most influential people in a particular subject area and create a list of people to engage with. Simply use the 'Influencers' tab and enter a topic or keyword.
Creating a relationship with these people in advance may lead to them retweeting or favouriting your content when the time comes, which will put it in front of their many followers.
Fresh Egg's inbound marketing manager Lana Burgess, says:

"I use it to build target lists for outreach activity. It has certainly helped speed
 up the process of identifying bloggers and Twitter influencers.


"Previously, I would conduct a Google search for blogs on the relevant topic and would have to judge their influence by estimated visits and looking at their social following, which was much more time consuming and less reliable."

 
You can take this another step further by looking at the content the influencers share, which immediately reveals the subjects, topic areas and types of content they are interested in allowing you to build those relationships even further.
4. Outreach targeting 
If you have content you want to amplify via outreach, use BuzzSumo to identify the sites you may be able to partner with.
The best way to do this is to search for the most popular content for a particular topic, using the 'Top Content' section and then build a list of the top sites with the content on.
You can also look at other people who shared the same content as a particular 'influencer' by clicking the 'View sharers' button. This then gives you another list of people you can potentially target as part of your outreach.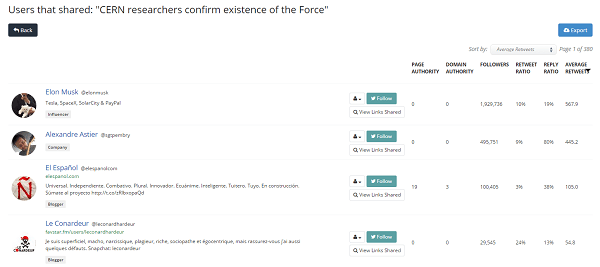 Find the people who shared the most popular content, then engage with them further
BuzzSumo also allows you to view the backlinks to a particular domain. By viewing the backlinks to your own domain, you can spot opportunities for building upon existing relationships further as part of your new campaign. And by viewing backlinks to the domains of your competitors, you can spot any opportunities to create new relationships.
The influencer opinion on BuzzSumo
Larry Kim, founder and chief technology officer for Wordstream is an avid user of Buzzsumo and recently partnered with it to run a joint webinar titled '5 content analytics hacks to 10x your views and shares'.
'I've found that successful content marketing requires spending a lot more time on topic research as opposed to just writing stuff and hoping that it will do well after the fact.

'BuzzSumo proves a highly leveraged way to analyse the performance  of huge volumes of content in a uniquely democratic way – it's dramatically improved the efficiency of my daily content analytics routines. I did a recent webinar about this here.'

 
Get the buzz
Hopefully, by now you will be buzzing to use BuzzSumo if you haven't done so already – head to Buzzsumo.com to register.
We will be writing more about using this tool in the future to continue sharing the ways in which it can really ramp up your content marketing strategy and activity. Keep an eye on our blog and social channels for updates.
To find out more about how Fresh Egg can help with your inbound marketing campaigns or content marketing strategy, contact us.