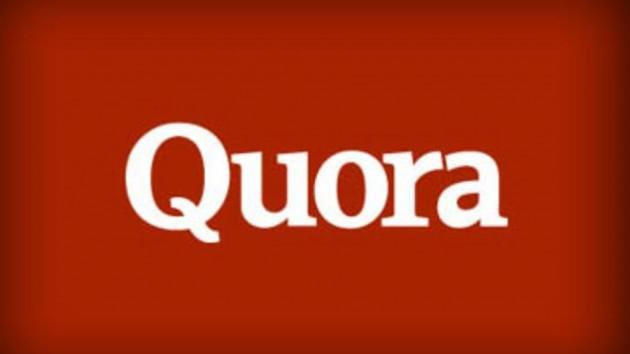 Adam D'Angelo, co-founder of Quora, believes the future of the internet is "creating more knowledge". Question-and-  answer-based sociaL platform Quora went live in 2010 and has gained popularity, as well as critical acclaim, from the likes of technical evangelist, Robert Scoble.
What do you need to know about Quora Blogs?
On 23 January, Quora launched its own blogging platform. Quora is about providing high-quality information to relevant and engaged readers. According to Quora, active users get more than 30,000 monthly views, so Quora Blogs is an understandable move forward.
Quora wrote about its new blogging platform, claiming it is "great for people who (1) don't have a big, established online presence already, and (2) don't want to do the time-intensive, heavy lifting of marketing their blog and slowly building an audience."
People follow topics that interest them, so a blogger can post about a number of different topics but still expect to see a dedicated and engaged audience for each one
The 10 top reasons why Quora Blogs are useful:
Great for new bloggers who don't have a big established online following already

Don't need to spend time marketing and building an audience

Dedicated to mobile with mobile text editor and optimised for mobile browsing

Up vote system means blog posts can be re-discoverable

Automatically distributes blog posts to relevant Q&A topics

High engagement with votes and comments

Established bloggers can re-post to expand their audience

Can create as many blogs and blog posts as you like.

Great blog posts can go viral

If you've used Quora Boards, it will already have been converted into a blog
How can Brands use Quora?
Quora currently doesn't allow brand pages or traditional advertising, but nonetheless companies have been able to tap into Quora's unique audience.
Participating in both the blogs and the Q&A section can be valuable if your brand is fundamentally built on its expertise about a specific subject matter. Quora blogs can also be valuable for brands wanting to provide informative content for their target audience without having to wait for their target audience to visit their website.
Here you can see Mitch Colleran from Eventbrite providing a useful answer about online ticketing which will gain the company some publicity.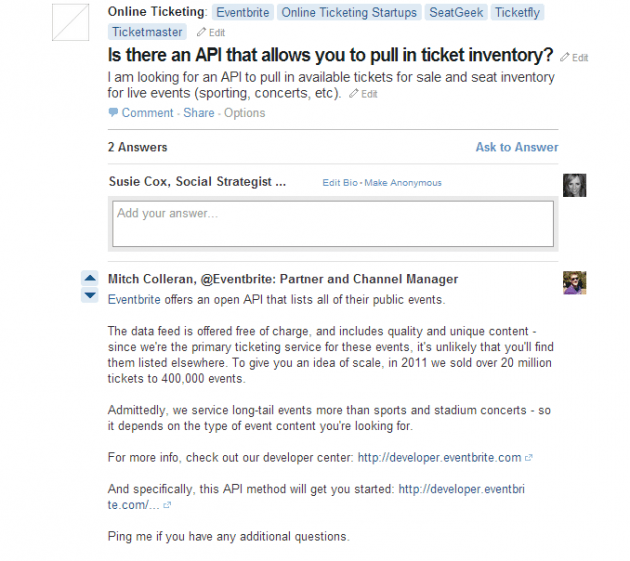 Matt Wurst, director of digital communities at 360i, claims that it can help if the brand is tied intrinsically to "one strong personality that has an expertise in a certain area" and it would seem that is necessary as blogs need to be set up from a profile and a profile must be an actual person.
Brands using Quora can additionally find incredible value in just listening to what is being said/asked about their brand and utilise this as marketing research. This will require a large investment of time but can pay off.
Brands that were previously using LinkedIn Answers may want to migrate to Quora now this has shut down. It might be a welcome alternative with professional, knowledgeable users, and currently much less spam. However be mindful of this and don't make your promotional messaging too overt as Quora is really hot on spam.
'Promoted questions/answers' on Quora allow for some marketing authority. Users are provided with free credits so they can promote their own or other people's questions/answers and you can gain more credits if people upvote your blog posts. You can also socially share a particular answer to a question.
What's next for Quora?
Only time will tell if Quora will start selling credits to brands to promote their own posts, similarly to Facebook and Twitter.
Quora has recently changed the sharing options of the site. This means users can now share Quora answers and posts on Twitter, Facebook and LinkedIn, as well as sharing the URL without the reader needing to join Quora to see content.
Quora already boasts excellent SEO; this along with the new social sharing functionality and the blogging platform could be an attempt to develop a monetisation strategy.
Adam D'Angelo says "reputation is going to be a lot more important in the future especially as the internet gets bigger", and Quora could be an advantageous option for building personal and brand reputation.

Image sources: Quora