This isn't a tweak, this is a fundamental change to how Facebook is adapting to a 'mobile-first' world.
By putting 'stories' above a news feed (viewed by over 1.65 billion people per day), Facebook is now dictating the method of communication and content consumption. Their innovation looks something like the Story model first introduced by Snapchat in 2013.
This is part of a wider movement of prominent communication platforms moving from a vertical text-heavy news feed, into a horizontal video-heavy interface. This follows changes made by Instagram, Messenger and WhatsApp to implement video stories into their apps following the rapid rise of Snapchat.
After testing this for the past six months and Instagram Stories reaching 150 million in 5 months, Facebook knows this move will transition the user base from words to visual content, this now appears to be the future of the Facebook app.
The user experience of consuming Story content is completely different from the News Feed. The key change for Facebook users is they will be swiping horizontally rather than up and down. Portrait video format is the new normal for millions of people, your potential customers!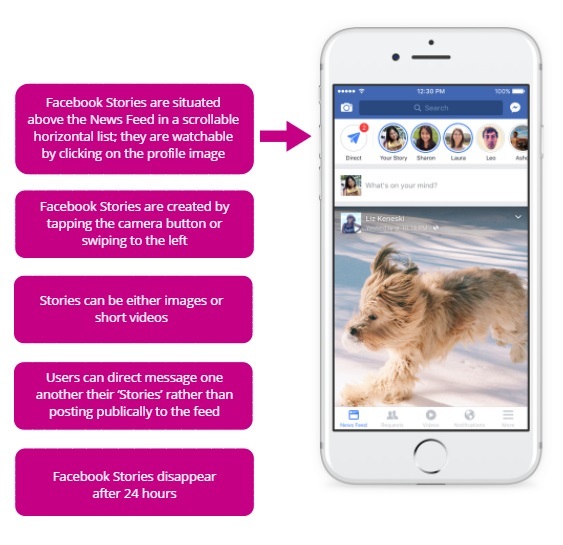 How do these work?
Situated above the news feed in an alternative horizontal scrolling list, Facebook Stories can be either still images or short videos. In order to make Stories easy to make, Facebook has added the ability to swipe left to open the camera. Facebook Stories are ranked by Facebook's by how close it thinks you are to those people.  Users are able to direct message one another their 'Stories' rather than posting publically to the feed.
How does this affect my business?
Facebook Stories are currently limited to personal accounts only. There is no date for their launch for brands. Large brands are already able to reach users in this format through filter advertising known as 'Masks.' So far it is big blockbuster movies that are really taking advantage of this, these include: Guardians of the Galaxy Vol. 2, Power Rangers, and Wonder Woman. See the screenshots below to see what these look like.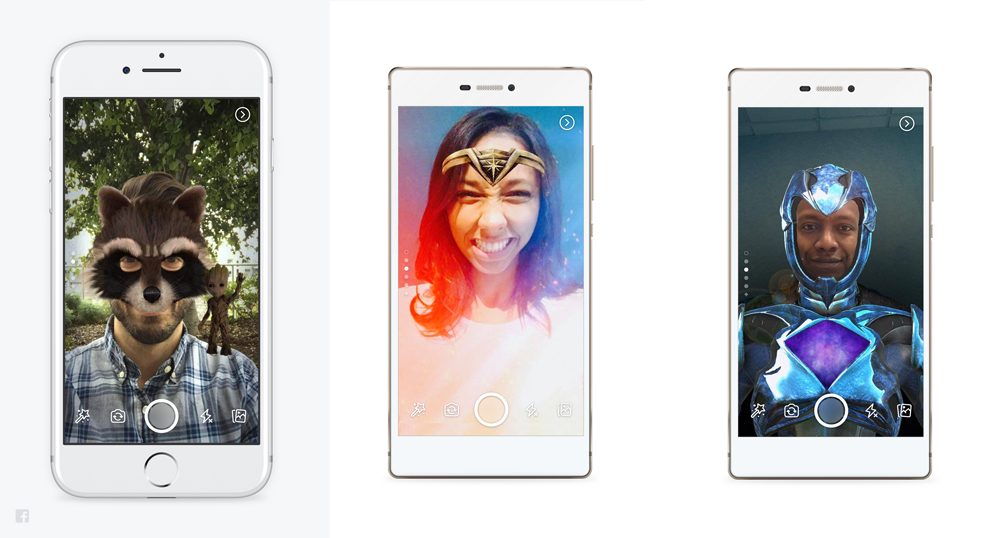 Considerations before using Facebook Stories in your business:
Do your users prefer short-form content to long-form videos right now? Are they already consuming video content? If so, your business should start considering content that would suit Facebook Stories
Instagram Stories is used by 150 million people daily, why not utilise this today to build your expertise in the story format?
While you are considering organic content creation, start considering what the advertising model may look like. If Facebook continues to copy the Snapchat business mode, then interruptive video advertisement in-between different Stories, geo-location marketing and sponsored filters will be the model to use. It's very similar to the current TV advertising model… well they do always say things go in circles
Speaking of circles, your profile picture (logo) is circular on Facebook Stories and coincides with a test Facebook is running to make all profile pictures circular to make the imagery consistent throughout the platform. If this rolls out, you need to make sure that your logos are still legible, especially on mobile!
Here are three example ways different businesses can use the new way of working within Facebook.
Car Valeter: Before Stories: Typically posts before and after images of his work. Now, should create a before and after video
Estate Agents: Before Stories, typically posts a still of the front of the property. Now, should create a short video of the outside of the property and a tour throughout the inside
Retailers: Before Stories, typically post a still image of a new product. Now, a 360 video of the new product as it is being unboxed
Don't wait for these to roll out to businesses, make sure you start thinking about this now. Brainstorm ideas of how you can include more video content in your marketing mix, especially as the biggest social media platform has completely thrown its weight behind video content.
The future of hardware
We have not even considered how this affects hardware in the future. If a mobile phone is becoming camera-first, will the likes of Snap's toy-like 'Spectacles' become more popular in the future?
What do you think? How will your business use Facebook Stories when it rolls out? And how will your business leverage the wider marketing changes that the 'story' model is driving?