Life at Fresh Egg
There's a reason why we enjoy staff retention rates that are way above the industry average. But don't just take our word for it.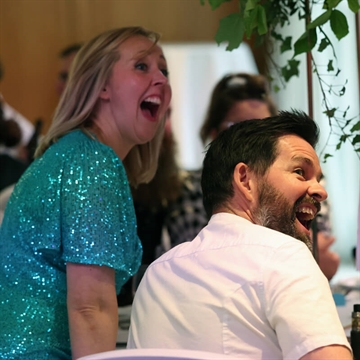 Recruit
We look for people who share our values – Helpful, Pioneering, Truthful and Tenacious. These are the values we live by daily so if that's you, you'll fit right in!
Settling into life at Fresh Egg is nice and easy. No dropping in at the deep end allowed. From day one, you'll feel part of the team as we take the time to get to know each other, giving you time to learn about the business, meet and work with your new colleagues and understand how your role works in partnership with others across the company.
Experience is important to us, but so is mindset and appetite for learning. Of our two-stage interview process, part one allows us to understand your skills, experience and attitude to work, identifying learning gaps and how we can help you progress your career. Part two is a working brief to understand your approach and how you'd fit in with the wider team.
Retain
Keeping our wonderful team engaged, upskilled and passionate about what they do is important to us.
We work in a fast-moving industry and continuously invest in our people to support and push them forward in their careers. We've worked hard on our structured and progressive Personal Development Programme (PDP), with lots of focus on learning and development at all stages of service, not just at induction. We work with our team members to set out clear objectives, shape their futures, and put plans to achieve those goals, with space to grow and time to work on all sides of personal development.
In terms of employee retention, the numbers speak for themselves – our average length of service is five and a half years (against a benchmark of two for the digital marketing industry), with many staff having stayed upwards of ten years!
Hear James' journey from Apprentice to Senior SEO Manager in just five years.
Develop
Nobody wants to stay static forever, not our team, nor the business. Over the past two decades our industry and offering has changed and shifted in more ways than one – and it's our team members who have helped us keep pace with this and stay on top of our game.
Our coaching and mentoring style of management, coupled with our tailored training programmes, let people take ownership of their careers and become accountable for their own development and that of the business.
Watch David's story from Senior Social Media Strategist to Strategy Director in just six years, where he now helps drive a new direction for Fresh Egg with learning events, whitepapers and thought-leadership as we continue to share the value of our experience.