Talent and culture
Working at Fresh Egg is like being part of a family.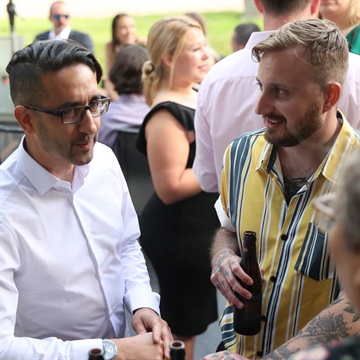 Welcome to the team
We know the value of our people and what they bring to Fresh Egg. For us, life at Fresh Egg is all about family values. There's a reason why so many of our staff have been with us for so long – and it's not just the great social events, strong client relationships and rewarding work.
We don't believe in hierarchy or formalities. We're powered by collaboration, thrive on learning, and continually invest in our people so they can bring their best selves to work every day.
In our open-plan office, you'll find a happy and highly skilled group of individuals who feel empowered and passionate about what they do. Growth is a driver – and so is belonging. We want people to feel proud and take ownership of their work, so we reward and encourage them to do so daily.
New joiners are quickly made to feel at home. With no box to fit into, and no barriers to growth, we let team members spread their wings. We also provide coaching and mentoring to upskill, and regular rewards to keep motivation high.
As a business, we're built on the same family values that we started with in 1999. We were founded by a brother, sister and childhood best friend, Adam, Pip and Lee. Two decades on, they're still the owners of Fresh Egg and together they've seen the company ride the ever-changing wave of digital to where it is now: a multiple award-winning and industry-leading agency with more than 50 staff at the helm.