Digital marketing strategy creation
and support
Delivered in three phases, we provide organisations with an actionable audience-led strategy to accelerate marketing performance.
Find out how we helped a national charity
We create digital marketing strategies and help implement the plan, immersing fully within the organisation's team. Applying an audience-led approach, we collaborate with our clients to provide an actionable digital marketing strategy to accelerate marketing performance.
We are perfectly placed to help you develop and implement a digital marketing strategy for your organisation due to our vast experience of understanding the typical challenges our customers face and knowing how we can resolve these. Our 'tried and tested' methods, combined with years' of hand-on marketing experience within the strategy team, guarantee that your strategy will not only be customised for your requirements, but will also deliver the results you need.

David Somerville, Strategy director
Split into three key phases, the end deliverable is a full and actionable digital marketing plan tailored to the capabilities and objectives of the organisation. Discover how we deliver our three-phased approach: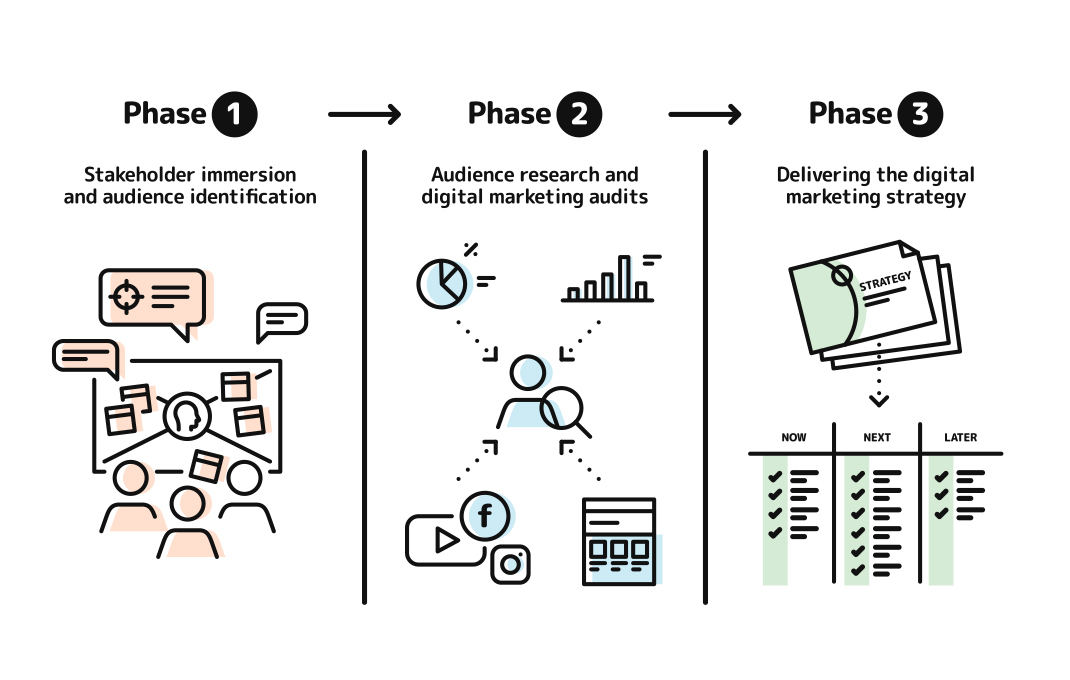 Phase one: Stakeholder immersion and audience identification
During the first phase, we carry out the following activities to validate the key challenges being faced by an organisation
Benchmark the skillset of current team members in relation to future requirements, goals and objectives

This is essential to set training and career progression objectives and motivate the team for the forthcoming strategy transformation

Opportunity spotting research

We hold interactive fact-finding workshops with key stakeholders to identify opportunities for improving fundraising, marketing etc.
Findings from stakeholder workshop sessions are combined with qualitative research
The team will establish competitor understanding, for example: Which competitors are performing well? Which of your competitors do you aspire to eclipse? Which case studies can be compared?

Digital marketing SWOT
Empathy mapping of key audiences

Utilising our popular approach to empathy mapping, the team gain an understanding of an organisations view of users which is then tested through in phase two with valuable audience research 
Phase two: Audience research and digital marketing audits
We get into the detail of understanding audience needs and any technical deficiencies, including:
Customer interviews leading to the creation customer experience journey maps
Creation of 'moments of truth' (the points which are impeding customers)
Understanding of key areas of pain for users across the customer journey and a plan for what needs to be done
Full capability audit of current digital marketing activity which can include any number of the following:

Social media, video and off-site review
Web properties
UX and content
Staffing and in-house expertise
CRM
Data reporting and analysis
Digital marketing platforms
Paid advertising
SEO
Email marketing
Martech capability and use
Phase three: Delivering the digital marketing strategy
Gathering all the insight from phases one and two, we deliver the completed digital strategy back to your team, ready for implementation
Actionable recommendations in line with key goals and objectives
Action on how an organisation can enhance engagement with key audience groups
Identification of new opportunities to expand reach in line with targets:

How to meet goals and objectives
Clear now, next, later actions with actionable realistic recommendations ready to be used by the team
Reasons to partner with us for digital strategy
How we transform our clients' digital strategies
Inclusive, empowering process
An extensive familiarisation and discovery process with integration and understanding of an organisations unique traits and working methodologies
Transparency:

We provide a full line by line breakdown of what it takes to deliver the digital strategy
The project team will keep you informed of all activity throughout the journey towards the final strategy

Access to a wide network of experts:

While we have an excellent array of in-house expertise, we also know we are not experts in everything. Should the need arise, we have an extensive network of partners and experts that we call upon to give the right advice
Transforming Christians Against Poverty's digital marketing strategy
Learn how we helped debt-help charity Christians Against Poverty research, create and implement a three-year digital strategy.
"The thing that stands out to be with Fresh Egg is that it's felt like having a partner join alongside, rather than a consultant. Where other consultants would have stopped and handed work over to us, if it was something they could do more easily, they did it. It speaks of the depth of care they have for us as clients and the passion they have for the work they do."

Dan Lane. Director of Fundraising and Marketing, CAP
Companies we have helped with digital strategy include:
Loading
Talk to us about your digital challenges
Tell us your needs and we'll be in touch
Discover our other services