Generative AI Transformation
Powering positive change
We will revolutionise your marketing, delivering AI-powered insights and efficiencies transforming your digital success.
Enhance your digital marketing with the power of AI
Let us help you build a better future by embracing and using the potential of Artificial Intelligence (AI) to foster transformative digital marketing strategies. We use the technology to generate insights from existing data, predict future trends, and even produce content, offering an edge in digital marketing, saving time and creating efficiencies for stretched marketing teams.
Talk to us
Enhance marketing strategies
Leverage generative AI's predictive power to stay ahead of market trends and create content that resonates, ensuring your marketing strategy remains dynamic and impactful.
Streamline operational processes
Utilise AI discovery to uncover efficiencies and improve processes, reducing friction and operational costs while gaining valuable customer insights for informed decision-making.
Maximise customer engagement
Deploy AI-driven insights to identify critical touchpoints, tailor interactions, and enhance customer experiences, leading to increased satisfaction and loyalty.
Our AI expert, Lee says
Machine Learning and AI have been central to digital marketing for a long time, but it has been in the hands of big tech players such as Meta and Google. Who sees your ads online has long been a decision AI algorithms make. The new generation of generative AI systems, such as ChatGPT and Midjourney, will now allow us to automate and innovate in the creative aspects of marketing.


Lee Davies, AI Engineering Director  
How we transform with AI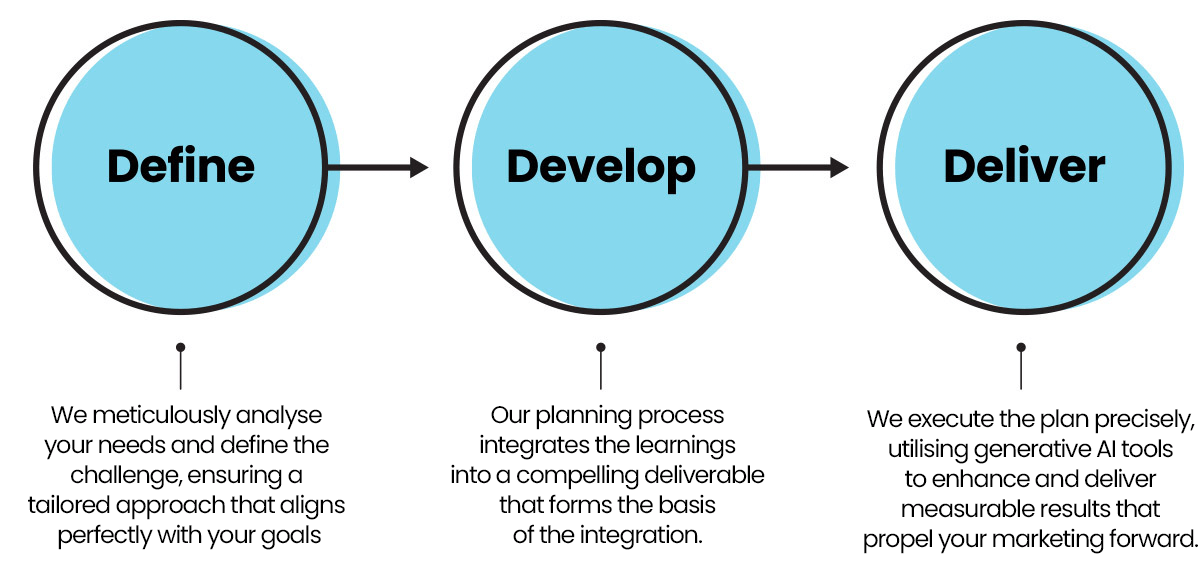 Our generative AI services
AI discovery
We use AI discovery to understand potential challenges, reduce operational friction, and optimise digital performance.
AI insight
Through thorough data analysis, we learn about the 'key moments of impact' and the potential of AI to steer your marketing towards success.
AI solutions
We build solutions that respond to the identified 'moments of AI impact,' seeking to enhance your marketing operations using AI tools.
AI training
Our interactive half-day training course gives teams a comprehensive understanding of Generative AI and its applications in marketing.
Loading
Tell us about how you want to integrate AI
We can help