Google Analytics training
Implement web tracking and interpret important data with our Google Analytics training courses – expert training from Google certified partners.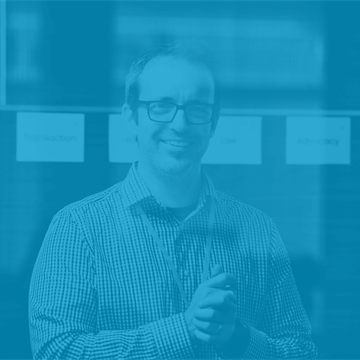 Online analytics and data training.
Our training sessions will help you power-up your understanding of Google Analytics and give you the tools to drive real insights from your data.
Find out more about our different analytics and data training modules and courses
Browse our data and analytics training modules and watch excerpts from the sessions. We can tailor our online training to your specific needs.
Visualising data with Google Data Studio
Course summary:
This training module will introduce you to data visualisation fundamentals using the free Google Data Studio to bring data from a number of different sources together. It will help your organisation use data more efficiently, and make data easier to access from one place.
The key to becoming a more data-driven organisation or department is to make data accessible and easy to understand. You will learn to connect various data sources to Data Studio, display that data in an aesthetically pleasing way and to make it accessible and interactional for various types of audiences.
What attendees will learn:
How to design reports and/or dashboards that are visually pleasing, interactive and meaningful for their audience
The effective use of various forms of data visualisation, like charts, graphs and widgets
Basic features and advanced functionality of Google Data Studio, such as date picker, filters, drill-down, segmentation and automation
How to connect different data sources like Google Analytics, Google Ads, YouTube, Google Search Console and Google Sheets
Watch an excerpt from one of the training modules:
Google Tag Manager
Course summary
This one day course has four will provide you with a full understanding of Google Tag Manager. You will leave with knowledge of the tag management solution, its features and limitations. You will have conducted several practical exercises to implement tagging for Google Analytics and created custom events in a trial environment. You will be able to implement your skills immediately and improve tracking within your organisation.
What attendees will learn:
A full understanding of the tag management solution

You will be familiar with how to structure Google Tag Manager

How to use tags for different purposes

You'll know how to oversee the correct implementation on a website
Introduction to Google Analytics
Course summary
This introductory one-day online course covers four insightful sessions and provides attendees with a thorough tour of Google Analytics. Ideal for users with no prior experience, at the end of the course, you will be familiar with the interface and its different reporting options, as well as being confident in tagging and tracking campaigns, customising a dashboard and producing your own bespoke analysis and reports.
What attendees will learn:
How to create a measurement framework to track your site's progress
Structuring accounts for multiple sites
Web analytics fundamentals
How to access and understand the audience and traffic source reports
The ability to understand user behaviour and conversion information
How to track campaigns and create custom reports and dashboards to present data and insight
Advanced data to insights with Google Analytics
Course summary:
This training course looks at what data is available in Google Analytics 'straight out of the box' and how that data can be further customised and enhanced to become more meaningful for our organisation. You will learn how to turn the data in your Google Analytics into 'actionable insights'.
Successful data analysis starts with a question or hypothesis, but how do you know what to look for? We will look at the business context and learn how to ask the right questions and how to then find the answer in your data.
What attendees will learn:
How to draft up a measurement framework for your organisation so you are measuring the right metrics
How to effectively use advanced analysis functionality of Google Analytics, like custom dimensions, secondary dimensions, custom segments and more
Five quick checks to verify the integrity and validity of your data
Getting started with Google Data Studio, connecting it to GA and analysing your data
Cleaning data up in Google Data Studio, by using formulas to group content,
Correct poor campaign tagging and using calculated metrics
Watch an excerpt from one of the training modules:
I think Julian really understood what we want out of our analytics which made the training feel very relevant to us and therefore engaging. It was reassuring to have an indication of which of the reports in GA are the most useful and likely to generate actionable insights, vs which ones we can safely ignore.

Alex, The Health Foundation
There was a really good mix of quick wins (for example, configuring default channel grouping) as well as longer-term projects for us to think about (for example, how we can use segments to track journeys across the website in a meaningful, insightful way).

Kate, The Health Foundation
Great training day provided by Fresh Egg on Google Tag Manager. She knows her subject well and was able to share her knowledge in a constructive way, allowing us to take part in practical test environment which we could then take on to use within our own organisations. There was the chance to ask specific questions relevant to our own work plus the training was in a great location within a spacious and comfortable environment!

Anonymous, Google Marketing Platform Partners
If you'd like to talk to us about our analytics training options, leave your details below, and we'll get straight back to you.
Discover our other digital marketing training courses