Newspaper 'Pay Walls' Could Be Powered By Google Checkout
It appears that Google could be looking to launch a pay wall system for online newspapers, after a Google spokesman acknowledged that the giant is in discussion with several publishers. At a press conference on Sunday, the spokeman stated:
We're looking at technology that could power any paid subscription service they're thinking of running
With revenues falling considerably for most major news publications, most are attempting to move with the times and find a way to monetize their online content. A number of prominent newspapers (the most high profile of which being the New York Times) have already declared they will be setting up an online, paid subscription versions of their current sites.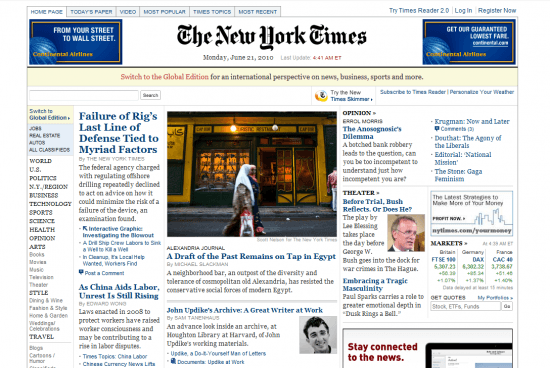 One of the issues facing publishers who want to utilise such a system (quite apart from whether or not consumers will go for it), is how to find a suitable technology or interface to handle the subscription payments. Google Checkout could be the perfect solution for them, as it allows for a one-click tool which can automate the subscription process on PC or Mac, as well as mobile and tablet devices.
The Future For Newspapers
For me though, a more pertinent question than 'which technology should they use' would be 'will the switch from free to paid viewing work for the publishers', and to be honest, i think the answer is no. For a start, there's very little to differentiate one news site from another; they all tend to contain the same major stories and I would suggest that brand loyalty is very weak in this industry. People might have a preferred news site, but i think as soon as pay walls are introduced, they'll simply find another one. Research conducted by the Pew Research Centre in the US suggests this is most likely the case; finding that in America only 35% of online users have a preferred news website. Out of this minority, a staggering 82% said they'd find some other news site if their current favourite put up a pay wall.
I don't think this is particularly surprising, and i would suggest it's likely to be the same in the UK. Newspapers just don't do enough to connect with their audiences in such a way that they recieve a genuine loyalty from their readers.
Plus the younger generations are far too web savvy to pay for content that they would consider openly available, and essentially free. It feels like the publishers are being a little arrogant and frankly are overpricing their brand appeal; they assume that people will be happy to pay for content they can get elsewhere, just for the privelege of reading it under a certain banner, or written by a certain journalist. For me, the publishers are being a little naive, and i just can't see them making the revenue they require from pay walls.