Will important Google Grants changes affect your account from March 2017?
Written by
Intern
- 31 Jan 2017
For eligible charities in the UK, the Google Grants programme offers grants of $10,000 per month to fund your paid search activities, giving an invaluable boost to your online marketing and donor recruitment efforts.
Fresh Egg has worked with a number of UK charities to achieve, and to retain, Google Grants status. If you're not among them and would like to learn more about the programme and the expertise Fresh Egg can bring, dive into our blog post on how to make the most of the Google Ad Grants programme or download our guide to using Google Ad Grants.
But for organisations already taking part in the Google Grants programme, Google is changing the way that charities qualify that could require you to take immediate action to ensure you stay on the programme beyond 31 March 2017.
What's changing?
Google Grants is part of an umbrella programme called Google for Non-Profits. In addition to the in-kind advertising credit already offered, Google for Non-Profits will now offer a suite of tools to support the important work being undertaken by charities and not-for-profit organisations. Previously it has been possible to join Google Grants without being a member of Non-Profits, but from March, membership of the umbrella programme is mandated.
In Google's own words:
"These tools can help non-profits find new donors and volunteers, work more efficiently and get supporters to take action."
In the UK and Ireland, these tools are:

G-Suite for Non-Profits - A free version of the G-Suite of business tools for running your organisation (mail, calendars, Google Drive and Hangouts, amongst others)
Google Ad Grants - In-kind advertising worth up to $10,000 per month to help organisations advertise on the AdWords platform
YouTube Non-Profit programme - In-kind advertising to help charities solicit donations through their video content, to assist with video production, and to give exclusive access to YouTube technical support that can be so invaluable when setting-up or optimising new campaigns
Google Earth Outreach Grants - Free access to Google Earth Pro, along with other Google mapping technologies
All of these service are accessible on an opt-in basis via the Non-Profits dashboard.
What might my organisation need to do?
At this point, advertisers who are a member of Google Grants but not Non-Profits will need to enrol on the latter programme in order to remain a member of Google Grants. Any Grants participants have not done this by March 31 2017 will be removed from the Google Grants programme, and your relevant account(s) will revert to standard, paid-for AdWords accounts.
Google are emailing relevant advertisers, so please be on the lookout for this email in your inbox: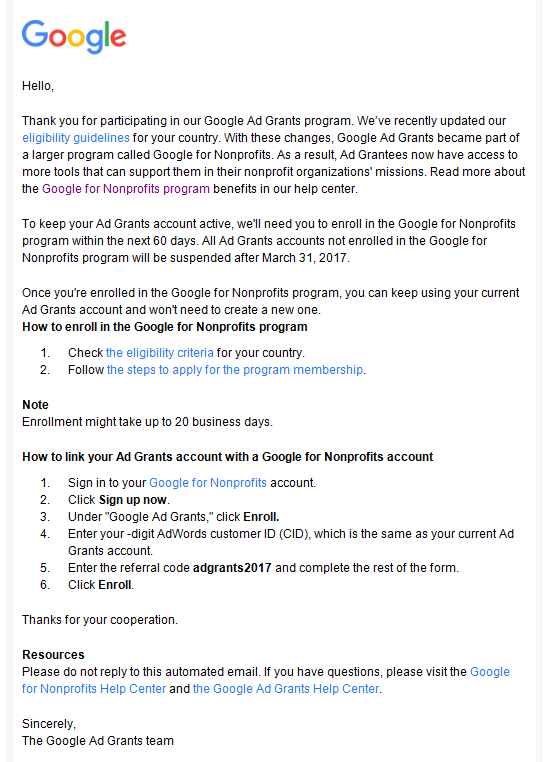 Eligibility for Google for Non-Profits is as follows:
Organisations must be registered as a charitable organisation in the relevant country – in the UK, this requires a Charity Commission registration
Organisations must have a current registration with tt-Exchange, the regional arm of TechSoup, who work to connect charities to technology that raises and saves them money
You can check your enrolment on Google's charity programmes, and make any required application for the newer Non-Profits programme via your Non-Profits dashboard.
The takeaways from this blog post are therefore:
Check your inbox(es) regularly for an alert from Google
Log-in to your dashboard to check your current status and make any changes required
Bear in mind the March 31st deadline, and the up-to 20 business-day wait for enrollment
Talk to our friendly Biddable Media team about Google Non-Profits, or your digital marketing needs in general.