Sometimes, all you want is a quick, well-informed and expert answer to your most burning marketing question.  And if that answer could be on your screen, well, now, then that would be great!
At Fresh Egg we like making things easy for our clients. Time is a precious commodity, and getting lost in a Google wormhole to research the best tools for your business is sadly not something you might have much time for.  So, we've done the hard work for you answering "Which personalisation tool is right for my business?"
As head of CRO and Personalisation here at Fresh Egg you don't need me to tell you that personalising the content and user experience on your website can deliver a host of benefits to your business:
Improved onsite engagement
Increase in return visits
Enhanced customer journey
Building brand loyalty
Drive more revenue
However, with so many tools on the market, each with their own pros and cons, and varying suitability for different sized organisations, it can be a time consuming and confusing landscape to navigate.
It's a good job, then, that me and the team have put our research hats on and compiled this handy comprehensive guide of the very best personalisation tools on the market.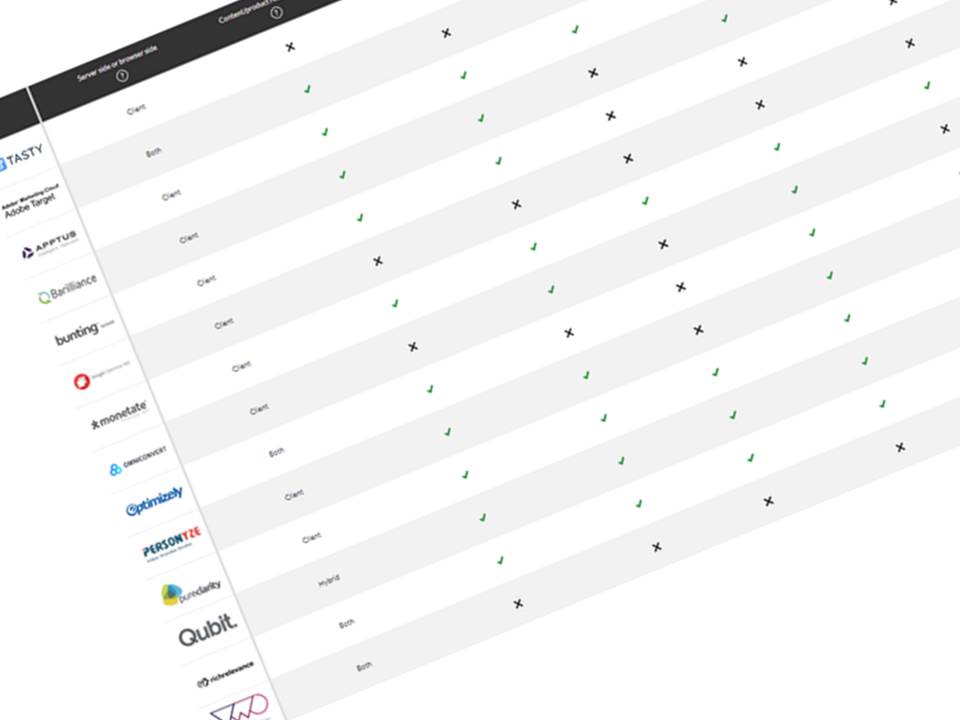 Click to view the table in its full glory.
We've analysed 14 industry-leading tools, tested them all, compared them side-by-side, and identified their best (and worst) assets. The at-a-glance table that we have created shows each tool's functionality and integrations in an easy-to-read format.  
Adam Stafford, our Managing Director said "Personalisation is something an increasing number of our clients want to know more about and, above all, one question unites them all: what is the right personalisation tool for us and how simple is it to integrate into our current marketing stack?   As a direct result of this Duncan and the CRO team here at Fresh Egg set about creating the industries first personalisation tool comparison table and guide, to give our clients an unbiased snap-shot of their options.  This resource aids our clients with some of the headline knowledge they need to quickly filter down their options before investigating them further"
The downloadable guide provides a little more in-depth information about each tool detailing the pros and cons and providing guidance on the best tools for small, medium or large businesses. Have a look foryourself to find the best tool for your business.
If you missed our three part blog series on personalisation and why it matters, written by Senior Conversion Strategist, Hans Hoogenboom, catch up here:
Personalisation - What you need to know and why
Why Google Analytics is crucial to personalisation