Mobile SEO - Everything You Need to Know (Part 1)
Welcome to the first in a three-part series of blogs on everything you need to know about creating a successful mobile SEO strategy.
In this series we break down the three pillars of mobile search, which extends far beyond the obligatory responsive website:
Part 1 - Discoverable
Part 2 - Useful and convenient
Part 3 - Measurement
There's no getting away from the fact that mobile has revolutionised the way we search and interact with brands. The smartphone is a gamechanger for search. It allows you to reach customers with hyper-contextual, personalised and relevant results based on implicit signals like the user's location, current activity and personal information.
With these signals in mind, our devices open a wider range of touchpoints, specific to mobile, for each step in the customer journey. These touchpoints are at your customers' fingertips whenever and wherever they want, 24 hours a day and seven days a week.
Thanks to the smartphone, your brand has a constant connection with your audience, and that's great – but is your business discoverable and useful when they need you the most?
Let's start with how to make your brand DISCOVERABLE on mobile, with advice on good mobile SEO strategy, and how to easily apply it to your business.
7 ways to make your brand discoverable on mobile
The first step in a successful mobile strategy is, of course, to make sure you can be found. No business likes to play hide and seek, especially on mobile, when your customers expect immediate, relevant and contextual results in their moments of need, whenever and wherever they want.
Think about the different ways a customer might come into contact with your brand (touchpoints) on mobile, and ask yourself: 'how visible is my business at each stage of their mobile journey?'
Are they looking to learn something, go somewhere, do something or buy? These 'micro-moments' are instinctive impulses where a person picks up their phone to complete a task. Understanding what your audience is looking for and which format they want to consume content is critical to making your brand discoverable on mobile search.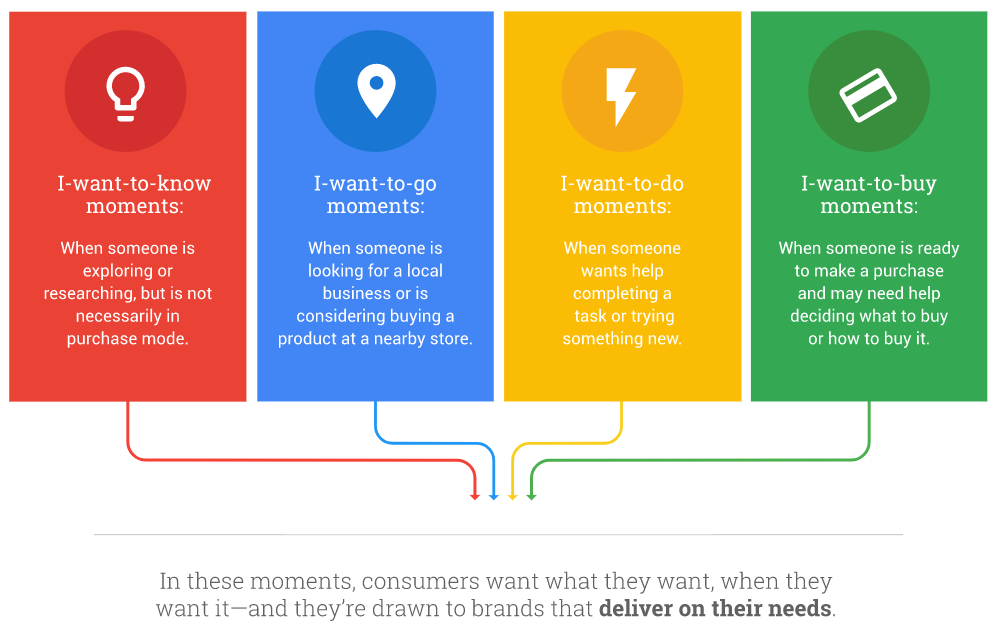 1. Understanding and matching user intent
Due to the unique functionality on our devices, search results are displayed differently on mobile than on desktop. On our mobiles, our interactions are more visual and gesture-based. We swipe, scroll and tap through sites, apps and search results, and your content needs to reflect this.
It's about brevity, and creating a seamless, interactive and frictionless experience. For mobile, instead of text-heavy long-form blogs, think lots of engaging carousel images, video content, short, snappy paragraphs and bullet point instructions.
If your audience is searching 'how to fix a bike tyre' (in their I want to 'know' micro-moment), they won't want to read reams of text, and will likely prefer a video. A quick Google search of this on mobile will show you the types of content that are ranking best, and potentially the type of content you should be creating.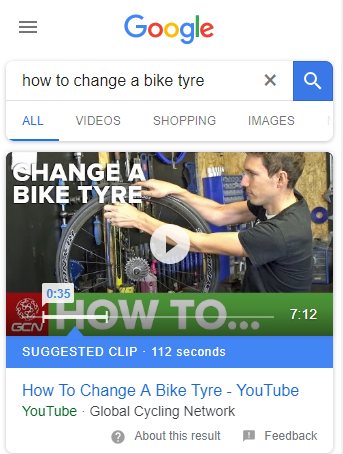 2. Optimising your listings for local search
What is local search?
Local search is basically showing the user hyper-contextual information about a physical location, allowing them to easily navigate to a place, find contact information or view reviews. It's specific to the location they're in as well as the place they're searching. The growth of 'near me' searches places greater importance on having fully updated and optimised Google MyBusiness (GMB) as well as other local listings to make your brand discoverable on local search.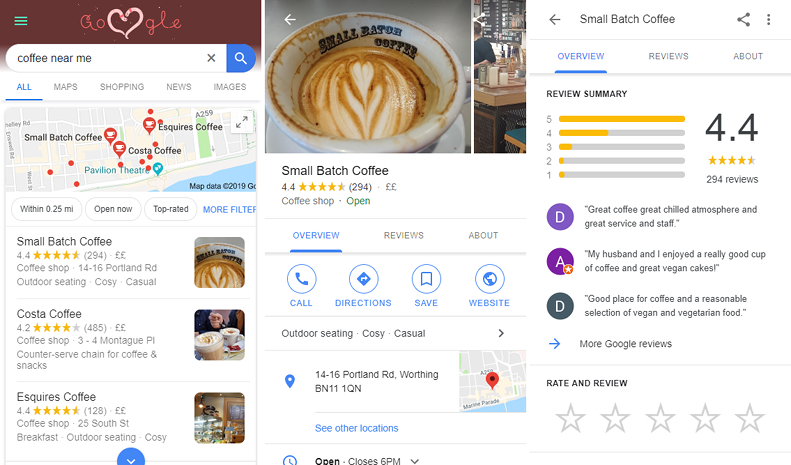 Why is it important?
Nearly a third of all mobile searches are related to location, and nearly two-thirds of smartphone users are more likely to purchase from companies whose mobile sites or apps customise information to their location, according to Think With Google
When a user searches 'coffee near me' with location services enabled, the results served are hyper-local to that place. The same search for 'restaurants near me' will present totally different results when done in Leeds compared to Brighton, for example.
The growth of local 'near me' searches in Google trends data over the last five years shows a key opportunity for brands to be useful here with hyper-targeted, relevant and localised content. Providing an optimal listing for mobile users across all of your assets will allow them to easily navigate to your store, call your local branch or see reviews of your business in their micro-moment of need.

Google trends data for 'near me' searches
Tips and considerations - become discoverable in local search:
Optimise GMB listings. This is often the first exposure to your brand, and first impressions count. Download our guide to learn how to make your listing stand out.
Consistently provide name, address and phone number (NAP) on all properties internal and external, including your website, GMB page, social profiles and external listings.
Incentivise your customers to post positive Google reviews – this increases visibility and makes you stand out in local listings with star ratings.
Provide photos, or go interactive and let users see inside.
If you have multiple branches, provide pages for each store's location on your site with as much contact information as possible.
3. Use Accelerated Mobile Pages (AMPs) to serve your customers quick and optimised content
What is AMP?
Lightweight, stripped back, high performing pages that load instantly for mobile users. It's basically a smartphone's dream. Accelerated Mobile Pages or AMP for short looks to make browsing the mobile web as fast and easy as possible. Delivering content literally in an instant – something that mobile users expect but do not always get.
Why is it important?
The more AMP becomes common in SERPs, the more expectations remain high for more of this type of content.
If a large percentage of your search share features AMP and you're not yet doing so, you risk losing traffic to competitors who are already delivering a faster experience to users. If you want to reach (and delight) your audience at the discovery stages of their journey, it's crucial to provide them with this positive and seamless first impression.
4. Make your app discoverable in search results with App Indexing
What is it?
Another way for your brand to be discoverable on mobile is via your app. Google's App Indexing allows search engines to crawl and index content within your app, so it can then be surfaced within search results for relevant queries. If they haven't already downloaded, users will then be able to install your app directly from the search results.
An example of a company which does this really well is Airbnb. If you search the brand from your mobile you'll likely be served listings directly from the app instead of the mobile site, providing a quicker and more interactive experience. You could also take this one step further with deep linking - a process of sending users to relevant screens within the app via a specific URL, these can be used on a campaign basis via email, social, SMS etc.
Why is it important?
Deep linking and app indexing enable users to be sent directly to apps at relevant points in the journey, allowing them to complete tasks in an environment specifically designed for smartphones.
It's useful for re-engaging users or prompting users to go straight to your app via auto-complete suggestions. It opens another touchpoint for a mobile user to discover your brand, allowing you to tap into a new audience via Google search that you previously wouldn't have been able to.
Tips and considerations
If an app features in part of your digital arsenal, app indexing and deep linking is an absolute must for your mobile strategy. Consider what points in your user's journey they would prefer to visit your app, bearing in mind an app's ability to be personalised, faster and offer better UX than a website.
5. Video and rich results are dominating on mobile – so make sure you're using both
What are rich results?
Rich search results are specifically designed for mobile users, answering their need in a format suited to their intent. They can swipe through recipes, easily navigate holiday destinations, filter results further, and click straight through to the exact point in a video.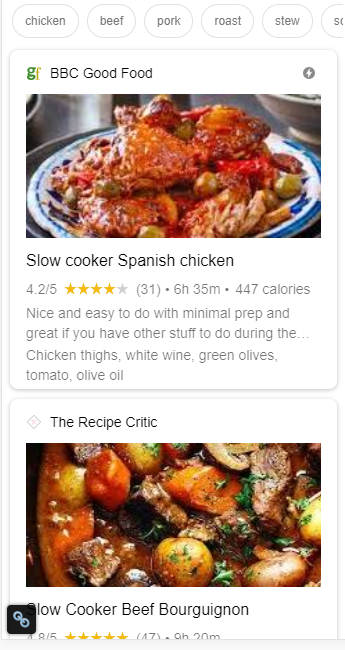 Why are they important?
Google's priority is to provide a truly mobile first experience; so rich cards are a perfect example of this. Allowing mobile users to interact with content in a much more mobile friendly and intuitive way, directly within search results.
Video typically meets the 'I want to know' micro-moment more effectively than text. Google recognises this, and video carousel results are ever-more present within mobile search results.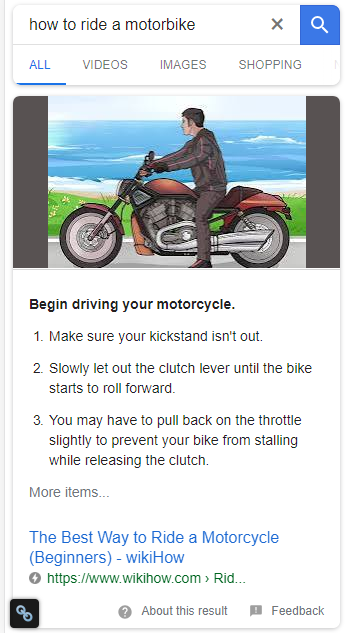 Many search queries are also answered directly within mobile search results in the form of answer boxes. These rich answers often take up valuable real estate and on something as small as a mobile phone screen can be critical in grabbing the attention of a mobile user. Answering these questions directly within the search results again removes an additional step for the user.
Tips and considerations – how to make your brand discoverable with video and rich results
You should always be answering a user's need in their preferred format. Consider what questions your users ask about your product and service and how do they expect to digest this. A content strategy will help you understand your audience's intent, evaluate whether your content is meeting their needs, and create a roadmap that does exactly that.
To learn how to feature your content in rich card format for more stand-out, interactive mobile search results, read our blog on how to use Google Tag Manager to inject structured data into your site.
6. Contextual voice search is the future… 'OK Google, what movies can I see tonight?
What is it?
Voice search has been around for a while but the difference is, now our devices understand context and nuances of conversation. With the rise of artificial intelligence and the popularisation of virtual assistants from Google and Amazon, more users are turning to this new tech to easily complete tasks and provide immediate answers to questions.
The best example of this came at Google I/O 2018, with the Google assistant making phone calls on behalf of users:
Why is it important?
Voice search will continue to shape the way users interact with their devices. It reduces further remove additional steps in their journey to get immediate answers. Google and other tech giants are working hard to turn voice search into something more than just a mobile search tool, with a goal to use it to create the ultimate mobile assistant.
Tips and considerations
With voice search queries taking a more conversational and longtail form – i.e. 'show me the local news?' instead of typing 'Worthing news' into the computer – marking up your content with structured data is key to explicitly inform search engines what it is.
Google is putting a lot of resource into understanding and processing natural language to provide a more natural and frictionless user experience.
This can be useful where search engines might have difficulty differentiating between terms, i.e. jaguar the animal vs. the car manufacturer.
For more on artificial intelligence and how to maximise its potential for your business, read our blog.
7. Product inventory ads on Google Shopping
What are product inventory ads?
This is a great Google Shopping feature that notifies mobile users of the in-store availability of products searched. It's great for answering the 'I want to buy' micro-moment with specific, localised and relevant information.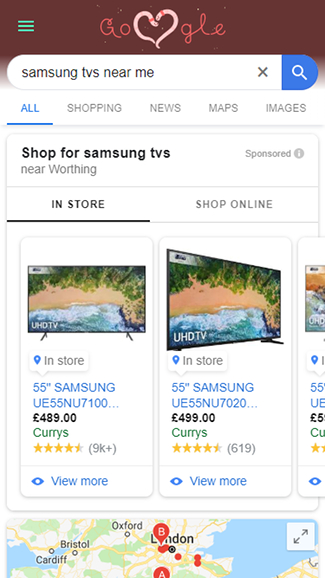 Why is it important?
Mobile users are driven by convenience; product inventory ads can be made to play to this. Showing a user their desired item is in stock and only 1.7 miles away will draw their attention and make it nice and easy for them to move from research and consideration to the purchase phase of the customer journey.
Once driven to your physical location, users will still use their smartphones for research in store. Comparing prices, products or looking for reviews. Are you discoverable when a user is doing this?
Tips and considerations: should you be doing it?
This could be taken as a threat, with a fear customers will go elsewhere. However, brands like Sephora can be seen turning this into a strength. Encouraging users to scan the physical item with their smartphone to view further product information, keeping them engaged with the brand.
Asking users what they were researching on their smartphones in store will also be valuable, search for this information and see if you are discoverable. Offers for those in store could also be effective because a user will probably not go to another store for a cheaper item if you give them an offer on-the-spot.
Next post: how to create make sure your mobile search content is useful
So now you're aware of the diverse ways you can make your brand discoverable on mobile, where do we go from here?
Our next post in this series will explore the second element of a mobile search strategy – being useful. It's all very well if you're discoverable – but if you're not providing value to your audience with useful content that meets their needs, what's the point?
The impatient nature of mobile search requires brands to be useful immediately, providing value at this initial stage of the journey will yield stronger results, in the long run, strengthening brand affinity.
Keep an eye out for the next post which will cover:
Identifying and answering mobile user needs
Mobile user experience
Content formatting for mobile users
Being fast for mobile users
Providing effortless paths to conversion
Do you have any burning questions on this blog, or are you looking for assistance in ensuring your brand and content are discoverable in mobile? Get in touch and one of the team will be glad to help.