Mobile SEO – (Part 3) Four steps to measuring and refining success on mobile
Welcome to the final part of our mobile SEO trilogy, where we've been exploring how to make your brand discoverable, useful and measurable on mobile.
ICYMI, catch up on our previous posts below:
Understanding and matching user intent
Optimising listings for local search
Accelerated Mobile Pages (AMPs) and why you need them
App indexing
Why contextual voice search is the future
Product inventory ads
How to answer mobile users' needs with useful and relevant content
How to provide a strong user experience (UX) – and why often, less is more
Steps to make your content easily digestible on mobile
Why good site speed is vital
Removing roadblocks on the path to conversion
All caught up? Let's learn how to measure and refine the success of your brand on mobile
Now we've covered how to be both discoverable and useful on mobile, our final part of the series will highlight the importance of measurement and refinement for your mobile SEO strategy.
With 62% of all internet browsing now happening on mobile, tracking mobile performance of your site is critical and should be given as much attention – if not more – than tracking your site engagement on any other device.
Think about creating mobile-specific dashboards in Google to understand how mobile users are interacting with your site and identify sticking points to conversion.
Ask yourself, is certain content more popular for mobile users and is this content accessible and easy to navigate on a mobile device? Monitor how engagement improves when you start specifically answering mobile user needs or make mobile user experience (UX) improvements.
1. Identify the queries you're currently visible/discoverable for on mobile
What does this mean?
This is about understanding what your customers are looking for on mobile when they come to your site – does the content on your site match what they expect to find? Use search monitoring tools to identify the types of queries they're using and identify how you're already discoverable on mobile devices.
You can use tools such as Google Search Console, SEMrush and our bespoke visibility reporting tool to find where you currently have strong mobile visibility and will help you spot opportunities for improving your mobile search performance.
Why is it important?
You can't grow what you don't know! Without an understanding of your current strengths and weaknesses with mobile visibility, it's impossible to know where to start to improve.
Knowing the types of mobile queries you're appearing for in search for will start to reveal your audience's 'micro-moments'. A micro-moment is a moment of reflex. It occurs when a user instinctively turns to their device to act on a need – to learn something, do something; to watch or to buy.

Side note: learn more about micro-moments and why they matter for SEO on our blog.
Once you understand these moments of need (i.e. the mobile user's search intent), you can test your site to see if you're both discoverable and useful (providing relevant content and a good user experience) for these search queries. For example, if a user has come to your site after searching for 'coffee shop workspace in Brighton', does your content provide the information they need about workspace facilities, the coffee menu, pricing, and opening times? Is the experience optimised for mobile devices, e.g. is click-to-call enabled so they can easily phone you, and can they navigate to your premises from where they are?
It's important to look at mobile queries separately to desktop, as context differs massively by device. In doing so, you may discover needs that are important to your audience that your site doesn't currently meet.
What are your next steps?
Use tools such as Google Search Console to track and identify mobile-specific queries. Search for these queries on a mobile device for yourself and see whether you are discoverable and if your result and destination for this intent is useful for a smartphone user.
Compare mobile search queries to desktop queries, is the intent different due to the mobile user's location, and are different results presented on mobile devices compared to desktop?
2. Constantly monitor how users interact with your mobile pages
What does this mean?
This is the process of reviewing real mobile user interaction with your website. Tools such as Yandex Metrica and HotJar allow you to see what your users truly do on your mobile site, using heatmaps, user recordings, analysis of forms, conversion funnels and more.
They also show what the user tries to do but can't, and why this is – e.g. because of a usability roadblock such as a complicated form, slow site speed, unclear navigation – so you can improve your mobile user experience.
Side note: Read our tips to optimise on-site conversions
Why is it important?
User recordings are important for understanding if mobile visitors are truly engaging with your content or if it doesn't meet their needs and they bounce. Using tools like the ones mentioned above, you can view exactly what users are doing on your site, what they cannot do and what pieces of content they care about, so you can create and do more of what works.
Screen recordings provide evidence from real users on what the sticking points on your website are during their journey to convert. This allows you to quickly come up with a solution, essentially solving issues on the fly. It's real-time optimisation at its best.
Heatmaps are critical in seeing if users are truly engaging with your content, or if they only view a small portion of the page before moving on. You can also identify if there are parts of your page a large percentage of users try to tap expecting to be taken to a new page.
You can use this insight to change the above-the-fold content, set up new landing pages, improve navigation, and monitor the impact on the ongoing mobile UX of your site via Google Analytics dashboards and real user recordings.
What are your next steps?
Set up tracking for tools such as HotJar and Yandex Metrica.
Contact us if you need help with this and our team of web wizards will get to it.
Review some recordings of mobile users interacting with your site and start identifying sticking points. Are there certain pages with unusually high drop-off rates and are these pages that would be considered important to conversion?
Try segmenting session recordings by which parts of the site user visits – is the checkout process a real issue, for example?
3. Make sure all digital assets available to mobile users are tracked
What does this mean?
With so many mobile touchpoints for customers to interact with your brand, it's important not to let any fall through the net when reporting mobile performance. Bring everything together to get a full picture of a user's journey across all devices. This will also allow you to see where each mobile asset and experience sits within the customer journey .
Set up correct tracking of all of your mobile assets:
AMP
Apps
Deeplinks & app search
Local search
App stores
Promotion/campaigns for apps
Why is it important?
In this mobile-first age, the user journey is far from linear. A user might first discover your content on a tablet, research further on their desktop, return to their mobile to buy (if you've nailed your mobile UX), and re-engage via their smart watch.
Attribution of conversions to individual devices is becoming obsolete. Instead marketers need to consider where the smartphone fits in the entire customer journey and how it contributes directly to your bottom line across all channels.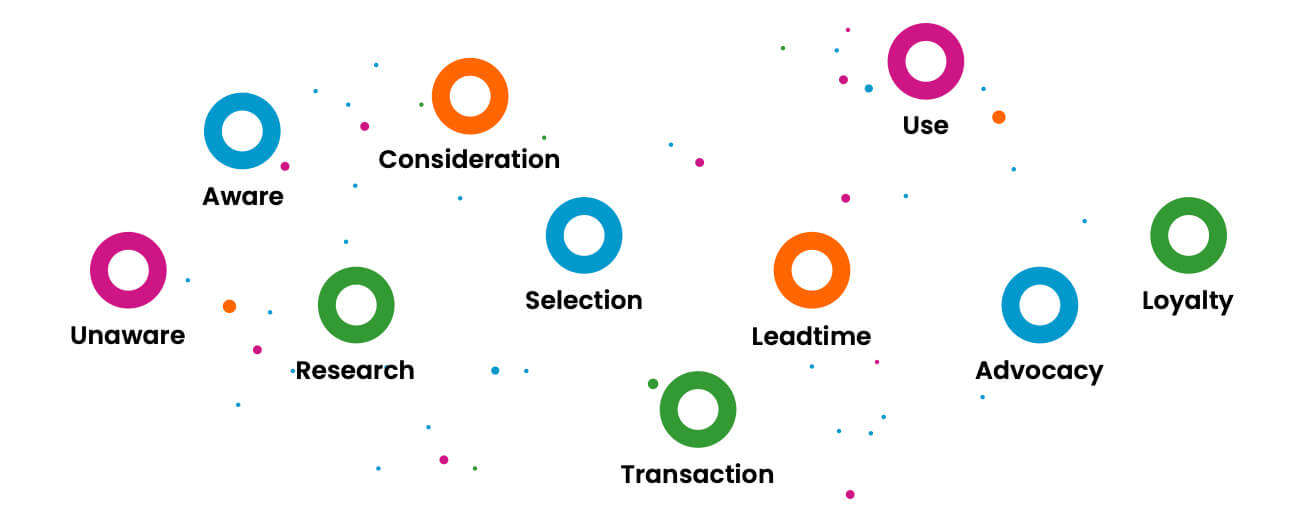 What are your next steps?
Be aware of all owned mobile assets and the tracking implications for each.
Mobile is a piece of the puzzle that shouldn't be treated in isolation, its impact and role needs to be accounted for by viewing the bigger picture. Making sure you're tracking all assets will give you this bird's-eye view.
Have you considered?
Joining up on- and off-line tracking to monitor how many in-store conversions were influenced by mobile
What a user researched before making their purchase on mobile?
How mobile device usage changes per channel?
When and where users are transitioning to your app from the web?
4. Create simple dashboards to review mobile performance
What is it?
Reporting dashboards that specifically report on mobile performance, allowing you to truly monitor how you perform on just mobile devices instead of treating mobile as an afterthought or addition to overall reporting.
Sidenote: Read our blog about how Google's new cross-device tracking can show you where your onsite conversions are really coming from
Why is it important?
The significant rise of mobile usage (62% of all internet use in the UK, according to the latest Ofcom report) justifies the need for smartphone usage to be tracked, analysed, and reported on as its own entity.
Mobile-specific behaviours will influence all metrics such as bounce rate, time on site, conversions and more, differently than desktop and tablet – with site speed being one of the most important, especially since the rollout of Google's Mobile First index .
There are lots of tools with simple dashboards to help you analyse mobile performance, such as Google Data Studio which is perfect for creating customisable, easy to understand visual reports.
What are your next steps?
Create your own reporting dashboards that report specifically on mobile performance, being conscious not to totally isolate mobile from other analysis – mobile is a huge part of the whole journey.
Use these reports to monitor changes specifically designed to benefit a mobile user, this can then be tied back and accounted for in performance improvements of the whole site.
So, let's recap on the three pillars of successful mobile search strategy:
To conclude this mobile SEO series, we have covered the importance of being discoverable, making your content useful, and measuring and making refinements to your mobile search strategy.
As you can see, a lot of work goes into making a successful mobile SEO strategy – it's so much more than simply creating a responsive website.
#1 Be Discoverable – make sure you can be found online when your audience are actively searching for you. Catch up on part one of this series here: How to make your brand discoverable on mobile.
#2 Be Useful – make it easy for your users to engage with you by directly meeting their needs with useful, relevant and carefully crafted content and UX that's optimised for mobile. Catch up on part two of this series here: How to make your brand useful on mobile.

#3 Be Measurable – set yourself up for success by understanding how to monitor and track all mobile assets and on-site engagement.
If you need help with transforming your mobile SEO, get in touch today and we'll be happy to help. See our full range of SEO services.
Find out about our digital services