Introducing Adobe Kuler
Chatting to a few people today I  realise that only a few people have come across Adobe Kuler, so I thought I'd give you a bit of an introduction to one of my favourite online tools.
Kuler (website here) is a flash based application found on Adobe's website; the first thing you come to is the Themes section of the site: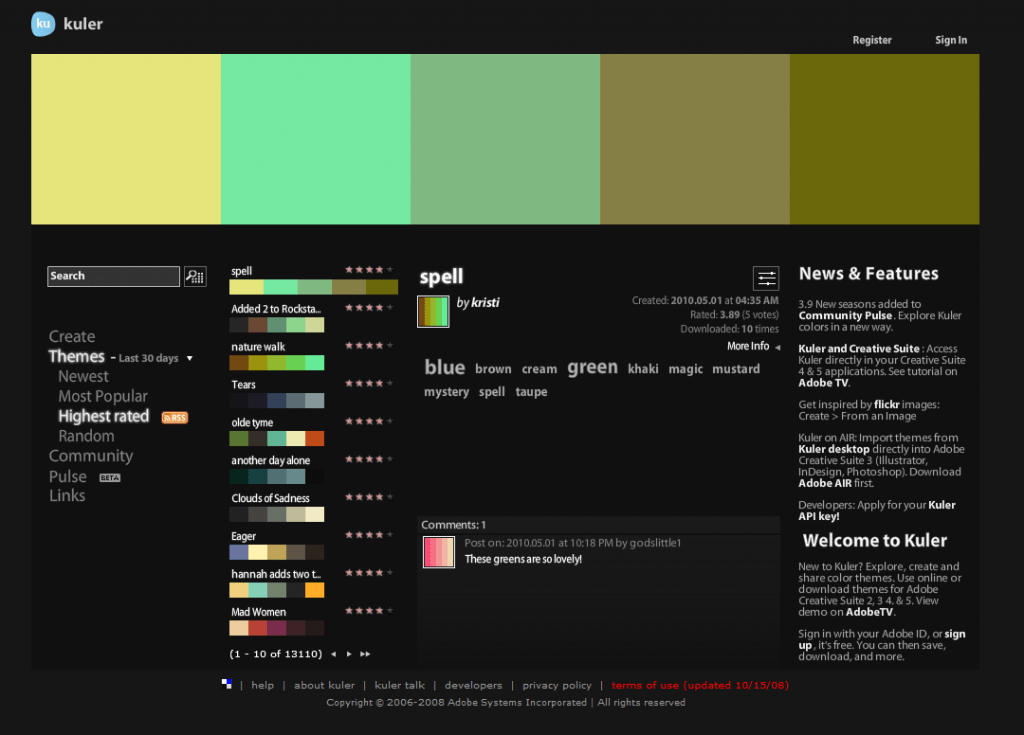 Here you'll find pre-loaded custom themes, the vast majority of which are user created. All the themes contain five colours and you can filter by newest, most popular and highest rated. You can also search by keyword, helping you find colour schemes for specific styles of design. It's an excellent quick stop resource for quickly finding colour scheme inspiration for either graphic or web design. But what if you're looking for an entirely new colour scheme?
Create
If you're looking for something that you just can't find using the themes page, then click on the 'create' tab, and you're taken to the following page: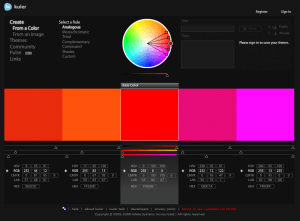 From this page you can create, alter and fine-tune your own five-colour schemes from scratch, using the circular colour chart in the top centre of the page.
You select your base colour (displayed as the middle of the five colour boxes) and move it around on the colour chart. As you move the base colour, the other four colours move with it and can be set using any of the following parameters (available for selection to the left of the colour wheel):
-Analagous
-Monochromatic
-Triad
-Complementary
-Compound
-Custom
The image above is set to analagous, so when you move the central colour the other four will stay set to that spacing, allowing you an analagous colour scheme centred around your base colour.
Once you've selected a colour scheme you like, you can save it and upload it for others to use (requires signing up to the Adobe site). If you'd rather not let other use it you don't need to save it, and underneath each of the five colours it provides you with the six digit hexadecimal code for that colour, meaning you can eaily recreate the colour schemes in Photoshop, Dreamweaver, etc.
Where to Find It
You can find the Kuler tool online at http://kuler.adobe.com/
If you're a graphic designer, web designer or photographer and you're looking for original or extremely well fitted colour schemes, have a look online at Adobe Kuler and you'll be hooked in the first five minutes.