Permanent
Team Member
Recruitment
Topping up your talent
Trust us to bring you the best digital marketing people
Recruiting for the long-term
Whether you need to fill a strategic marketing role, hire a permanent digital specialist or build a new team, many variables are in play. What's the recruitment market like? How can you attract the right kind of talent? What sort of offer should you make?
Selecting a permanent new team member can soak up time. And traditional recruitment agencies are expensive and notorious for their poor service. Turning to a digital marketing agency to recruit on your behalf makes sense. We know the market, we're in touch with the talent, and we can add value to your business.
Talk to us
Permanent recruitment case study
We quickly filled a specialist digital marketing role for Kinleigh Folkard & Hayward when their own recruitment process came up short.
Make your reputation
We have a detailed knowledge of digital marketing recruitment in the financial services, retail, education and charity sectors. We will help you rise above competitors.
Develop your culture
We will collaborate with you to shape not just the job spec but also your employer value proposition. This will help attract a candidate who holds your values.
Build your future
Our strategic recruitment consultancy can help you explore new possibilities in digital marketing. We can advise you on how to make the most of digital innovation.
Our digital expert, Emma says
When clients are looking to hire somebody for a specialist digital marketing role, they don't want to be flooded with irrelevant CVs. That's partly why they're reluctant to use a traditional recruitment agency. What we offer at Fresh Egg is an in-depth knowledge of the technical skills needed for a wide range of digital roles. We usually have the confidence to present to clients a shortlist of just two or three perfectly compatible candidates.


Emma Couling, Head of Recruitment Services
How we recruit for a permanent role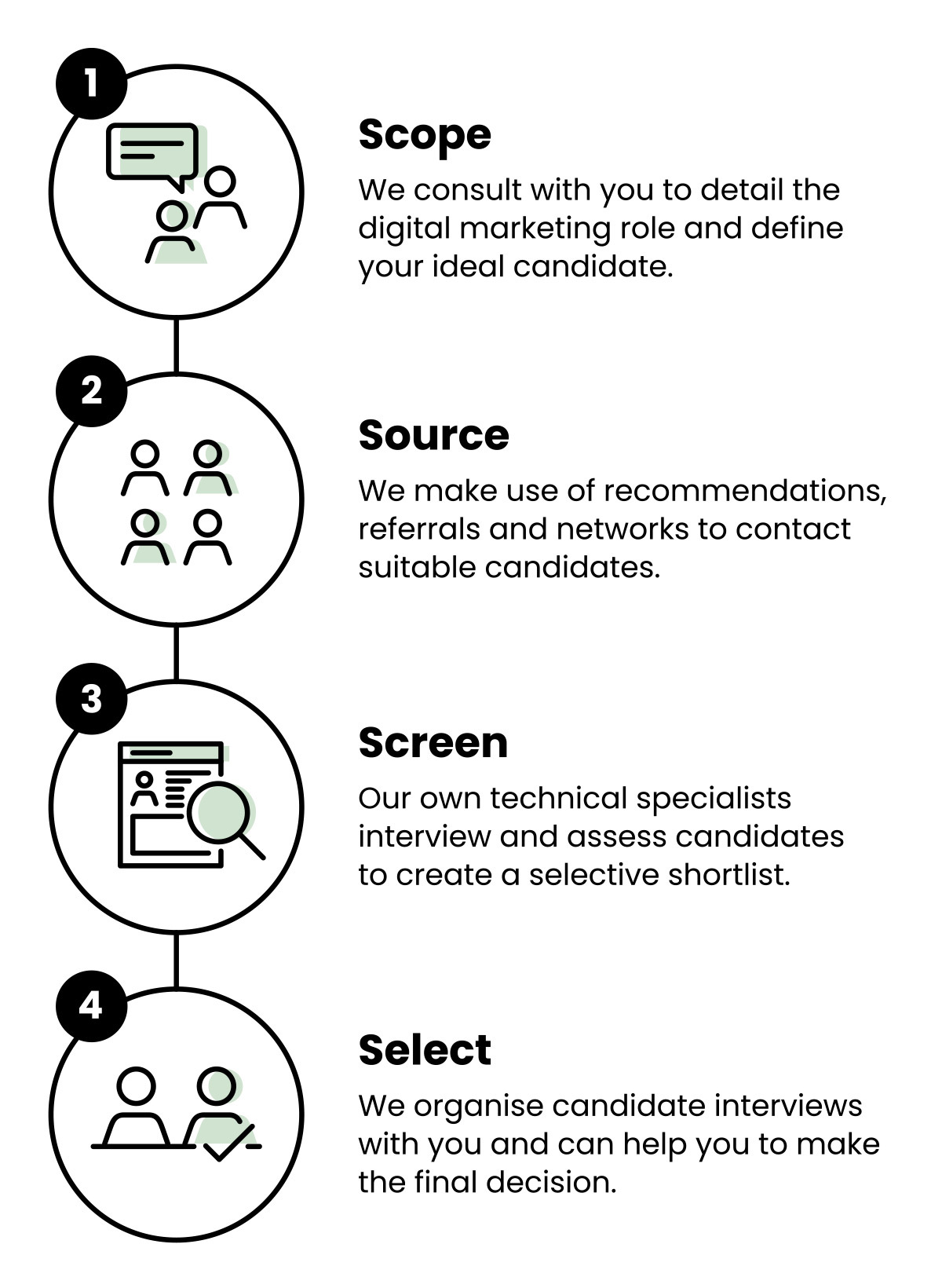 What our recruitment service offers
Loading
Talk to us
Tell us about your challenges with recruiting permanent team members. We can help