Launching our FREE guide to in-housing and creating a digital centre of excellence
If you have questions about whether to in-house digital services and the benefits of doing so versus working with agencies, then you need to download our latest whitepaper.
Based on many months of hard work, our comprehensive (and must-have) FREE whitepaper, 'A guide to in-housing and creating a digital centre of excellence', is aimed at any business or organisation looking to build (or that has had challenges building) an in-house team.
Packed full of insight and information and broken down into the major challenges facing businesses and organisations, you'll find the following topics covered in-depth:
The benefits of agencies
Looks at the many benefits of working with agencies, including the experience of people within them; the 'T-shaped' skills and the benefits to staff progression they bring, along with the breadth of experience offered by agency teams.
The drawbacks of working with agencies
Examines elements such as detachment from the client (which is not always the case) and issues with prioritisation with other client work. This section also looks at the issues that can arise when multiple agencies are involved, along with agency costs and more.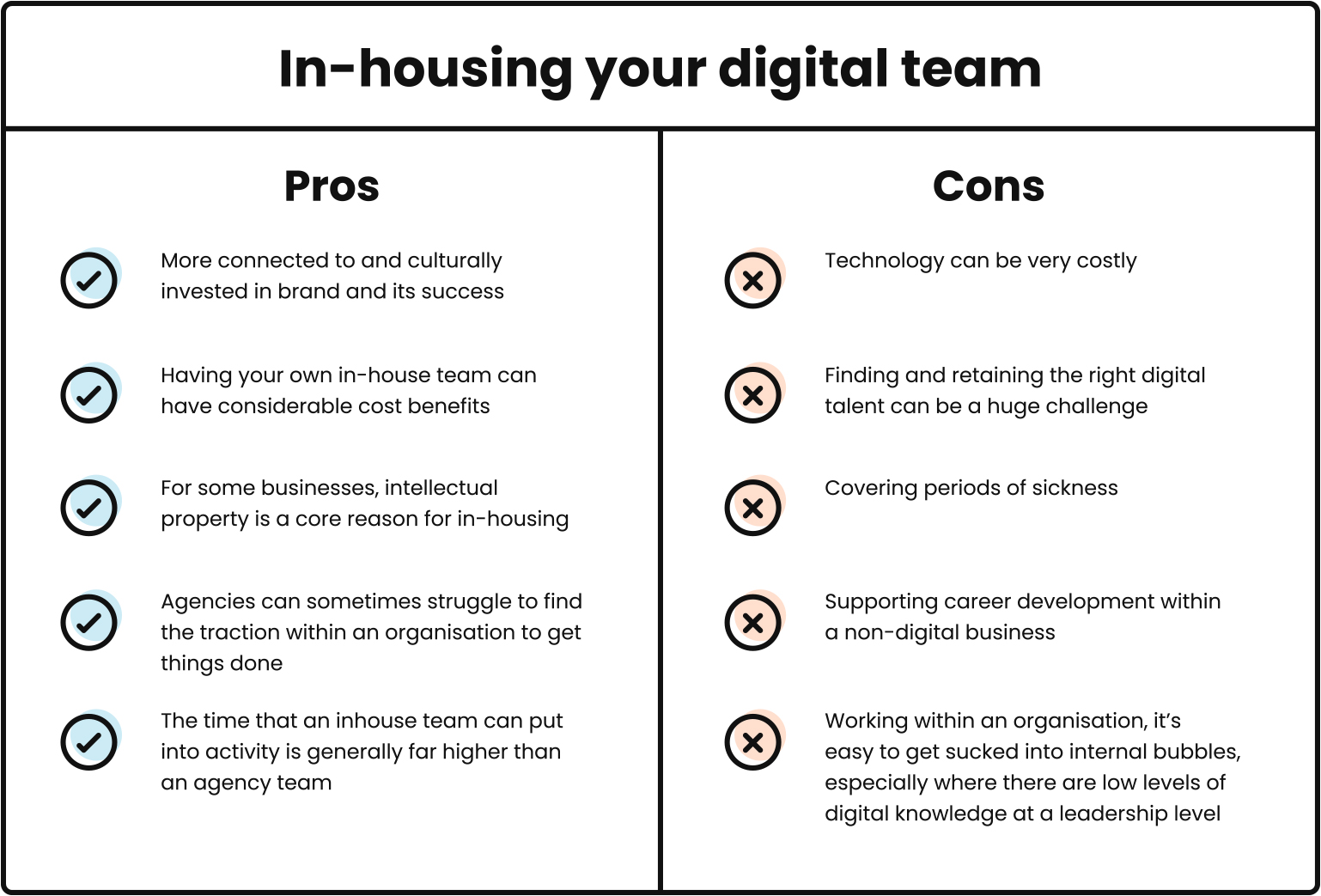 The key benefits of in-housing
Detailing the major benefits of taking work in-house, this key section assesses the cost benefits of in-housing, the uplift created by in-house staff with an increased understanding of (and connection with) your brand, alongside the major plus of retaining intellectual property within the business.
Major drawbacks with in-housing
There are invariably trade-offs with in-housing. For example, many businesses struggle with staff progression and the cost of technology and tools. This section also examines other considerations including team motivation and perspective.
Using a hybrid model
Both fully-managed agency model and in-house model have their drawbacks – so could a hybrid be the solution? This section explores hybrid solutions in which agencies are used to execute tactics (bottom-up model) and in which agencies are used for consultation and strategy support, with agency consultants taking the role of senior managers (top-down model).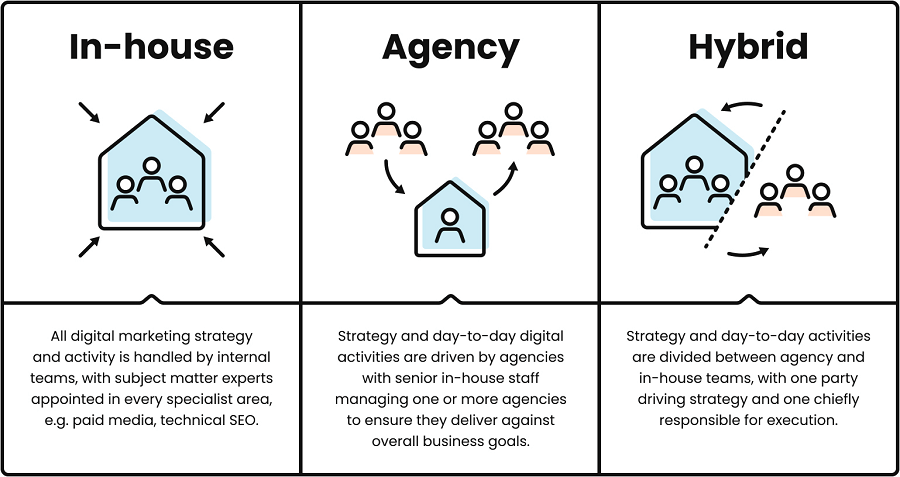 Creating an in-house transition plan
The transition plan wraps together your business case for in-housing and the overall in-housing strategy. You'll find details of the stages you need to complete for a successful in-housing process, including:
Conducting a risk assessment
Identifying tangible costs and benefits
Using the POPIT model (People, Organisation, Process, Information Technology) to assess the impact of your new team
Creating your in-house digital team
Starting with using the RASCI matrix to define team structure, roles and responsibilities, this section will guide you through everything you need to know when it comes to constructing your in-house team. It details the factors to consider in attracting the best talent, the process of identifying candidates and conducting interviews, and contingency planning.
Preparing the infrastructure 
A great operating environment is essential to the success of your in-house team. Within this section, you'll find details of the many elements that come into play when preparing your infrastructure and general operational environment, focusing on risk and governance, technology and processes, and management processes and career development.
Post-implementation support
This section focuses on the challenges you'll face once your in-house team is in place – and how to overcome them. It addresses the lack of digital knowledge among senior stakeholders (particularly at board level), how to manage expectations, reacting to failure, and how to adopt a culture of experimentation, learning, and innovation.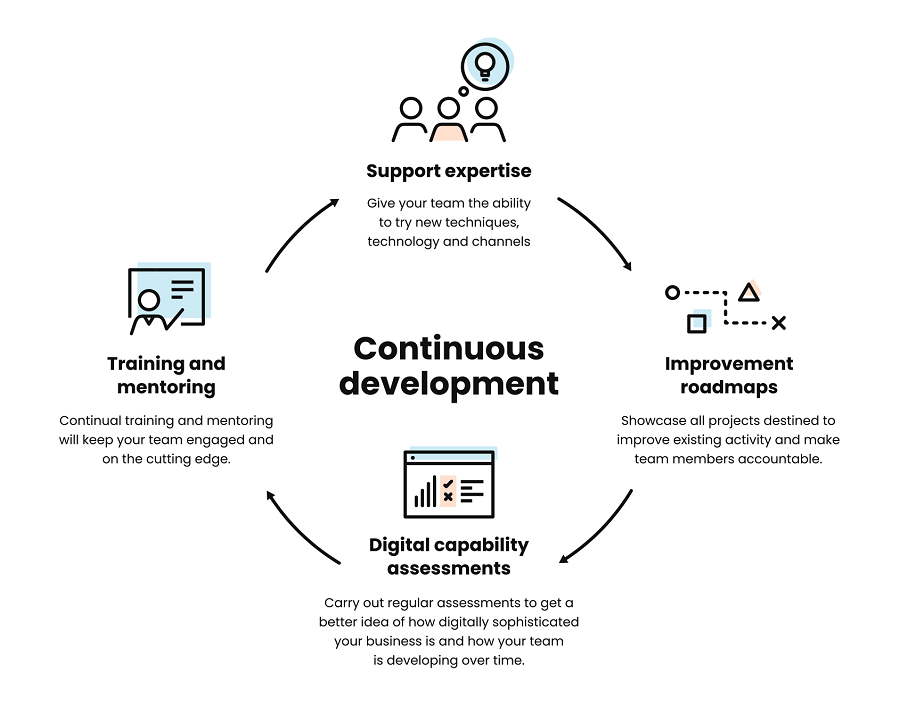 Discipline-specific considerations
The ease of in-housing any specific area of activity is a key consideration in whether that activity becomes part of your in-housing plan. This section answers questions around which digital disciplines are typically suited to in-housing and which prove more difficult, including:  
Technical SEO
Email
Analytics and reporting
CRO
No matter where you are on your digital journey, our guide will help you measure if you need help in improving or absolutely nailing building a digital centre of excellence within your organisation.