Recruitment | 4 MIN READ
Lee Colbran, Fresh Egg Co-founder and CMO, explains the essential housekeeping that needs to be done before building (or increasing) an in-house digital team.
Remember that for many, working in digital is about lifestyle as it is a career. Things like flexible working, working from home, family medical leave, and sabbatical time off can be as equally rewarding to some as the monthly pay packet.

Lee Colbran, Co-founder and CMO
What I'm about to say might surprise many of you. Still, you would be shocked at the number of businesses and organisations looking to recruit in-house digital talent who have not got their house to demonstrate to future employees that their work environment is 'the place to be' (even with the disruption of the pandemic).
It's fair to say - digital businesses have changed the culture of working. Think top tech companies like Facebook and Google, and think incredibly funky offices and workspaces. Co-working hubs are often pretty cool working environments that drive creative thinking, typically in a digital environment.
A great example of this is the summer. Think of a digital agency. You won't see many old-school 'shirt and tie brigade' in our industry. In a digital agency, you're more likely to see many team members looking more like they're just about to board a flight to Ibiza rather than looking like they are getting set for a day in the office. To coin a phrase from The Mandalorian, "This is the way". And this is the world in digital and future employees like that kind of flexibility in the workplace.
Check out our three essential tips for hiring digital talent and making your organisation a magnet for the digital crowd
So, let's look at the elements you must have in place. What are you missing to make your organisation a place where someone wants to work? Here are the three key digital properties you must absolutely have up to date to appeal to future employees.
Tip #1 - Keeping LinkedIn up to date at all times
For many, LinkedIn is the first port of call when coming across a business to find out what it is like. In this instance, the organisation's client page is the 'go-to destination for talent looking to know more about your organisation. Therefore, for businesses and organisations, keeping the primary page up to date is essential. 
LinkedIn is more than just an overview page of an organisation. The platform offers two unique features for future employees to dive deeper, coming in the form of:
Employees looking at people who might be doing the interview
Career prospects
The latter of the two can be explained in a bit more detail. For candidates looking to know what career progression there is, they need to look at the current team members and how often their job roles have changed and how long they have been with their current employers.
Therefore, if there is a culture where team members can further their careers, employers need to ensure their team members update their profiles regularly. 
Tip #2 - Ensuring your website contains key information
The next stop will likely be the company website once a candidate knows who the potential employer is. When a candidate visits your website, they will expect to see the following:
Careers section
List of benefits
Day in the life (top content)
Who the owners/founders are
Business timeline
Career progression
Company values
Company vision
A strong idea of the business culture
You can use the list above as the base checklist of what should be in place.
New Day show how to do it
A great example of how a business is talking to potential recruits is NewDay. The consumer credit product supplier has recently updated their website to include a 'Working at NewDay' section. This comprehensive area of the website provides a brilliant overview of the organisation and includes a clear overview of:
Employee benefits
What it's like to work there
Office locations
Latest news and vacancies on LinkedIn
Career questionnaire
Job role assessment process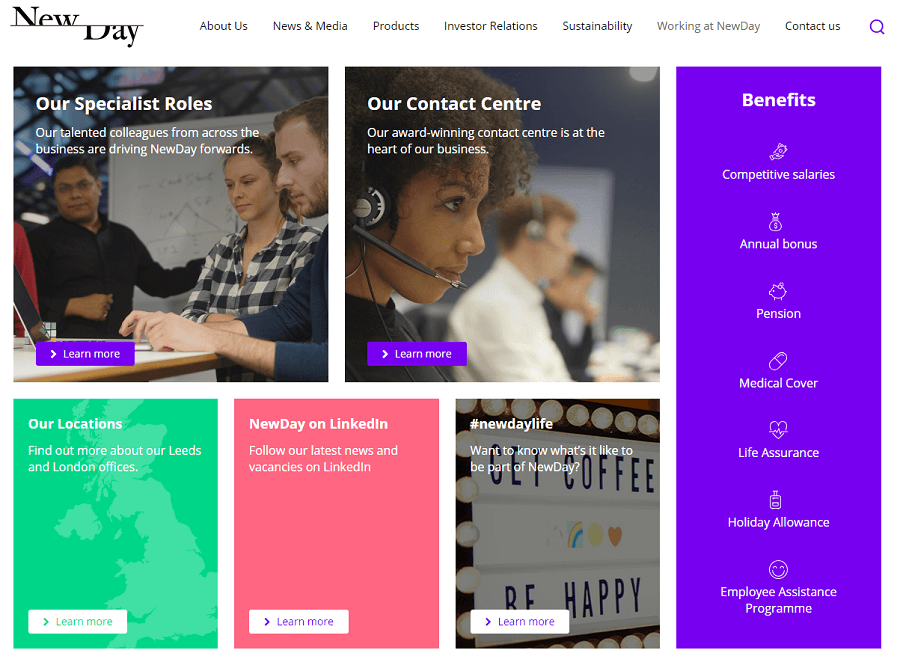 This excellent content hub is really well thought out and provides potential new employees with lots of information about the organisation. From an employee perspective looking to understand how an employer will support their career growth and working life, the information NewDay has put together really puts them in a great position to ensure top-quality recruits are getting in touch with them.  
We absolutely recommend having a look at the NewDay content. It's a great example of what organisations need to appeal to people in a fiercely competitive candidate pool.
'A guide to in-housing and creating a digital centre of excellence'
If you have questions about whether to in-house digital services and the benefits of doing so versus working with agencies, then you need to download our latest white paper.
Tip #3 - Remember that Glassdoor is a transparent and revealing destination for future employees
Glassdoor is often one of the locations future employees look at when gauging whether when choosing a shortlist of potential employers.  
For those who have not come across the website before, it's where current and former employees anonymously review companies and their management. The platform makes it very easy for future employees to look at what others think of working for the business.
What if we only have poor reviews on Glassdoor?
The first thing to remember is, no company is perfect. If a company has poor reviews on Glassdoor, it is an issue that needs to be addressed.
Future employees expect a few disgruntled ex-employees to post bad reviews. It may be that the poor reviews are unfair. If this is the case, employers can ask current employees to add an honest review. As better reviews are added, they will positively reflect and provide a balanced insight into working at the company for future employees.
As well as an overall overview of the business, Glassdoor also allows its users to see:
Reviews of the business
Current available job roles
Typical salary brackets
Whether they would recommend it to a friend
CEO approval rating
CEO name
Others experiences of interviews
Benefits packages
Photos of the workplace
For example, if your organisation is being compared to others, make sure company benefits are up to date and have been verified on the platform; amongst others, Glassdoor users can see what is offered for:
Insurance
Health and wellness
Financial and retirement
Family and parenting
Holidays and time off
Perks and benefits
Professional support
Remember that for many, working in digital is about lifestyle as it is a career. Things like flexible working, working from home, family medical leave, and sabbatical time off can be as equally rewarding to some as the monthly pay packet.
18 Jun 2019