Digital marketing contractor recruitment
Fresh Egg Experts is a digital marketing contractor recruitment service with a difference. It's not done by a recruitment agency. It's done by a top digital marketing agency. Makes sense, right?
Blending our expertise with yours
There are record skills shortages in digital marketing. It's tougher than ever to find a permanent team member. Even if you do, they might disappoint. And meanwhile, your vital digital project is at risk of delay. It's time to get creative with your hiring process. Turn to Fresh Egg to plug your skills gap. We know the industry, we understand digital projects, we have access to our own talent pool.
Find me an expert
Shape a great team
Our experts have all been qualified and approved by our in-house digital specialists.
We know talent when we see it.
Gain critical momentum
Our experts will fill those gaps in your digital project from day one of landing.
Hit those project milestones with no delay.
Bin pointless CVs
Our experts save you valuable time in the recruitment process.
The great thing about being a Fresh Egg Expert is that Fresh Egg works with you, and you can lean on the team for support. They understand exactly the role you are fulfilling and support their client too. They don't simply pass over full responsibility to the contractor. It's a partnership to deliver the services required.


Rachel Southcott, PPC Specialist and Fresh Egg Expert 
Gain an edge
Our rigorous talent selection process gives you the satisfaction of knowing you have the right digital contractor for the right job.
Scale your team
Our talent pool works flexible contracts from a few days to a few months. Adjust team dynamics at a moment's notice.
Avoid IR35 risks
Our experts ensure you stay on the right side of new tax laws. Read our guide on how to maintain a contracted team outside of IR35 regulations
We deliver award-winning work. And we bring that success to the table when recruiting on behalf of our clients. Fresh Egg Experts is our short-term contractor service. But we also recruit permanent team members and support clients with in-housing expertise


Emma Couling, Head of Recruitment Services
Our contracted PPC expert aided roadmap momentum while we placed the perfect candidate
Read how we helped the Agria team maintain vital roadmap momentum, including:

Minimised impact on the busy digital team


No lull in PPC activity during the recruitment process

Marketing team hitting objectives while recruiting the perfect hire
Access our digital talent pool
Fresh Egg Experts are drawn from industry networks and Slack communities not available to recruiters. Our talent pool are specialists in:
SEO, UX Design, Paid Search, Frontend Development, Data and Analytics, Project Management and Content Marketing
Working with us is easy
We screen the candidates, and you talk to them
We place contractors within 48 hours
You can trust our talent-matching skills
We work with the best talent
Unlike recruiters, we understand digital project needs
Our rigorous screening process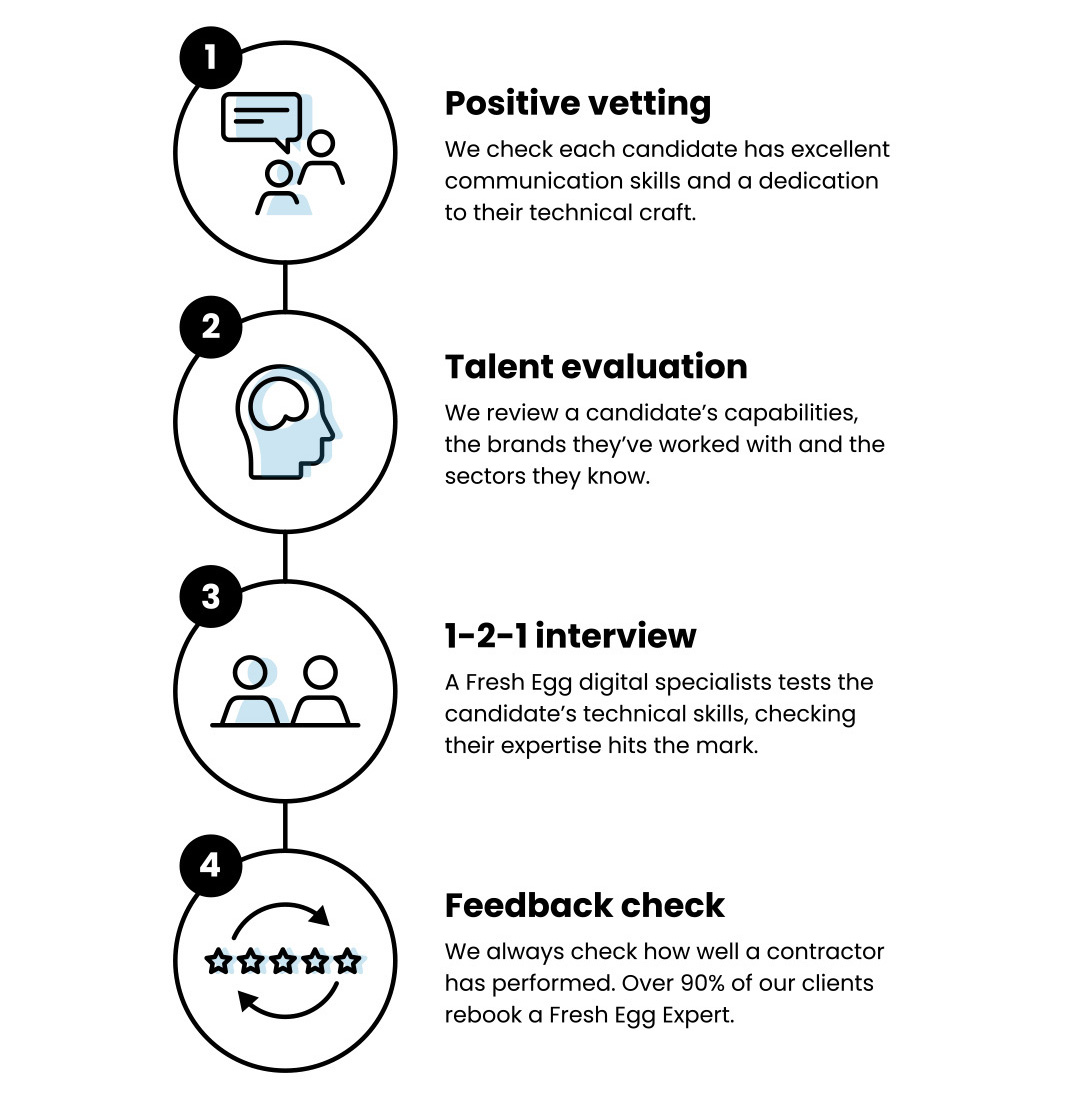 Let us do the hard work
Work with us and end lost time sorting countless CVs, interviewing loads of candidates and finally appointing. Here's what you can expect:
Loading
Place our experts in your digital marketing team
Tell us your needs and we'll be in touch