Conducting
User Research
with older
people
Written by Charlotte Parker
User and Audience Research | 7 MIN READ
Technology is constantly advancing; in a little over a decade, we went from basic press-button mobile phones to touchscreen smartphones that are as powerful as laptops. However, advancing technology and how information is presented may leave older users behind if they don't keep up with the latest devices and terminology.
Globally, the population aged 65 and over is growing faster than all other age groups. Whether you are building a website for children, adults, or the whole family, we think it is essential to gain a deeper understanding of the older audience and design with them in mind.
Our digital expert, Cath says
We've been running research with a wide range of audiences, and researchers need to understand their different behaviours and needs. While older users are likely to have a range of technical skills, as they didn't grow up using the internet as a group, they are less likely to be 'tech-savvy' than younger generations. We make sure our research with this group takes that into account.


Cath Foster, User Research Director 
User Research: a brief introduction
User research is about learning directly from your customers (or potential customers) and should be considered an essential part of any business's digital strategy. The tactic seeks to understand user behaviours, needs, and motivations through observation techniques, task analysis, and other feedback methods. The insights gained from user research can inform your digital product's design, structure, marketing strategy, and overall user experience, ensuring it truly satisfies your users.
Here are some of the fundamental reasons why you shouldn't compromise on investment in user research:
Develops a deeper understanding of your users and the "why" of their behaviour.
Provides an essential foundation and the data to back up strategy and design decisions
Decreases cost by reducing time spent developing digital products that aren't user-friendly or don't solve the user's problem.
It helps eliminate internal bias and resolves opinion-based debates through idea validation.
User research techniques depend on your objectives, the questions you are trying to answer and where you are in the discovery or design process; it is worth noting that no two user research projects are ever the same. For example:
Commencing a project: When at the start of a project, 1:1 contextual interviews allow you to get to know your audience, building a picture of their experiences and why they might connect with your product
In the design phase: Card sorting allows users to organise topics into categories and label them, giving you an understanding of how to structure the website navigation.
One crucial mistake to avoid during user research is to conduct it with a narrow audience, or worse still, the wrong audience. For example, if you're developing a website that reaches an older audience but only testing with millennials, you're missing out on actionable insights from a key demographic. Many products and services have a broad range of user types or groups, so researchers need to consider a range of research participants to tap into these variations. When you understand your extended audience and their pain points, you can craft content and marketing effectively for each segment. Well-conducted user research can help guide decisions toward a personalisation approach that provides real value to each separate audience group. Not all content resonates with different groups of people in the same way – not knowing this valuable information could cost you a lot of wasted time and money. 
Audience insight project for Myeloma UK
We conducted a research project with people living with myeloma, their carers and healthcare professionals to understand their current experiences, behaviours, and attitudes towards the Myeloma UK website.
Who are the older population, and why conduct research with them?
Defining 'older' can be challenging due to a wide variability between individuals and age-related changes. However, the general consideration is someone over the age of 65 is an older person. With that knowledge, it equates to 18% of the UK population being over 65 – that's 11.9million people! It is a vast audience and one that isn't often thought about in the wider digital industry, and one with specific needs.
In the latest ONS study (conducted pre-pandemic), 86% of 65–74-year-olds had used the internet over a three-month period. This result was an increase of 15% usage over five years. This figure will continue growing as:
IT literacy increases amongst the older age group and the general global population
The focus on a better digital user experience continues to improve the way people use the internet, making it easier, faster, and more accessible.
Technology is embedding itself deeper into everyone's daily life beyond devices like computers and smartphones; think about the penetration of virtual assistants such as Alexa, digital health monitors, e-readers etc.
Despite this, older people's varied needs and abilities are rarely considered a primary demographic for apps or websites, often leading to poorly designed experiences that aren't inclusive. 
💡 Top Tip!
It may be true that a large proportion of your audience is younger people. However, designing with an older population in mind is likely to lead to better experiences for everyone.
Conducting user research with older groups identifies their unique needs and expectations and highlights how their interactions with your site are different from other users. For example, older people are more likely to live with forms of disability, such as loss of vision or mobility. They, therefore, require very achievable adjustments to allow them to use websites (e.g., careful use of colour and contrast, forgiving touch targets on buttons, and longer "time out" functionality).
It's necessary to appreciate the differences in older users' attitudes and lifestyles; even if all older users were as comfortable with tech as millennials, there would likely be differences in their general attitudes and behaviours.
These differences must be considered when creating desirable content or successful marketing and is a valid reason to conduct research with the older demographic.
From a commercial perspective, individual wealth increases with age in the UK, peaking when a person is in their 60s at a level nine times as high as in the 30-to-34 age group. As the population of older consumers continues to increase year on year, they will spend more on average; we have already seen a shift in spending trends, with older people focusing much more on non-essential purchases.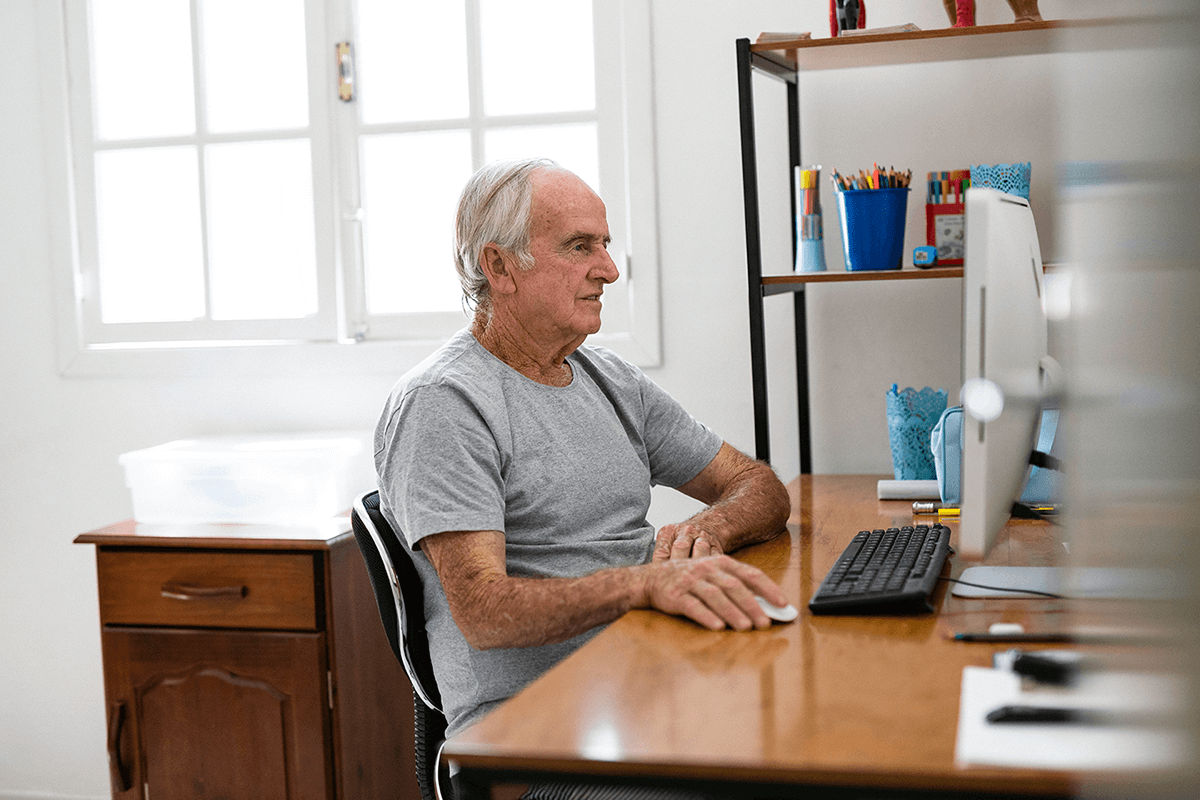 Primary challenges for the older audience and how to adapt your research
Making your website or app compliant with the Web Content Accessibility Guidelines (WCAG 2.0) alone will not solve all problems for the older generation. These internationally recognised guidelines don't make a website more intuitive or explain the use of common language such as a "cart", which might confuse those unfamiliar with eCommerce.
These challenges are where user research becomes pivotal. Truly understanding how your users perceive the world and your product/service can provide you with deep, actionable insights that vastly improve both your design and their experience.
So, what is crucial when performing user research with older people? How is it any different to researching with other user groups? Some of the primary considerations include.
Challenge: IT literacy
The consensus is that everyone over 65 struggles with technology, but that assumption is not strictly valid. When thinking about IT literacy, the older generation has a varied skill set, from Zoom screen-sharing experts to those who have barely used the Internet. It's best not to make assumptions about your user's capabilities, but demonstrating a supportive and understanding attitude without being condescending, is vital. 
Examples of how we've adapted our research
Be aware of common concerns such as making errors, breaking something, or appearing naïve, and approach these concerns respectfully if they arise. Always plan for longer sessions and be prepared to change your facilitation style to suit the differing capabilities of your participant.
Do not assume that concepts or jargon such as "browser", "search engine", "swipe", etc. are common knowledge. Try to define any terms that might have the potential to create confusion.
Allow the participant to use their device if possible. Many older people are comfortable with their devices but feel out of their depth when provided with alternatives. If conducting research remotely, share a simple "how-to" guide before the session to help them set up for screen sharing.
Challenge: impairments related to old age
There are many age-related changes to be considered during research with older people. Common ailments such as arthritis can make holding and manipulating objects (e.g., smartphones) difficult for many. Eyesight, including the ability to see colour, begins to decline in later years, and 40% of people over 50 in the UK have hearing loss.
Examples of how we've adapted our research
It's helpful to recruit at least one extra participant for any study, but this is even more true for older adults. They are more likely to be living with health conditions or have caregiving needs, which can cause last-minute changes to plans — often on the research day itself.
Be flexible in the way you research. At the same time, there are pros and cons of researching remotely. Individual technical ability can isolate some participants, plus personal interaction during face-to-face research can significantly benefit some older people. Even so, the ability to connect remotely is hugely beneficial for many participants, and there isn't much that we now cannot achieve to the same quality as in-person testing.
If someone does not hear your question, repeat it clearly and respectfully. Rephrase if needed but avoid being dismissive.
It may seem frustrating to repeat things two or three times but give your participant a chance and be considerate.
Our digital expert, Charlotte says
Making your participant feel valued and at ease is a crucial part of researching with older people as they may feel vulnerable when using technology. Actively listen to and leverage their experience; talk to them in a way that displays genuine curiosity. You'll find that the experience of designing for older adults is fulfilling, hugely insightful, and can have significant benefits for your business.


Charlotte Parket, User Research & CRO Strategist
Five design insights from our research with older participants
We've been conducting user research in various formats for many years and have built up a breadth of knowledge on how to personalise your site for your target audience. Now that we've shown the importance of considering older audiences and outlined how we ensure our research is inclusive, here are some of our fundamental tips for designing with the older generation's abilities in mind:
Attitude: The older generation is often retired and used to independence, so don't assume that decisions are made on their behalf; ensure that your site and communications copy speak directly to them and are not patronising. Older people are also used to excellent, straightforward customer service – avoid processes that feel like jumping through hoops and ensure the ability to talk to a human is visible and available when something goes wrong.
Language: A good website should be understandable and let users achieve their goals easily. For older users, this is especially important, who are less likely to spend time clicking around and searching for the answer to their questions if something isn't clear. High-quality longer-form content, free of jargon, is valuable to older people.
Dexterity: Even a simple swipe gesture can be difficult for some, so aim to provide a fixed button alternative to any swiping elements and avoid complex interactions. Ensure the target areas for clicks/taps are forgiving, allowing users to miss them slightly and still go where they intended.
Cognition: While not every older adult has issues with concentration, cognitive declines happen with age for many people, making some decisions and tasks harder. Ensure your navigation structure is simple and minimise the number of sublevels to avoid this. Keep the "home" navigation available and provide a breadcrumb to correct wrong turns easily.
Memory: Generally, if users must recall how to perform an action, they probably won't. For older users, this is even more true. Avoid mega-menus and signpost-related pages to guide them, even if they use your app or site daily. For interactive elements, provide clear feedback that the action was successful.
To summarise...
Marketers often overlook older people when it comes to digital products. However, as a large proportion of the population and the wealthiest of UK households, ignoring the group can lead to a costly mistake for any organisation. As the number of older people adopting technology increases annually, it is vital to challenge pre-conceptions about this valuable audience. 
This large segment of our population is looking for ways to connect with family, friends, and people their age. Like teens and their parents, older adults want apps to help them exercise, track their health, shop, entertain, and more. We cannot stress the importance of ensuring your website meets their needs, even if they are not typically your key target group.
The first stage is to understand your audience and test with them.
To create a great user experience for older people, we can help you discover the different attitudes, behaviours, and requirements within your older age user groups and design a beautiful, user-friendly solution.
Want to know more? Contact us for help with learning how an older audience interacts with your digital property.
Watch our bitesize talk:
The importance of conducting user research with older people with User Researcher Charlotte Parker
Further reading
23 Aug 2022
23 Jul 2022
1 Aug 2023