Google has recently announced that Universal Analytics properties without an associated GA4 property will be subject to an automated migration.

What is happening?
If you still need to set up GA4 and have an active Universal Analytics property, Google will automatically create a GA4 property for you.
The automatic migration tool has been around for a while, but there are some problems with it:
It is a direct mapping solution and will ignore non-GA4 compliant tags (if you have them).
If there is a problem in your existing UA setup, you will have the same problems in your GA4 setup (plus the chance of a few more!)
You won't get all the benefits of setting up GA4 correctly and getting the most from its full capabilities.
GA4 cannot redact PII from incoming data, meaning if you are using this function in UA now, you risk PII entering your Google Analytics 4 data.
Why does this matter?
UA and GA4 are not the same. Your data is essential, and your data accuracy, control and integrity are equally crucial. We recommend you set up GA4 from the ground up with a measurement plan and a strategy for ensuring the correct data comes into your GA4 property. While Google's automated migration is a useful solution (albeit not the best).
You haven't set up GA4 yet. What do you need to do?
Google is giving users until February 28th to opt out.
It's time to get your GA4 setup underway! With five months to go, a robust implementation can prevent considerable future uncertainties.
By getting GA4 set up correctly now, you can:
Assess any expected differences in your data.
Get familiar with the platform.
Seamlessly and confidently transition.
You also will be relaxed on July 1st!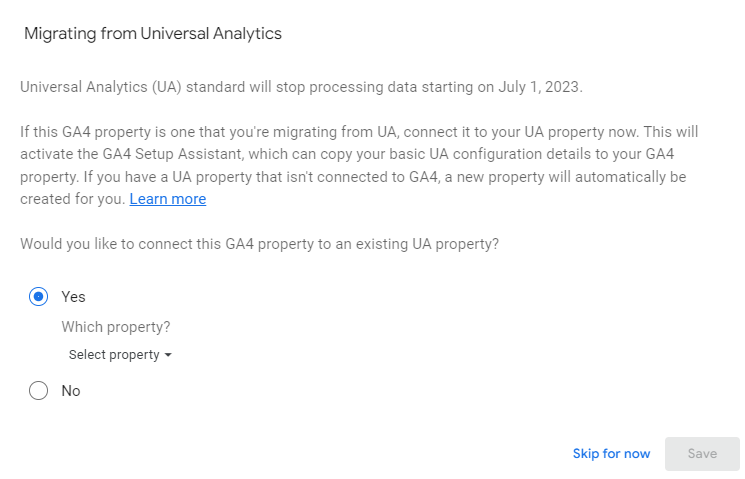 You already have GA4 set up. Do you need to worry?
You don't need to worry if your GA4 configuration is fully up and running and your UA property is connected. It can't hurt to opt out of the process, though, and we advise anyone happy with their existing GA4 setup to follow the opt-out steps provided by Google.
However, if your GA4 is not connected, you must opt-out to prevent any additional GA4 property from appearing in your account. Follow the opt-out steps, just to be sure.
We can help you with your data challenges. We are constantly looking at ways to ensure clients can maintain and leverage their GA4 data during a challenging period for web analysts and data scientists, so be sure to reach out to us if you have any questions or require support on your GA4 journey or call us on 01903 285900.