CRO services | 7 MIN READ
Over the years, we have helped several charities improve performance with our CRO related work. From helping put a test plan together, recruiting and training a team, working in tandem on A/B tests or helping raise digital maturity, we have a great deal of experience working in the sector. Here we share some learnings to provide an overview of ideas to improve performance.
For charities, online channels have always been important, but focusing on them and maximising their performance became critical. No longer just an important medium - generating revenue online became paramount for charitable organisations.

Seb Larsson, Senior Conversion Strategist
Charity marketing isn't easy; it's a challenge; you probably wouldn't be reading this if it were easy. The last 18 months or so have made things especially hard. We know that in March 2020, many charities had to rethink their strategies overnight at a time when offline fundraising virtually ground to a halt.
Online channels have always been important, but focusing on them and maximising their performance became critical. No longer just an important medium - generating revenue online became paramount for charitable organisations - they became the medium.
Having worked with multiple charities over the years, we wanted to share some of the learnings we've made. Of course, every organisation is different, but we've put our thinking caps on and put together these five tips that apply across the board. 
Quick disclaimer: even though the blog has a charity focus, many learnings apply across other sectors.
In this post, I'll cover the following key topics:
1. Get the basics right
To run a successful CRO programme, you first need to have a solid foundation. Let me start by saying you don't need to test things that will make a big difference to the performance and usability of your site. Such issues will likely already be known and on the roadmap.
So what is that solid foundation?
Well, without question, your website needs to be fast, accessible and bug-free. So before I get fully into the conversion elements, let's look at a few ways you can understand the strength of the foundation by monitoring and benchmarking performance by:
Checking, benchmarking and monitoring performance
Using the website like a user
Understanding the expertise in your organisation
Determining traffic levels
Accurate tracking and web analytics
2. Understand your supporters
It's crucial to understand your supporters and their motivations when interacting with you before optimising user journeys. Basic questions include:
What is the difference between one-time and recurring donors?
Who are your supporters that are looking for information only?
Who are the supporters who want to volunteer?
What are the crossovers between them? For example, how can you encourage supporters looking for information to become donors?
To answer these questions, you need to get to know your users by doing user research.
When working with Diabetes UK, we identified and mapped out five levels of user engagement.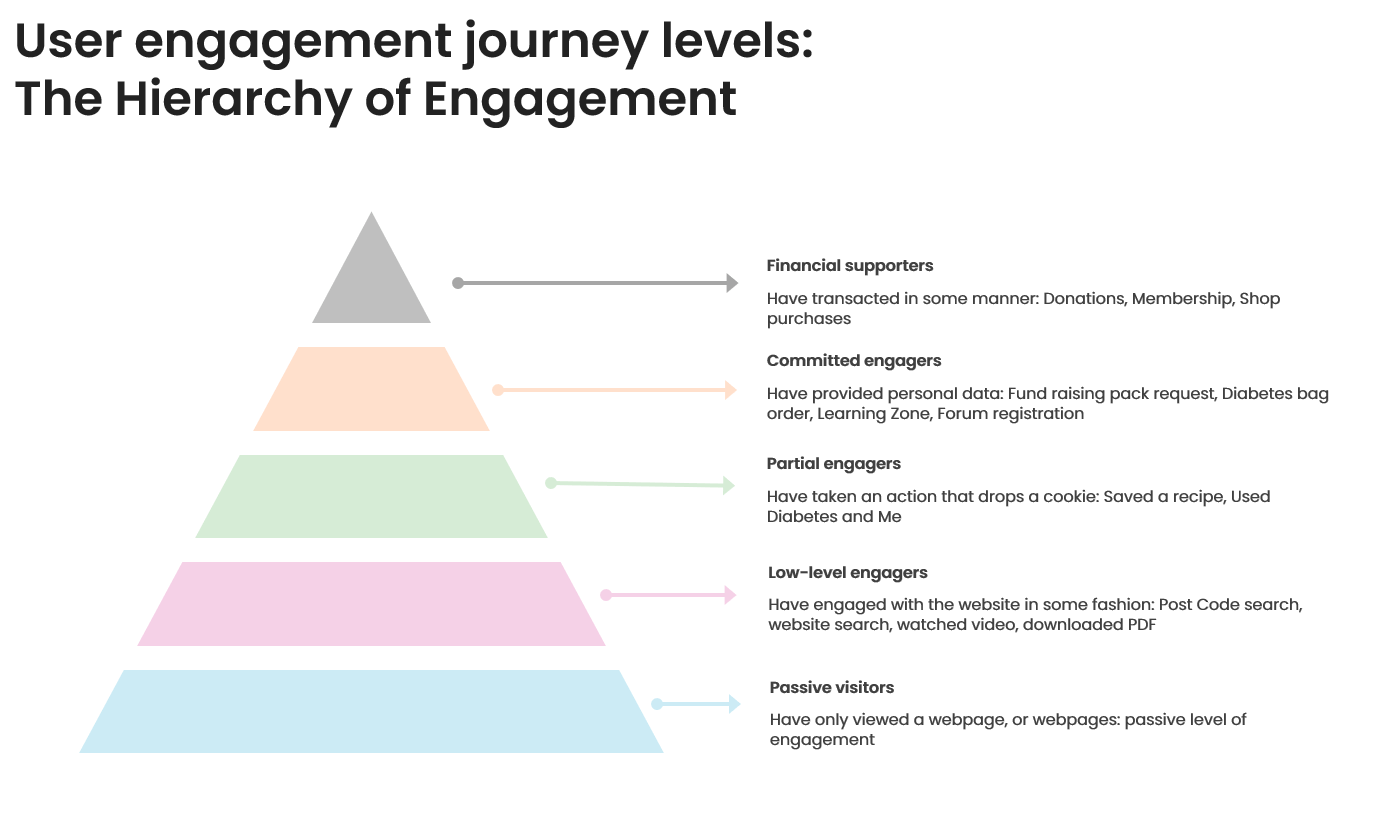 The information was based on an in-depth discovery process, incorporating quantitative conversion and content analysis, search intent, and user testing. Learn more about our work with Diabetes UK.
3. Know your psychology/behavioural economics
To maximise the impact of your CRO work, you need to understand the psychology that influences your supporters' decision-making process. The list of related facets is long, so I have selected four elements that we have found to be particularly effective when working with our charity clients; these include:
Framing effect
The contrast effect
Social proof
Storytelling
Framing effect
The presentation of your message is crucial to the actions it inspires your supporters to take. The framing effect is a cognitive bias where people decide on options based on whether they perceive the options with positive or negative connotations, e.g., a loss or gain.
An example of this is choosing to show success stories, for example, a story about how someone beat cancer due to treatment methods that the charity has funded.
Or, in reverse, sharing sad stories of lives lost due to the disease and how funding research could prevent this from happening in the future.
By using framing and testing the effectiveness of both, you'll understand what message resonates with your audience/s and is the most effective for your organisation.
The Contrast effect, Endowed process, Default effect and Anchoring
These biases are all particularly relevant to donation pages.
Contrast effect: We better remember options that stand out from their surroundings
Endowed process: We reach our goals faster when we have help getting started
Default effect: We tend to accept the option pre-chosen for us
Anchoring: What we see first affects our judgement of everything after that.
What the default donation amounts are, the ordering, is one preselected? All these things make a difference in how potential donors behave. By understanding these cognitive biases, you can develop alternatives for testing on a donation page.
Below are examples of charities who are using all these concepts to good effect on their donation pages.
An example of Unicef's donation page showcasing several of the techniques mentioned in this section.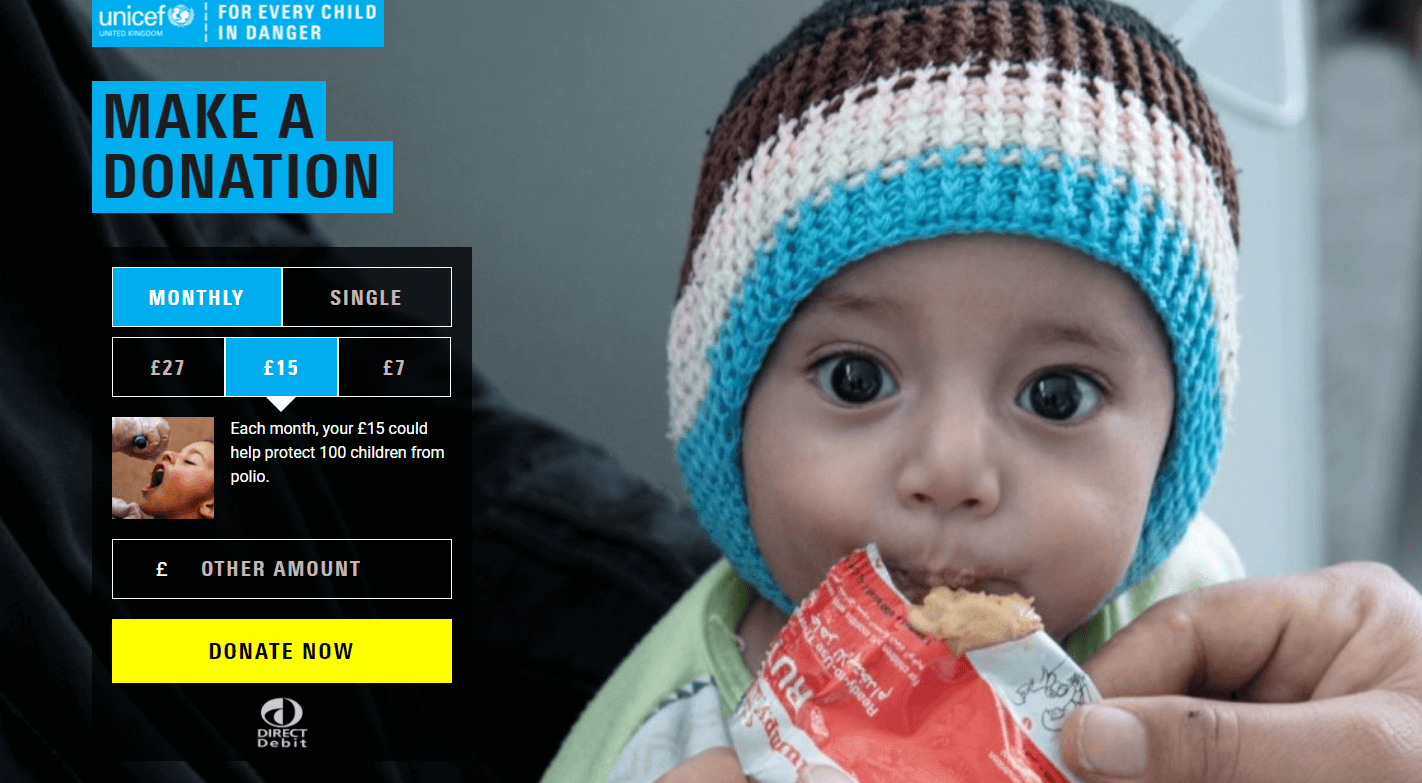 Example of WWF's donation page.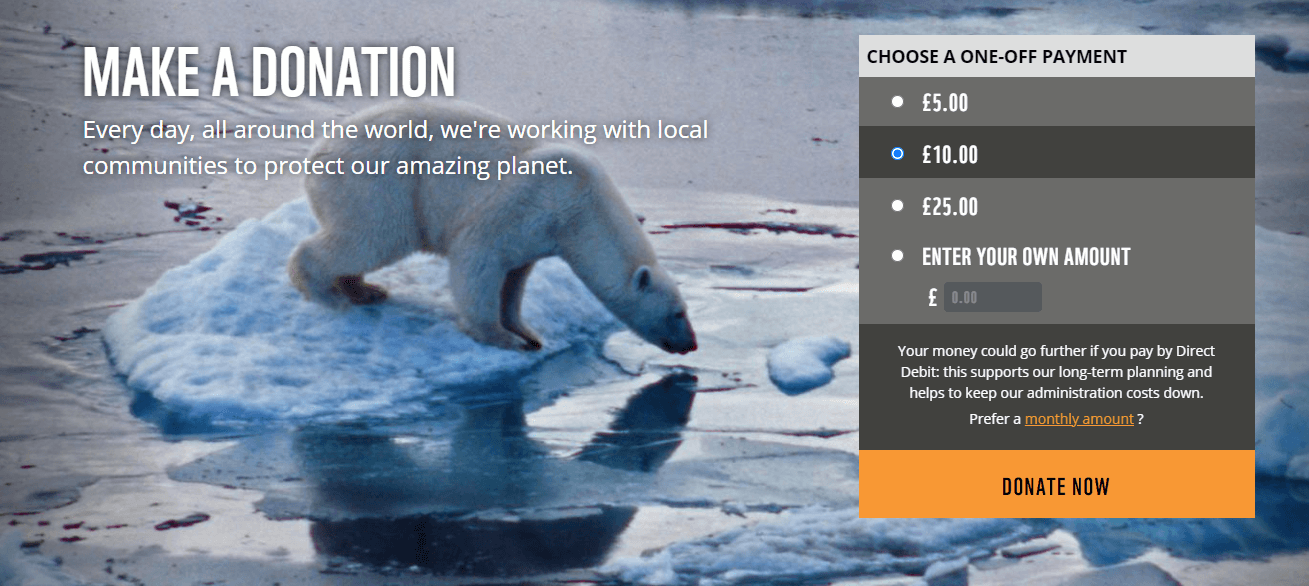 Amnesty International use several of the cognitive biases mentioned above to maximise donations. Monthly donations and the £5 donation amount are preselected and stand out from the other options. They also present practical examples of what each donation amount will help support.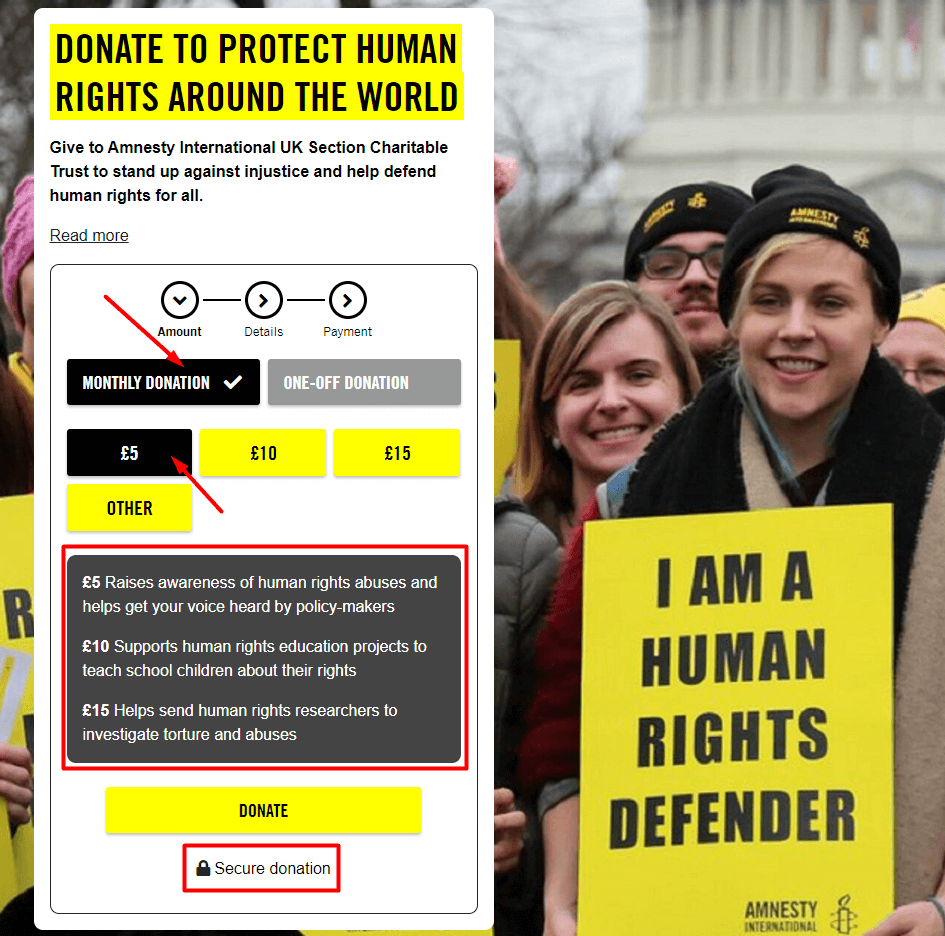 Checking, benchmarking and monitoring performance
Your users expect a first-class experience. Understanding where weaknesses are. Using any of the following tools will help you benchmark performance and understand if any gaps need filling:
Google Lighthouse - Use this free tool to check:

Performance
Accessibility
Best Practices
SEO


Output from Google Lighthouse


Google Search Console - Use data provided by Google to check for:

Page experience signals
Core web vitals
Mobile usability
Redirect errors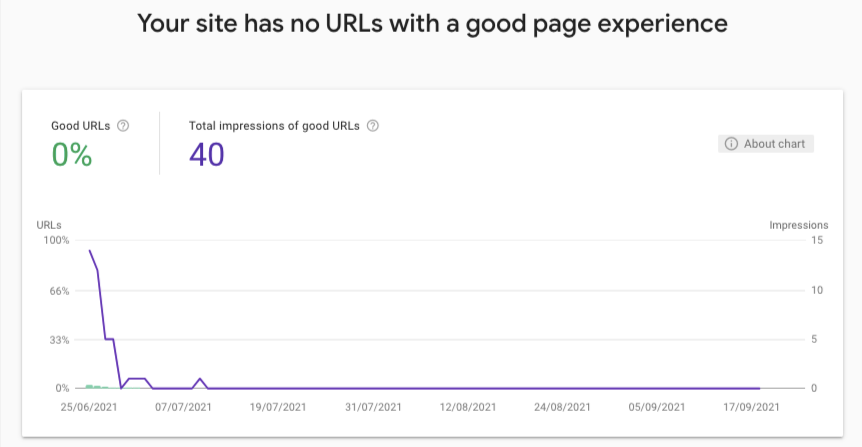 Screaming Frog - A Swiss-army knife and comprehensive website crawling tool, Use Screaming Frog to check:

Broken links
Redirects
Analyse page titles and metadata
Duplicate content
Visualise site architecture.
You can scan a limited number of pages with the free version.
Social Proof
There are many effective ways of using social proof on charity channels. One is donor testimonials. Showcase why your donors (or volunteers) are involved with your charity and the rewards it brings them. Compelling testimonials are excellent for highlighting the positive impact of charitable work. Finally, social proof is always a relevant tool across all your marketing channels.
Using the website like a user
I recommend you (or a designated user/s in your organisation) use the site regularly like a user, simulating primary user journeys. Why? Reviewing a website as a user is a great way to find and eliminate bugs, and it provides you with a better idea of what your supporters are experiencing.
For example, is there anything in your donation forms that doesn't make sense or is unnecessary or creates friction? Ask yourself:
Are the CTAs clear?
Does the page content make sense?
Is there a clear path to complete the transaction
Is something broken? How quickly can it be fixed?
If you find something that adds friction to a supporters' ability to complete their task, then get it fixed or add it to your testing roadmap.
Understanding the expertise within your organisation
To execute a strong CRO test programme, you need to evaluate what expertise is within the organisation, ask yourself:
Do you have the right people in place?
Do they have the proper backing from leadership to succeed?
Are you able to execute what you want to do, or do you need to bring in outside expertise?
One way to get a better idea of where your organisation stands regarding CRO is to do a maturity assessment. Undertaking this will uncover the strengths and weaknesses within your test programme and where you can improve it.
Storytelling
Charities (in general) have so many stories to tell, and you must tell them if you want to connect with supporters and turn those supporters into volunteers and long-term donors. Do spend time sharing these stories. If you get it right, it will have a significant impact on your success. A first-class content strategy is vital for all businesses, but they are essential for improving success online for charities.
Determining traffic levels
You need to establish if you have enough traffic to perform A/B testing. No set threshold determines what low traffic is. It is on a per-site basis. Still, if you have less than 1,000 unique visitors per week or not more than 5-10 donations, then you most likely don't have a big enough sample size to run a test and reach a significant result within a reasonable time frame.
What can be done if there is not sufficient traffic?
A lack of traffic doesn't mean that you can't run a successful CRO programme. Suppose a lack of traffic applies to your organisation. In that case, qualitative methods such as user testing or session recordings, radical changes and tracking micro conversions are tactics you can use to improve your site conversion.
Examples of radical changes would include complete page redesigns instead of iterative, more minor changes or multi-page tests. Suppose your testing tool has dynamic testing capabilities and uses machine learning to send traffic to the best performing variant. In that case, this could also be a solid tactic to use during campaigns to maximise ROI.
Read how an audience-led approach increased donations for Diabetes UK
We completed an in-depth discovery process, incorporating quantitative conversion and content analysis, search intent, and user testing to identify areas of improvement that led to an increase in donations for Diabetes UK.
Accurate tracking and web analytics
Finally, make sure you are tracking the right goals and events. To do this, we recommend that you create a measurement plan (if you haven't already done so). It is vital to have a clear view of what success looks like to measure your goals accurately.   
Your web analytics setup needs to measure data accurately. To know the impact of your testing, we recommend that you have eCommerce tracking set up. It would help if you were also confident that you are tracking all the goals and events you documented in your measurement plan. If you are not collecting accurate data, testing is useless. Why? Because you won't be able to learn from your experiments. 
The below image is an example measurement plan for a charitable organisation.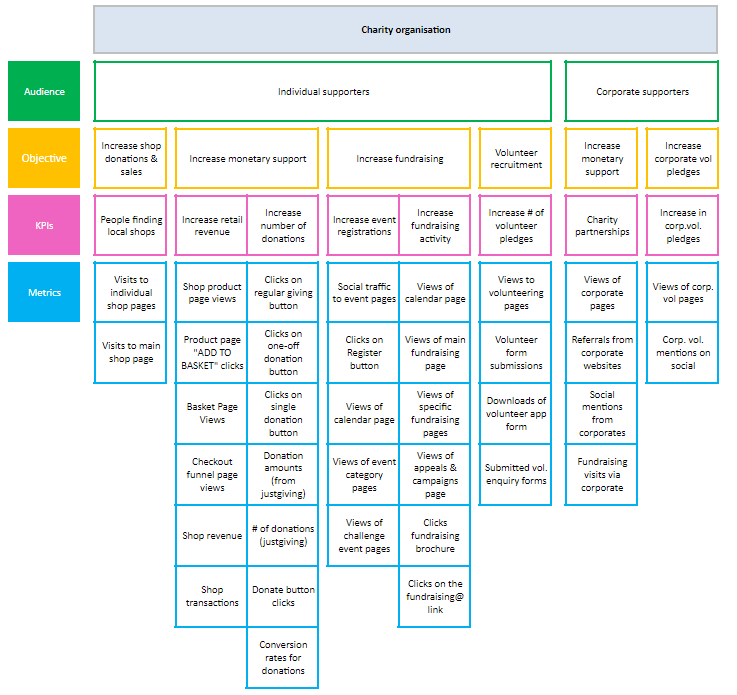 4. Optimise across all channels
Conversion rate optimisation and experimentation are not just about your website. Every touchpoint you have with a supporter is an opportunity to test and learn. I'll explain.
Email is a vital channel for charities. Make sure that your testing strategy covers them and that you share learnings across your different user touchpoints. There are multiple things to test, including:
Subject line
Copy
Layout
Frequency and time of sending
And remember to also think about the email landing page. What is it that you want users to do once they have arrived, for example:
Is it living up to the promise made in the email?
Is the transition seamless?
The last point is valid for offline channels like direct mail and TV advertising. Make sure there is consistent messaging between all your marketing channels, online and offline.
Social Channels are also a great place to test your messaging. Even if you don't reach the sample sizes that you might get by testing from your website, you should create multiple versions of your posts and compare results to ensure you get the best performance possible.
Also, test things like scripts for direct communications, for example, follow up phone calls. This experimentation will result in more data and a better understanding of what works with your supporters. Transferring learnings from optimal channels can benefit others. 
Organisations with a mature CRO programme have experimentation running through everything they do. They don't just experiment with content; they experiment with messaging strategies, donation amounts, and campaign material. 
When planning a donation campaign, consider creating multiple versions and test which one performs the best. Some optimisation tools allow you to automatically send traffic to the best performing version in real-time, which is very useful when running a time-limited campaign and maximising performance.
5. Learn from your test results
This one seems pretty obvious at first glance. But something we have learned with our charity clients is just how important the test analysis stage is and that you spend the time and do it right. 
It's easy to put the focus on donation revenue as the be-all and end-all KPI. And it is crucial, but charities have other goals that are also very important. Most charity websites are information hubs. As we saw earlier in the article with the Diabetes UK example, there are often several levels of engagement and a path from being interested in becoming a donor.
Make sure that you define your secondary goals before your test starts. If you have put in the time to create a measurement plan, you'll already know which secondary goals are helpful for your organisation to track.
When it comes to revenue, you need to split out the type of donation and calculate the life term value (LTV) of recurring vs a one-off donation.
Look out for the outliers!
We have also seen the importance of looking for outliers. As there is often no maximum amount to one-time donations, there is a significant chance that outliers can skew the test data. Learning how to find outliers is well worth the time. Two ways of starting to understand if your data contains outliers are: 
Export your data to a spreadsheet and sort it in ascending/descending order. If there are values that stand out, you should be able to spot them quite quickly. 

Create graphs from your exported data. Boxplots, histograms, and scatterplots can highlight outliers. 
If you suspect outliers, there are a few different methods to identify the exact values and remove them. Which way you use depends on the data you are reviewing. Learn more about outliers in this article.
Also, make sure that you can split out Gift Aid from your donation values.
There are no losing tests
Firstly, even if the test didn't significantly improve your primary KPI or even show a negative result, you will have prevented rolling out a change to the site that would have been harmful to performance which is a win.
Secondly, make sure that you segment your results. If the overall results aren't what you expected, there is always something to learn from diving deeper into your data. There might be some parts of the test that did work that you can use to form new hypotheses.
If you have followed everything we have touched on so far in this article, every test is an opportunity to learn something new.
Importantly, sometimes, the tests that didn't go the way you expected teach you the most. Finally, something we preach to every client we have. If you have a well-designed test, there are no losers.
Conclusion
Well done for making it to the end. I hope that you've been able to take away at least one new thing that will help improve the way you run your CRO programme.
The tactics and strategies we have talked about in the article are all things we practice daily, so we know they work.  
We know that CRO isn't always easy (yes, sometimes, some tests provide fantastic impact results). If you are still struggling with your CRO programme and need some guidance, please get in touch. We can help with CRO Training, understanding your CRO maturity, empowering your existing team, and test implementation.
Our team love working with our clients within the charity sector. It is a great feeling knowing we help contribute to their success by increasing donation revenues and improving key user journeys. If you have any questions about anything in this article, feel free to contact us.
9 Jun 2021
21 Sept 2021
19 Aug 2021
Book a surgery session with the team
Tell us about your conversion challenges. In return, we'll provide advice, ideas or inspiration in a 30-minute session with one of our Digital Strategy team. Choose from the available times and reserve your slot.
If you are interested in finding out more about anything raised in this blog post or learning more about how we could help your organisation, don't hesitate to get in touch.