With the sheer amount of content being published online every day, it's never been more important (or some might say, difficult) to find that content sweet spot – i.e. interesting, relevant and timely videos, blogs, articles, web pages and online experiences that your customers (and potential customers) are looking for.
Don't be afraid to remove content that isn't performing well and doesn't answer an audience need. We've seen a lot of success while content auditing new clients' websites by removing poor or duplicated content.

David Somerville, Strategy Director
The only way to know whether you are on the right path is to start with your audience and combine a customer experience (CX) approach with a robust measurement framework: one that will assess the impact and performance of the content you are producing.
But how does CX inform your content strategy, and what does a content-specific measurement framework look like? This post explores both, plus gives you access to a practical tool you can implement yourself.
The problem: The content marketing curse
We can all agree that there is no desperate need for more content on the Internet, especially when it's content for content's sake. You know the kind – the "everyone else is doing it so we should too" – rushed, untargeted and irrelevant, with no customer or audience in mind.
With terms like 'content marketing' being bandied around like hot potatoes, it's a trap that many marketers fall into creating the 'what' without first knowing the 'why' in the race to reach their customers.
Everyone knows they should be doing it, but not everyone knows how to do content marketing well, and this has led to many websites pumping out average content without first asking that all-important why.
What's worse, as web users, when we need help choosing a service, finding a decent product review or learning how to do something, we quickly find ourselves wading through low to medium quality content until we find something useful. Google wormhole, anyone?
From the marketeer's perspective, this means chances are a good proportion of content produced isn't hitting the mark. Instead, it disappears in that sea of noise along with everything else that doesn't meet the needs of its target audiences.
This is a real shame as it quickly becomes a waste of time and money, making no business sense.
The solution: a Customer Experience approach to content marketing.
Ask yourself: Is your content strategy designed to improve your customer experience?
A customer experience approach to content creation turns the what-why challenge on its head. It gives you a targeted content strategy that's based on learnings from CX discovery research. By understanding the needs and 'experience' of your customers and prospects (the 'why'), you can better understand what content you need to produce (the 'what').
As part of CX discovery, you will have gone through customer experience journey mapping based on audience interviews and also uncovered the "moments of truth" your customers have.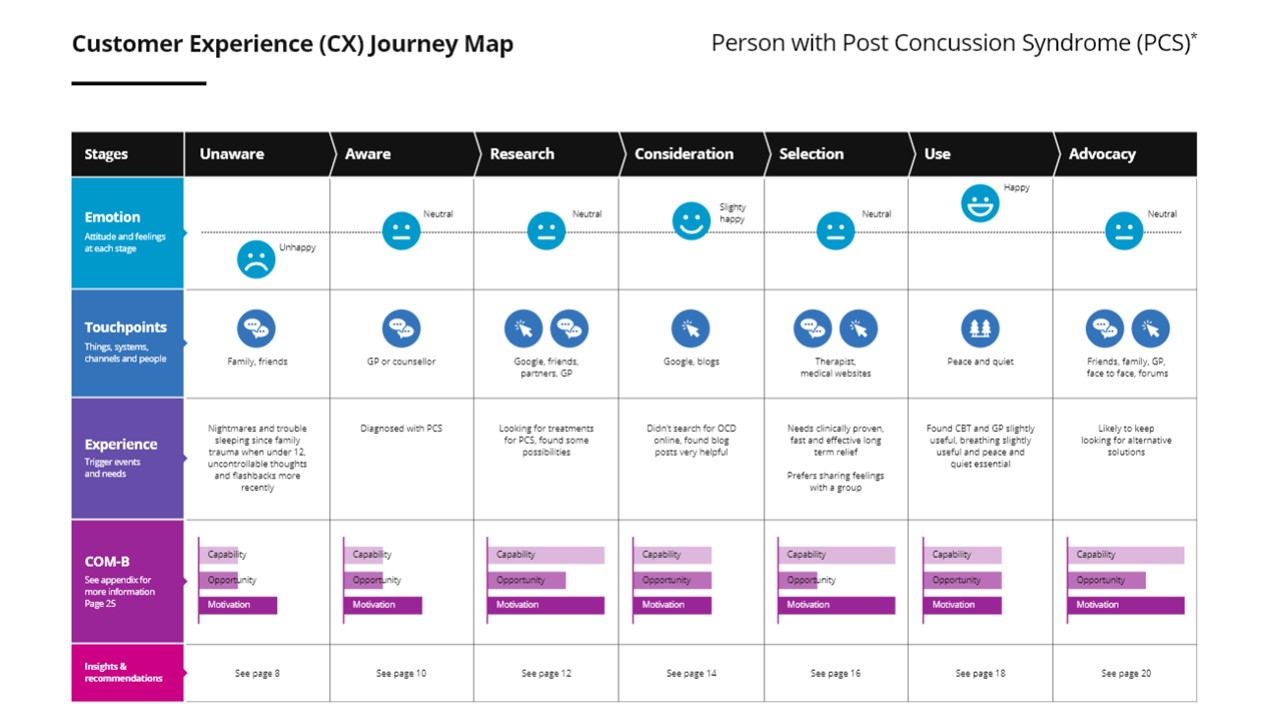 Highlighting the moments of truth (pains and gains), you'll be able to identify the types of content that will give the best possible interaction between your business and your customer, therefore improving their experience.
We see this every day in our CX work for our clients. For example, our CX discovery research for one client in the education sector identified that their customers had specific needs for content to help them across different stages of the customer journey. This basically provided an instruction manual for our content strategy to create the missing content to match these needs. As a result, the content production that followed was targeted and had clear focus and direction, and it was (as we expected) a great success.
Using data for additional insights
Search data is also an important part of the CX discovery process. Identifying and mapping out audience content needs using Google's Micro-Moments will help you understand what content should be created and keep your audience at the front of mind.
Finally, make sure you perform a content audit on your existing content: what content is performing well and frequently driving leads and conversions? Using this data will arm you with the insight to create more content that performs.
Embrace the content cull
Don't be afraid to remove content that isn't performing well and doesn't answer an audience need. We've seen a lot of success while content auditing new clients' websites at Fresh Egg by removing poor or duplicated content. To do this, you need to be tracking key interactions on your website as 'events' in Google Analytics or your web analytics platform of choice. Make sure you look outside of just your web analytics platform when assessing content performance: look for what content is frequently being shared, linked to and commented on by your audience.
So, you've gone through the CX approach in understanding moments of truth and customer pain points, mapped out search needs and understand what content you need to create. Now you need to create a content measurement plan for your content.
Why do I need a content measurement plan?
The answer to this question is a simple one. Without a measurement plan, you end up blindly trying to work out how your content has performed once it's gone live.
This results in metrics being missed or reported incorrectly and usually a misunderstanding within the business as to what has happened. Sometimes a lack of content measurement plans means that content isn't being measured at all.
This is dangerous as it can result in underperforming content continually being created, which will not deliver against your business objectives and be damaging to overall organic performance. And it works both ways – if you're not tracking correctly, you'll never know just how successful the well-performing content has been (and why), so you won't be able to replicate that success.
What types of content should I be measuring and how?
In short, you should be measuring every type of content that is being created within the business.
What does that mean? Stuff like this:
Blog posts
Product reviews
How-to video
Podcasts
Video
Content Hub
Service / Business reviews (trust)
Imagery
Case studies
Email marketing and newsletters
Product content
White papers
Social copy
User-generated content (UGC)
eBooks
Every content type has different objectives, KPIs, and metrics that need to be applied to ensure content is being measured correctly.
Use our handy content measurement Google Sheet to dive into a few examples of structuring content measurement. This is useful ahead of creating your content measurement document to understand the different metrics that should be used, depending on the type of content being created.
💡 Pro Tip
Make sure that you create a content measurement plan for the content you publish and have separate objectives, KPIs and metrics for every item.
Download our free measurement plan template
Download our FREE template and step by step guide for creating your own website measurement plan. This useful toolset will help you track the performance of your website against your business objectives
If you need support creating and implementing your own content measurement plan or content strategy in general, we can help with a compregensive range of services around content strategy, auditing and measurement strategy.