Why customer experience journey mapping needs 'big data' to succeed
It's no secret that most marketers are on the same trajectory and curve for Customer Experience. Although some are further along the journey than others, almost all are heading towards the common goal of achieving a single customer view. Therefore, most will have also had some exposure to Customer Experience Journey Mapping (CXJM) in some way, shape or form.
As an approach, CXJM is essential to help you lay down your plan of attack and start realising the opportunities for delivering against customer experience objectives.
When conducted properly, the process will give you a better understanding of what the experiences of your customers really are and how you can start to plan effective communications around them.
Part of my role is now leading the entire Journey Mapping process and, having trialled several approaches - I believe a CXJM is only completed by following these 4 clear stages:
Stage 1 - Empathy mapping – completed by core stakeholders, the process ends with a series of hypotheses on the audience's experience to either prove or disprove.
Stage 2 - Audience interviews – used to provide a series of rich, qualitative insights in response to the hypothesis defined from the empathy mapping.
Stage 3 - Mapping experiences – plotting the real customer behaviours across the stages of their experience (we have 10 stages that start with unaware and ends with advocacy).
Stage 4 - Extracting the moments of truth – what is the audience's defining moments within their overall experience? You can define a clear role for communications in responding to them with the right content, message, or action when you can answer this.
By following this approach to CXJM, you can really start to understand your audience's 'moments of truth' – the points along their journey that cause pain or delight.
During the audience interview, the captured experiences are 'conscious' – people are recalling and retelling them. But what about capturing those 'unconscious' experiences? The ones that only online behaviour, and data, leaves behind as a digital footprint?
Validate with data
This is where overlaying a combination of quantitative and qualitative data comes into play. Adding validation with data into the aforementioned process (yes, it's now a 5 stage process) means you can enrich and measure the moments of truth with some robust figures alongside the insights from the qualitative interviews.
Let's be honest, one thing we all have far too much of is data (can I still hear an echo of "data is the new oil" from somewhen in 2012?). This stage of the process puts all that data to good use and can also help inform what data you need to harvest (and why) moving forward. The data you use to validate the experiences can vary on a case by case basis. However, from my experience, the following are all a good place to start:
Search data

 

– an absolute treasure trove of insights. Search data can provide you with what people are searching for, what questions they are asking, on what device and when they did it.
Social data

 

– demographic as well as conversational data. Social listening and looking at sentiment across forums and users comments can provide even more context to the pain and gain points across the customer journey.
Web analytics

 

– often one of the largest sources of data. How is your audience accessing your website? What are they engaging with, and what are their 'conversions'?
Heuristic assessments

 

– an important qualitative analysis of both your owned properties and ideally those of your competitors.
Why search data is SO valuable
Search data is only ever (really) analysed by your SEO or Analytics team. However, when using search data as part of your CXJM process, search data really is absolutely invaluable. Quite simply, this is because people tell or ask Google the truth. People are happy to ask Google things they would not dream of asking anyone else. As their search intent becomes clearer through their logged queries, so do the insights you can glean from them.
Seth Stephens-Davidowitz, the author of Everybody Lies, argues that: "for a variety of psychological reasons, Google search is one of the best places to source unbiased audience information".
Putting this into practice
Using CX journey mapping to help Londoners of their wellbeing journey
A project from the NHS in London called "Good Thinking" is a great case study where we have put this process into practice.
The project's overall objective is to improve the mental health of Londoners by encouraging them to self-manage their wellbeing. Our objective was to aggregate, structure and enrich existing research and understand how triggering contexts and experiences associated with poor mental wellbeing would translate digitally for the NHS.
With CXJM at its core, we followed our five-stage process. We used a combination of empathy and journey mapping, COM-B behavioural analysis, social listening, and keyword research to uncover real conversations, trends, and behaviour patterns.
The first step was to complete a series of empathy maps for the key intended audience groups. This activity involved stakeholders empathising and mapping out needs, touchpoints, pain points and goals.
Next were the audience interviews, where we captured the experiences of a group of Londoners into 'stories'. We then mapped their experiences onto a CX journey map, indicating the blockers and challenges they faced when seeking the right information they needed online.
When we knew the moments of truth, we used a combination of search and social data to add a sophisticated layer of information. We took the search data of millions of Londoners and were able to extract several learnings, including:
What search terms are the most popular and common concerning mental wellbeing
Which online touchpoints are people already using
What sort of information and content they are being presented with
The social data provided richer context, giving a clear direction on the appropriate tone of voice, plus a validation on which platforms were the best to reach the various cohorts.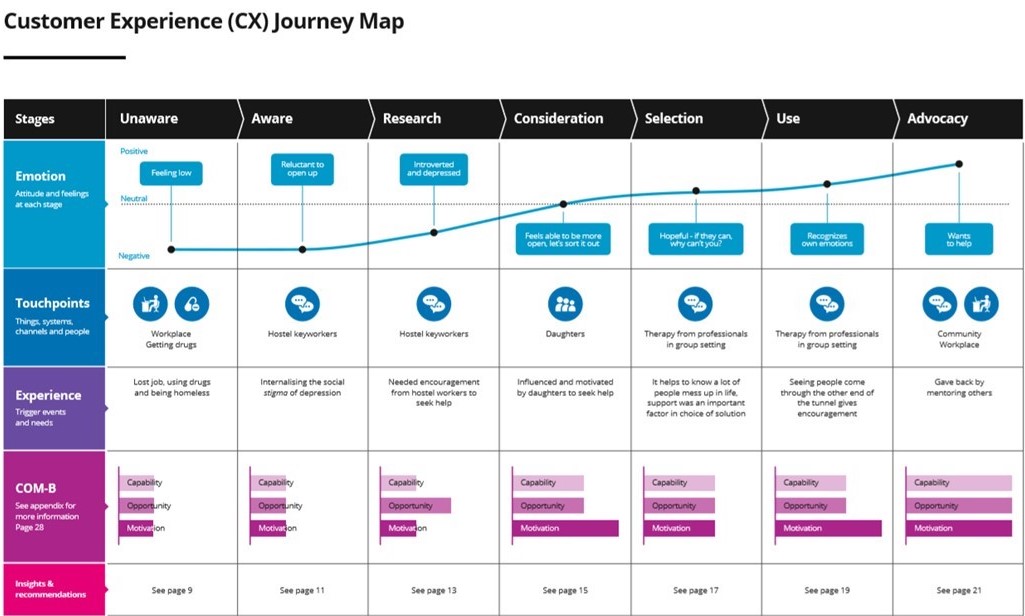 We carried out this research last year. Fast-forwarding to today, we have already reached hundreds of thousands of Londoners and encouraged many of them to access the online resources that the service offers, thus alleviating pressure, the stretched physical NHS and saving them hundreds of thousands of pounds in the process.
Marrying experience mapping with robust search and social data really does allow you to create a successful digital service – whether it's designed to help the health of Londoners or something more commercially minded.
For more detail on this approach, download our white paper, 'Helping Londoners on the journey to mental wellbeing – a digital research project for the NHS', to learn:
How to identify and understand the online behaviour, motivations and search intent of people concerning broad wellbeing conditions
Translating granular search data and broader trends into actionable insight
Recommendations on how you can digitally engage with people at different stages of their wellbeing journey
Read about the NHS digital research project
Download our FREE white paper that reveals our methodology for this groundbreaking research project that shows how digital services can be used to assist the mental wellbeing of Londoners.
Would you like to know more about mapping out identifying customer behaviours or understand more about our approach to Customer Experience? Get in touch, and we'll be more than happy to chat through any challenges you are facing with understanding the customer journey.