Back to Approach
Conversion rate optimisation (CRO)
Conversion rate optimisation (CRO) puts your customer centre stage. Streamlining their experience and removing roadblocks to clear the path to conversion – whether that's a form completion, product download or purchase.
CRO smoothes the path to conversion for your visitors. Improving navigation, updating calls to action and optimising the design while taking the customer journey that proceeded it into account.
Basically making it as easy as possible for the user to flow effortlessly through your site and onto conversion.
Our five-step test & learn framework looks beyond typical conversion rate and makes your website work smarter to turn more of your visitors into customers.
We understand how users interact with your site and look for opportunities to improve the process, measuring against average order value, per visit value and per visit profit as well as conversion rate for a deeper ROI.
How CRO transforms the customer journey
Aware
CRO begins at the awareness phase of the customer journey – a key conversion point for lead generation via social and email campaigns, product downloads etc.
Research & consideration
Clear navigation, strong calls-to-action, easy comparison, engaging images and video content, compelling and persuasive copy. CRO tests various iterations of design, content and navigation to make sure all of this is in place to aid the customer to the next step.
Selection & transaction
The most important phase of the customer journey for CRO – selection and transaction – or in this case, conversion. Clearing the path of roadblocks to make purchase or conversion easy – simple login and transaction process, optimised forms, clear calls-to-action and navigation. All areas we cover in thorough A/B testing.
Our approach to CRO
01 Discovery
In CRO knowledge is most definitely power, so everything we do starts with a detailed discovery project. We put ourselves in your customers' shoes to uncover the barriers to conversion. Interrogating analytics data, and using competitor analysis and heat mapping – it all helps us to understand the user experience and identify opportunities.
02 Strategic planning and set up
Insight gained in the Discovery will form the basis of a detailed testing campaign, where we put to work various test hypotheses from your customer journey and UX analysis.
03 Execution
Now for the science bit – and for us where the fun starts. We roll out test variations in design, copywriting and navigation on your 'problem' pages, and serve to a split audience to see which performs best. The winning solution can then be hard-coded into your website to increase conversions and bring better ROI on an ongoing basis.
04 Reporting and analysis
Nobody's got time for jargon so we make reporting easy with clear, focused activity reports and continually updated test plans to show progress.
05 Refinement
Conversion rate optimisation is a fluid, ongoing process of learning and refinement, and this is reflected in the final step of our test and learn framework. All insight gained is fed back into the cycle to continually optimise results and improve ROI for our clients.
What do we test?
So many factors can interrupt the path to conversion: navigation, design, positioning and content of copy, unclear calls-to-action. We interrogate analytics data and use a range of online tools to answer these questions, before carrying out A/B testing on solutions.
Optimizely
Fresh Egg is a Developer Certified 3-Star Solutions and Platform Certified Partner of Optimizely. the world's leading customer experience optimisation platform. This enables us to deliver the best level of website optimisation with the highest degree of expertise, using industry leading tools for maximum insight and success.
Web personalisation tools
Web personalisation tools are the engine room of CRO - where the testing happens. With so many tools on the market, choosing the right one for your business can be confusing. We've done the hard work for you and compared the best on the market in a handy comparison guide. Because we're nice like that.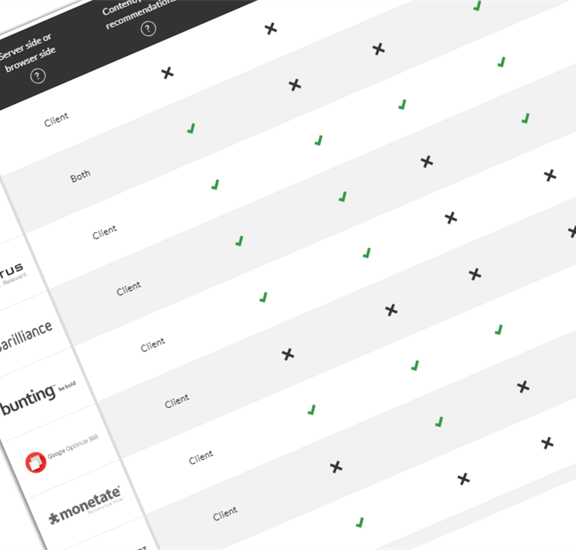 We have been really impressed with the quality and thoroughness of Fresh Egg's initial discovery and insights work and many of the tests that have subsequently been carried out have produced results that have surpassed expectations. The professionalism demonstrated delivering performance improvements, the responsiveness to our concerns and the positive attitude towards providing proactive solutions has made the experience of working with Fresh Egg a resoundingly positive one.
Our affiliations