Introducing Melissa Waters, our Head of Client Services
We caught up with our new Head of Client Services, Melissa Waters, and talked to her about her career to date, her vision for the role, and what it's been like joining us in the middle of a lockdown...
Communication and marketing used to be about talking at your audience, now it's about building deep engagement, conversion and a two-way dialogue - it's no longer about passive digestion of content. It's challenging to influence audiences, to make them act and change behaviour.

Melissa Waters, Head of Client Services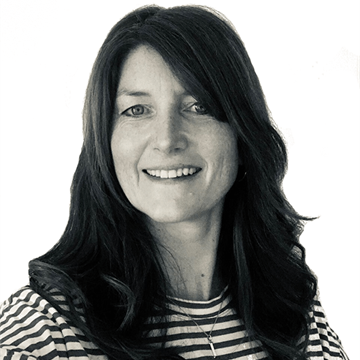 First of all, what does it mean to be a Head of Client Services?
I am accountable for the strategic management of the client services function. This means building strong stakeholder relationships and supporting the successful delivery of services, to ensure our clients are happy. I am responsible for ensuring that the client services team are content and motivated, while also growing Fresh Egg by helping our clients succeed.
What did your path into this career look like?
The majority of my career has been agency side in London, where I started in PR for brands like Selfridges, M&S, Proctor & Gamble, Guinness, Bombay Sapphire and Havana Rum. I then took my love of drinks brands a step further and moved into experiential, working with Southern Comfort and Heineken, staging parties at festivals, which was a lot of fun.
For the last 10 years, I've been in digital marketing – starting in creative content-led campaigns then transitioning into tech and data-driven marketing. The consistent part of my career has always been overseeing an audience-first approach in client-facing roles. I've been lucky to work with brilliant brands and super talented people.
What makes a great Head of Client Services?
Flexibility and decisiveness are important. In our line of work there tends to be a lot of curveballs so rolling with the punches, thinking on your feet, planning (always thinking one or two steps ahead), being open and a good listener are crucial.
Being naturally curious helps (you'll need to get under the skin of your clients and their businesses so asking 'why' a lot is key). Plus, you should be a people person as your job is to deal with people all of the time. Knowing when to say no to clients is also important, being confident that we are focused on what is best for them, their customers and our team.
The client services role has changed a lot over the years - it's no longer about just servicing clients but understanding their business, understanding them as people and understanding the marketplace they need to deliver in.
A good Head of Client Services needs to create an environment where great people and smart thinking can flourish.
What are you looking to bring to Fresh Egg?
It's clear that Fresh Egg already delivers brilliant work for great clients and has forged many successful client partnerships, so it's about maintaining and building on that. Making sure the Fresh Egg company values continue to drive the business.
A collaborative environment really motivates me, so I'll hopefully bring an inclusive attitude, internally and externally.
Digital marketing is a dynamic industry and super pioneering in terms of technology, which I find exciting, so it's important to remind everyone of this - it's quite fun - instead of sometimes getting to bogged down in the day-to-day.
Lastly, and most importantly - I'll be looking to bring my dog Lenny into the fold - if Fresh Egg will have him!
What is your ethos for putting the customer first?
The aim is for clients to be advocates and partners. And to achieve this requires a joint effort – company-wide. Everyone must buy into the idea. Our USP at Fresh Egg helps our clients understand their audience – who, what, when, why, where. The same principles apply to client servicing – who is the client? What are their motivations? Why does their business need us / the work?
A client expects a certain level of understanding around their business, so it's our job to deliver against that.
Communication and marketing used to be about talking at your audience. Now it's about building deep engagement, conversion and a two-way dialogue - it's no longer about passive digestion of content. It's challenging to influence audiences, to make them act and change behaviour. And because of that, clients are looking for trusted experts and partners instead of suppliers. We can help them connect to their customers, and understand the digital world, in all its crazy, constantly changing form.
What can our current and future clients expect with you heading up client services at Fresh Egg?
To work with clients – not for them. It is essential to be as collaborative as we can. For us, this means being open and honest and bringing people and expertise together - especially during these difficult times when we may feel more 'apart' than ever.
For clients to feel listened to and understood, in simple terms, that we 'get it'. Whether that's the brief, the business, the goals, the challenges or even the internal politics, our role is to continue the high standard of delivery from the relationship and work we produce and exceed expectation where possible.
Lastly, reminding our clients to continually strive to understand their audience - now more than ever. They need to know what their customers are doing, why they are doing it and how they can benefit them. And the benefit needs to be genuine. It's continually evolving, and they need to lean into their customers.
How do you motivate your team?
To ensure they develop, learn and progress – individually and as a cohesive unit.
To help cut through the complex and see the simplicity. There can be a lot of technical jargon in our line of work. Ensuring the team strike the right balance between working instinctively and intuitively (massively important) with being cautious and considered (also important).
Lead by example, focus on their development, create a positive and collaborative working environment, be open and communicative and ensure that we enjoy what we do as much as possible – with the occasional social of course!
What tips would you have for anyone looking to get into account management?
If you love people, are a brilliant communicator, solution-focused, and you are naturally curious and resilient, then Client Services is for you.
What is your favourite part of the role?
Having to wear lots of hats – from dealing with clients to specialists to team members and that no two days are ever the same.
The work involves a wide variety of briefs that you see through from start to finish while surrounded by brilliantly talented people. I love working in an innovative environment – the nature of digital changes so fast which means I'm always learning.
The icing on the cake is when you click with a client and form a genuine partnership.
Are you a perfectionist?
We work in such a fast-moving and fast-changing environment that perfection can sometimes stand in the way of getting things done effectively - it's a balancing act, but I'd like to think I'm more pragmatic than perfect.
What do you think are the biggest misconceptions around working in account management?
The largest one is that it's either a sales or an administrative role. Sales and admin are a part of the job, but there is also much more to the job.
We manage the end-to-end lifecycle of an entire account and always bring consistency, a focus on results and the Client's POV to the table like no-one else can in the business – and that's vital to the health, success and growth of an account.