Meet Dan Jackson, our super new Front-end Developer
Web development | 6 MIN READ
We caught up with our latest recruit Dan Jackson, who recently joined our development team. During the chat, we asked Dan how he got into web development, what he likes about it and what he thinks will happen with the discipline in the future...
In my opinion, having a willingness to learn new development tools, frameworks, libraries and processes, work well within a team environment, and the ability to communicate well with people, are the key qualities I believe someone should have to be a front-end developer.

Dan Jackson, Senior Front-end Developer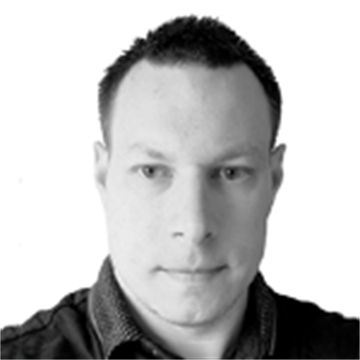 Firstly, describe your career path to date and how you got into web development?
I first started learning web development at university, learning HTML, CSS & JavaScript basics before moving onto PHP and other programming languages. During this time, I found that I had a real enthusiasm for web development, particularly front-end development, which led me to think that this could be my future career.
My career path began as a junior web developer for a small Manchester-based agency before moving to Sussex in 2013 and working for RSA (Royal Sun Alliance) as a Front-end Developer. This job was my first experience working in a large development team. From here, I spent two years at the online accountancy Crunch, based in Brighton, where I worked on their marketing website, before making a move to become Senior front-end developer for Hastings Direct in 2019 to lead a team of developers responsible for the Hastings Direct website.
In your role as a Front-end developer, what gives you the greatest job satisfaction?
I take great satisfaction in sharing knowledge and helping my colleagues so we can grow as a team.
What is your favourite part of your job role?
Being a web developer always allows me to learn something new, whether a new library, framework, tool or programming language. Web development is continuously changing, and this is what I most enjoy about my role.
However, my favourite part of my role is when I get to see something I've built online for the first time. I have pride in seeing a project through to the end.
How do you keep up to date with industry innovations?
I usually write down a list of the topics I feel are relevant to my job role. The topic list includes listing the tools, libraries, frameworks or anything I feel I may need to be aware of in future or things I want or need to learn. Then I begin to search for relevant resources online. Often these are blog posts on Medium, video tutorials on YouTube, or online courses such as those found on Codecademy and Treehouse. A Google search will always provide a useful resource somewhere.
From these resources, I'll write detailed notes that I use going forward to help me develop my knowledge of the subject, and I then use GitHub to build small projects to put this knowledge into practice. I use this practical method to share the knowledge gained with fellow developers in the team.
This process has helped me improve my skills and keep me updated with the latest tools and trends in web development.
You can only pick one development tool to use, which one do you choose and why?
Node Package Manager (NPM) – I use this tool to run the front-end build, start development servers for Gatsby projects, and install packages such as React to help with development. It's a versatile tool, and the ability to create your own packages is a great way to share your code across different projects. It's safe to say my job would be much harder without a tool such as NPM.
If you could change one thing about web development, what would it be?
Fewer JavaScript libraries and frameworks would be nice. It seems every week, a new library or framework is released, and it's hard to know if it's worth investing the time to learn each one as they all seem to be so similar.
In your opinion, what qualities does someone need to have in a Front-end Developer role?
In my opinion, having a willingness to learn new development tools, frameworks, libraries and processes, work well within a team environment, and have the ability to communicate well with people are the key qualities I believe someone should have to be a Front-end Developer.
There are so many different technologies to build web applications, which is your favourite and why?
React – this JavaScript library has become my favourite technology recently. It's great for building complex user interfaces for websites and applications using reusable components. I often think of the components like Lego bricks. Once built, they are used across the entire project. Components help save developers time and improve the performance of our web applications.
Can you remember your first web project? If so, what did you create, and was it a success?
I don't remember my first web project as such, but I recall an early project to build a web page at university to connect a Counter-Strike game server and display live game data using a Perl script. I created this before the introduction of responsive design and many of the modern frameworks available today, so looking back, the build itself was very basic. Still, it was a great learning experience, and for that reason, I consider it a minor success.
What would you say to anyone thinking of a career in web development?
Web development is a rewarding career with plenty of opportunities. I really love my job! Resources are available for anyone to learn web development online, from video tutorials on YouTube to development blogs and online courses such as Codecademy. Many of these resources are freely available.
Don't be put off by thinking you need qualifications – I consider myself mostly self-taught. Almost everything I've learnt has come from online resources or knowledge gained from colleagues or developers. Anyone can become a web developer if they really want to!
What do you think the biggest challenges are for brands implementing web performance enhancing technology such as Gatsbyjs?
SEO (Search Engine Optimisation) and accessibility are two of the biggest challenges when working with new technologies such as Gatsbyjs. Regardless of the technology being used, considerations around the content being displayed, the metadata used, the structured data implementation, and how the page appears to all users, with planning around screen readers for the visually impaired, as an example, are just a few of the many challenges that need to be considered when using any technology.
How do you think web development will change in the future?
I think machine learning will change web development moving forward. We're already seeing tools becoming available that use AI (Artificial Intelligence) and machine learning to help developers write code and check for errors, so I'm hopeful that this will simplify the process of web development moving forward (or the beginning of the machine uprising – which is a concern).
Choose what technologies you would use to complete the perfect web dev project, and why?
Having recently learnt Gatsby, I have to say that this has become my ideal technology for creating the perfect web development project. The use of React to build the front-end user interface as reusable components and to add plugins to extend the functionality to handle everything from SEO (Search Engine Optimisation), through to connecting a headless CMS (Content Management System), and much more makes it the ideal technology for building high-performance, responsive web applications.
The reason for choosing this technology is the great documentation, learning resources, and the simplified setup process, making it a great tool to work with.
What do your family and friends think you do for a job?
Many of my friends are also developers, so they understand my job well. My family are also familiar with what I do, but there are occasions where I get asked to provide IT support.
What is your favourite way to eat an egg?
An omelette - it's simple to make, and I cannot cook!