Meet Dean Knill, our super new Recruitment Services Resourcer
Culture | 4 MIN READ
We caught up with Dean Knill, who recently joined our (growing) Recruitment team in the role of Recruitment Services Resourcer. We asked Dean about his jump into the world of recruitment, his expectations for the role, and what both colleagues and clients can expect...
I loved the sound of Fresh Egg, the innovative ideas, the creative environment, and the opportunity to learn.

Dean Knill, Recruitment Services Resourcer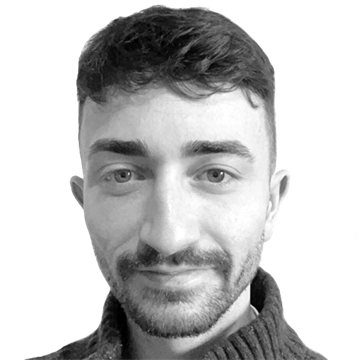 Firstly, welcome, Dean. Describe your career path to date and what made you get into recruitment?
I have varied experiences to date. I started in retail (as you do), specialising in B2C sales. I learnt the importance of having excellent product knowledge and communicating with a diverse range of people from all levels of society. I have since gone full circle, from retail to event management to independent record labels, and eventually ended back in retail after completing my degree to support my musical endeavours.
However, since the pandemic started, I have been trying to figure out what step I would like to take next and where I would like to end up. One thing that what clear was my desire to be a part of something exciting, innovative, and creative. I also wanted to go somewhere that genuinely cares for its staff, which has led me here.
I guess you could say recruitment suited me well at this stage of my career. I am someone who loves to support others. I'm organised, honest, energetic, and optimistic.
What made you choose Fresh Egg as the next step in your career path?
I loved the sound of Fresh Egg, the innovative ideas, the creative environment, and the opportunity to learn.
What intrigues you most about recruitment?
I like to find out what motivates people, why people do what they do, what they aim to achieve, and why they get out of bed in the morning? I find it fascinating, therefore, helping someone find a job that suits them plays to my strengths.
Recruitment is a new career path for you. What are you looking forward to learning?
I am already learning a great deal about recruitment and, more specifically, in the digital space. I am obsessed with personal and professional development, so I am just excited to take every opportunity to learn and develop. Every day is a learning day, and nothing in the digital world stands still. I am definitely in the right place.
What do you think makes an excellent recruiter?
The role suits someone polite, supportive, open-minded, confident, experimental, organised and focused. Perhaps most importantly, you have to get on with people!
What aspects of digital interest you?
So far, I am incredibly interested in Paid Search and Analytics. I am truly beginning to understand how quickly everything changes and moves forward now I am working in the industry. Things never stand still!
How have you found the transition into a new industry?
So far, so good! Everyone has been incredibly supportive.
Be brave; what did you know about the SEO, PPC and CRO acronyms before joining us?
I knew a few, like that SEO stands for Search Engine Optimization and PPC for Pay Per Click from conversations I have had in the past, but I had no further knowledge beyond that, so, yes, there has been a lot to learn.
What trends in the digital recruitment space have you noticed already?
It is a challenging and competitive market. There is a lot of competition for specialists in Data/Analytics and Paid Media and there is a shortage of talent within these specialities. We are seeing many experienced professionals choosing the contractor/freelancer route.
If you could use only one website (or app), what would it be and why?
Discord has provided me with an excellent opportunity to learn about Web3 - Non-Fungible Tokens (NFTs) and Crypto, So I would probably go with that. But, personally, I think TikTok provides the most exciting platform right now.
What are you most looking forward to about working at Fresh Egg?
Learning, developing, and achieving great things.
What do your friends and family think you do for a job?
I think they know what I do for a job, but they don't understand Fresh Egg's services.
Finally, what is your favourite way to eat an egg (if there is one)?