Culture | 4 MIN READ
We caught up with India Dolton Martin, a Web Analyst who joins our Analytics and Data team. We asked India about her career to date, her expectations coming into the role, and what both colleagues and clients can expect... 
I think GA4 will change the way we look at data. We already have the ability to know so much about users, how they came to a site, how they're interacting with a site, what they bought from a site. In 10 years' time who knows what else we'll be able to do!

India Dolton Martin, Web Analyst
Firstly, welcome India, describe your career path to date and what made you get into the world of Analytics?
I've always loved numbers, and I've always been interested in human behaviour (my degree is in Criminology and Psychology!) - analytics ties these two things together, and that's what drew me to it. When I first came out of uni, I thought I wanted to be an accountant – I only lasted nine months! I found it too repetitive and dull. I then moved to a smaller Brighton agency to work in analytics and have worked in this field ever since!
What made you choose Fresh Egg as the next step in your career path?
Working in other agencies in Brighton, I heard Fresh Egg's name around a lot.
Everyone had always had good things to say – when I was approached about an analyst role here, it was perfect timing.
What do you think makes a brilliant web analyst?
In my opinion, it's someone who cares about data accuracy and constantly questions the brief. Often I think people asking for data don't always know what information they're looking for or what story they want to tell, and a good analyst can help shape this for them!
What would you say to anyone with aspirations wanting to become a web analyst?
There is so much free and helpful material online to give you a good foundation. Google Analytics Academy is a great place to start, and there are certifications you can attain.
I'd recommend looking at Simo Ahava's blog (it's excellent), and Measureschool also has some helpful material!
How do you stay on top of changes in the ever-changing world of analytics and data?
I follow a lot of blogs and some Facebook groups. I find that Facebook groups are a handy place to find out about new tools or new releases in the tools we use.
Other than Google Analytics, what is your go-to tool?
Without question, Google Data Studio - 100%. I love building dashboards and getting data into a valid, usable, digestible format for users.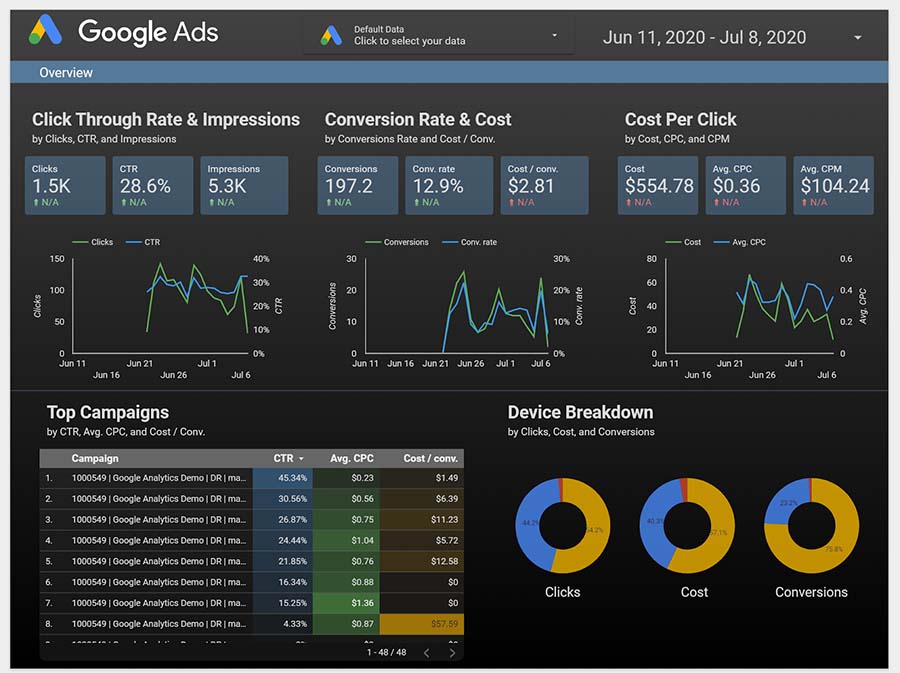 Image copyright: Google
Read our GA4 Frequently Asked Questions
From bounce rate to content grouping, our information will help you get to know Google's new reporting platform a little bit better.
If you could use only one website (or app), what would it be, and why?
Instagram definitely, I'm an addict. I'm massively into the gym and fitness, so I spend a lot of time looking at fitness related content!
How do you think the world of data and analytics has changed since you began your career?
I think the release of GA4 will be massive for the industry. I've not used it a huge amount yet, but I think it has some excellent capabilities that will change the way analytics works.
Classic GA or GA4? And why?
Currently classic, but I'm sure that might change once I become more familiar with GA4!
How do you see analytics and data progressing in the future? What are you most excited about?
As I've said previously, I think GA4 will change how we look at data. We can already gain insight about users, how they came to a site, how they interact, and what they bought from a site. In 10 years, who knows what else we'll be able to do!
What are you most looking forward to about working at Fresh Egg?
The opportunity to learn from experts! Everyone is so helpful and knowledgeable. I've learnt so much already in just a few weeks.
What do your friends and family think you do for a job?
My dad is an analyst too (albeit in a different sector), so he completely gets it – it must run in the family.
My friends know I work in marketing, I don't think they get the data part. One of them described it as 'coding'!
Finally, what is your favourite way to eat an egg (if there is one)?
This answer is where I really out myself. I don't! I've never eaten an egg in my life. Something about them really creeps me out!