Rediscover the Power of the Homepage: How A Few Simple Changes Increased Conversions by 51%
Conversions: the holy grail of digital marketing. Get a small change to your site correct – whether that's rewording a call to action right at the end of the sales funnel or changing the colour of a button on the homepage – and you can see the number of conversions sky rocket.
However, get it wrong, and your bottom line can be seriously damaged. You don't need us to tell you that the best way to prevent this catastrophe and make sure your conversion rate optimisation is up to scratch is to test, test, and test again.
As explained in one of our case studies, three homepage designs were put to the test to determine whether they had any impact on the number of conversions generated by that page as part of an ongoing conversion rate optimisation project.
To do this, we worked with website optimisation company Optimizely – of which Fresh Egg is a partner (one of six in the UK, and one of two in Australia).
Visit the Nationwide Vehicle Contracts homepage redesign case study for the full story, or read on for an overview.
What was tested – and how
Our client, Nationwide Vehicle Contracts, wanted to redesign elements of its homepage. We needed to work out which homepage formats had the greatest positive impact on the number of users submitting finance forms – the final step in Nationwide Vehicle Contracts' sales funnel. Previous experiments informed the designs we tested in this run, but to put it simply, the following three variations were tested:
A – original variation
B – new variation with side banners
C – new variation without side banners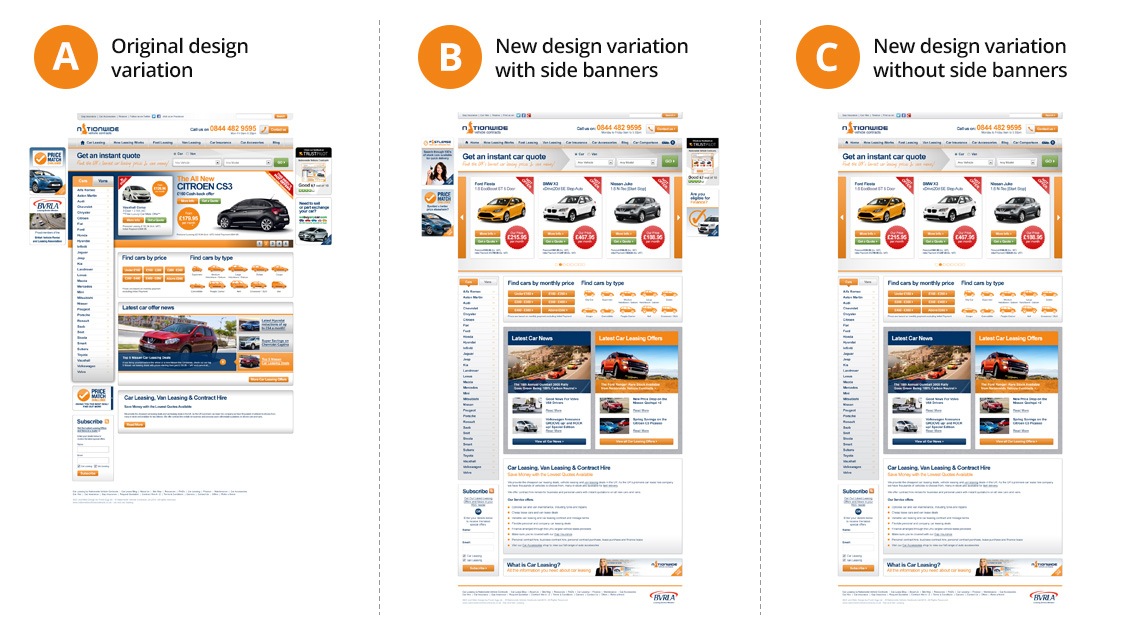 The A/B/C test meant we could work out the impact of:
Changing elements of the homepage, such as the design of the offers slider above the fold, moving the navigation menu further down the page, and simplifying content below the fold
Removing side banner elements that contain persuasive messaging and TrustPilot ratings, which may have been distracting users
Using Optimizely, the experiment was presented to 33% of users who visited the homepage, and each variation received 33% of that traffic (11% of total homepage traffic). The test was run over a period of 47 days until the Optimizely test reached a confidence level of 99.4%.
The results
Variation B (the new homepage design with side banners) was the winner and showed a huge increase in conversions: a 51% increase in finance form submissions via the homepage.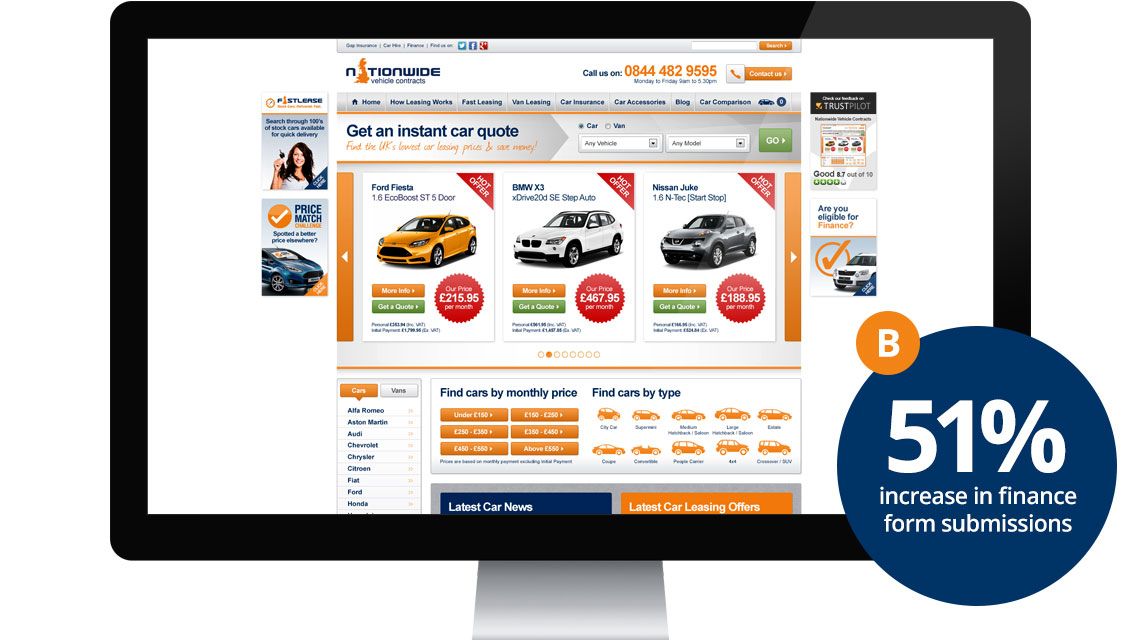 As soon as it was established with confidence that variation B was the most effective homepage design, it was successfully pushed live by the Fresh Egg development team.
What we learned
What is interesting is just how significant the increase in conversions was after making the alterations on the homepage. An increase of 51% ultimately has an important effect on Nationwide Vehicle Contracts' bottom line.
What is also interesting is the impact that removing the side banners from the homepage had. Although this variation (variation C) still produced an uplift in conversions of 39% when compared to the original, it was not as effective as the version with side banners. There had been some discussion as to whether these banners (or 'ears') might be distracting users, but ultimately they seem to be going some way to boosting a user's confidence in the site. You test and you learn!
Why does all this matter?
We've already mentioned the impact on Nationwide Vehicle Contracts' bottom line. But increasing conversions not only helps generate more cash, it also helps protect investment in digital marketing as a whole. This increase in conversions is ultimately improving the performance of all-traffic driving channels, meaning that money being spent on digital is going further. This is particularly the case for PPC campaigns.

If you'd like to find out how Fresh Egg's team of experts can help you with conversion rate optimisation, get in touch with us.