New web build
for Fargro
Helping Fargro become the go-to horticultural business in the UK with the design and build of a new website.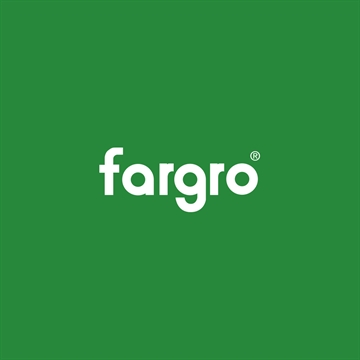 We designed and built a new website for leading horticultural business, Fargro, to increase online sales and better manage customer accounts online, taking the legacy site and rebuilding it in a search-friendly manner.
Based in West Sussex, Fargro, a leading supplier and distributor of specialist horticultural products to commercial growers, had a legacy website that could not fulfil the organisation's digital transformation ambitions.
With a vision to be the UK's no. 1 horticultural business Fargro needed a digital shop window to drive online sales and increase the self-serve functionality on the website with a customer account dashboard featuring enhanced order and invoice management.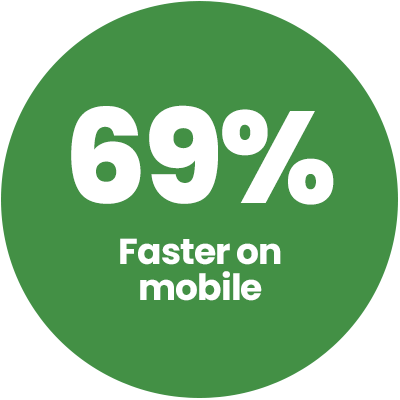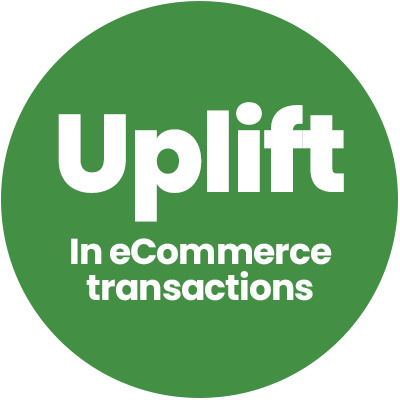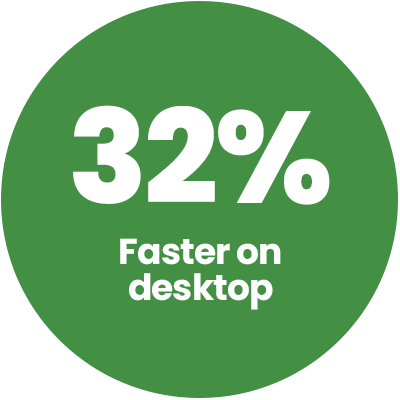 The challenge
Fargro had an elementary eCommerce website with only 3% of sales coming via the channel, yet 40% of customers placed orders over email. The legacy site presented several problems for search engines, which negatively impacted traffic, visibility and revenue.
Creating a new website would enable new and existing customers to browse an extensive range of products and transform online ordering allowing customers to manage their accounts online. Working with Fargro's existing ERP system, Intact IQ, the complex build would integrate with eCommerce platform nopCommerce and open-source CMS, Umbraco.
The project's primary objective is to increase online sales to 20% by the end of 2022. The Fargro team wants to grow this 20% year-on-year, converting the 40%+ customers placing orders via email to online sales creating efficiencies in administration.
Fargro's vision is to have a website that is a driving force in the evolution of how they operate.
When we first contacted Fresh Egg we needed expert advice on the development of a new website that would crucially integrate with our existing ERP system. Being a wholesale business, the website had to deliver on a number of business complexities as well as making it easy for our customers to navigate. Fresh Egg's team proved to be extremely flexible and responsive and more than delivered on the project. We appreciated their attention to detail and their creative approach to bringing the new website online.

Melanie Wood, Marketing Manager, Fargro
With the sheer volume of products and the breadth of Fargro's customers, we knew from the get-go that this would be a complex web build. Despite this, I led a brilliant creative and technical team that delivered the end solution. The simple and fresh design and easy-to-use experience for customers have propelled Fargro into reaching their vision to become the go-to horticultural business in the UK.

Libby Toscano, Project Director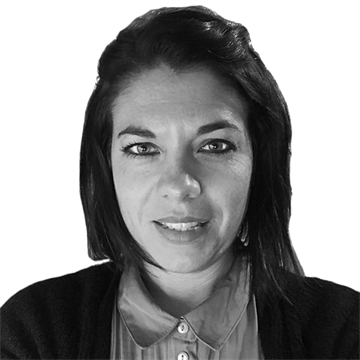 Our solution
Kicking off with a discovery phase, we immersed ourselves in Fargro's B2B business before creating a new information architecture for the new build.
We moved into a design phase following the discovery work, starting with a series of collaborative workshops to help define a new direction for the website.
Next was the wireframe stage, focusing on creating a clean, focused and straightforward experience for the entire site. This phase included creating eCommerce journeys, brochureware pages and a customer dashboard. This work resulted in an elegant and simple design with a new (and robust) design system to support future design enhancements and ongoing development. The website's new design also led to an evolution of the Fargro brand.
Our front-end developers mirrored the design system approach by creating a pattern library documenting the UI design patterns and components. Creating the pattern library allows for greater consistency and efficiency at the development stage and planning for future development.
The back-end functionality included building the eCommerce solution within nopCommerce. Umbraco is a CMS configured to mirror the component selected from the design system. This approach makes it easy to adapt the site and gives content editors complete control (and flexibility) over creating new pages.
With their vast and diverse product range and varied customer needs, we pulled a multitude of product and customer data from Intact IQ, their ERP system.
Multi-discipline build team
Several other disciplines worked with the design and development team. The website build needed to include best practice SEO advice to ensure the new build would be optimal for search.
Working closely with the development leads, our Senior SEO Manager was on hand throughout the build to ensure the new website provided a platform to build online visibility, presence and revenue.
Our Analytics team created a measurement plan to track eCommerce data and other critical interactions in Google Analytics, providing Fargro with relevant performance data. Our data team recommended the implementation of a new dataLayer and managed the migration of tracking to Google Tag Manager. We set up the events for eCommerce transactions, form submissions when applying for an account and other relevant interactions, including video views and document downloads. And finally, we made sure the data was pulling through correctly to enable Fargro to continue tracking and reporting on the performance.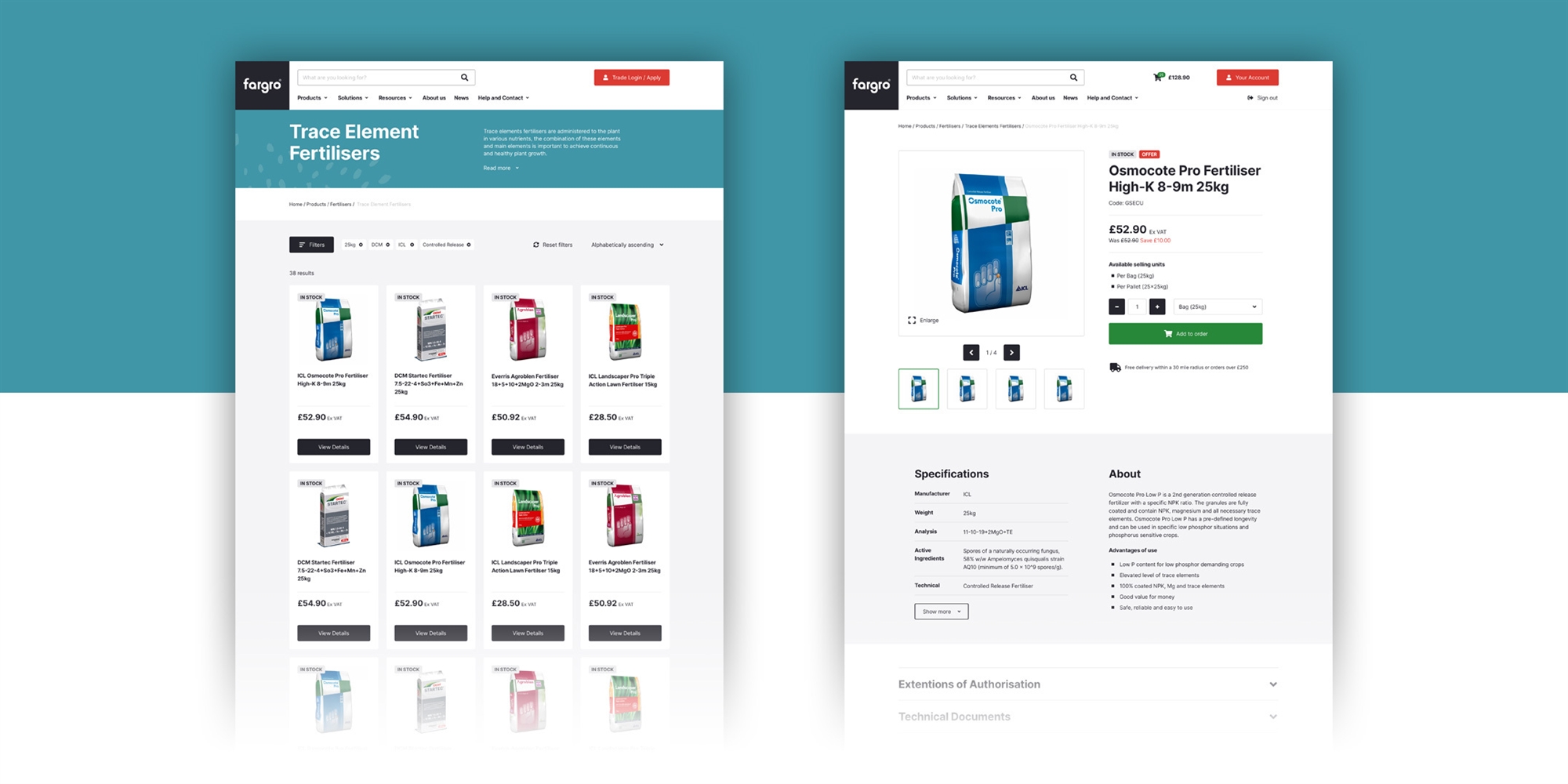 This project really showcases the power of the Design System approach. By having a single source of truth for design patterns and components we can maximise the consistency and efficiency of future projects. The approach also aims to give Fargro maximum return on investment during further enhancement projects. Long story short, we have not only delivered a brilliant first project but also laid the foundations for the future of Fargro's design and build capabilities.

Stephen Carpenter, Head of Design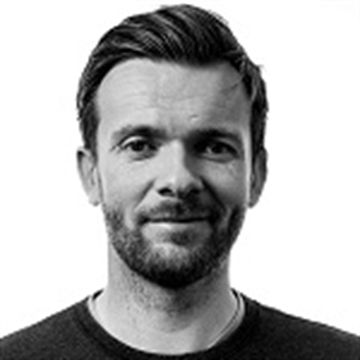 The outcome
Fargro now has a leading market website, a digital shop window with a simplified but enhanced user experience and better integrations between the website and their core business systems.
We have laid the foundations for Fargro's future on the web that supports the needs of their customers and has set them off with a new direction for their brand and visual identity.
The new site is more engaging and provides an improved user experience. It is now 32% faster on desktop and 69% faster on mobile devices for users. It has driven significant revenue in just a few months of trading, allowing more customers to transition smoothly and effectively from offline to online.
Solving the SEO issues during the design and development process has created opportunities to grow search visibility. The new website structure means Fargro has a solution allowing the business to engage with users, enhance brand reputation and increase its online presence into a meaningful business channel.

I'm delighted that we delivered a faster experience on both desktop and mobile devices. In just a few months of trading, it has helped contribute significant revenue in eCommerce via the site.

Stephen Jones, Senior Account Manager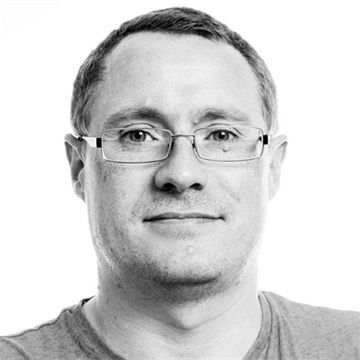 Discover other case studies