Web build and team placement
We placed a specialist digital team with the luxury holiday provider to complete a challenging website rebuild on time.
Client: Tropical Sky
Sector: Travel
Services: Recruitment, project management, web development
We partnered with luxury holiday specialists Tropical Sky to complete a challenging website rebuild project that they had been struggling to complete, due to being time poor and lacking the required development resource.
Taking a hybrid approach to in-housing, we provided technical leadership and project management, and recruited and oversaw two contract developers working from our offices.
The challenge
When we came onboard, the workstream to deliver the brand new website was two years behind schedule and there was no one consistently dedicated to building it. Recruiting and retaining development talent is difficult, and Tropical Sky had so far been unable to secure the people it needed to finish the project.
The stop-start nature of the build meant that members of the marketing team were pulled in and out of the project. This was stretching team resources, which were already at their limit, even further.
The website and eight localised sub-websites are essential to delivering bookings, so overcoming the blockers the client was facing was crucial to help the company meet its sales targets.
Following a situation analysis, including stakeholder interviews and workshops, our objectives were to:
Become the technical lead for the website development and creating a comprehensive project plan
Recruit and retain quality contract web developers to finish the website from our offices
Manage the rebuild to deliver it to Tropical Sky's specifications within an agreed timeframe and on brief
Introduce an online payments solution to replace the telephone booking process which was in possible breach of GDPR
"We brought Fresh Egg in at a crucial time for us, as we urgently needed to launch our new websites successfully to reach our targets. It was key to have a partner who could understand the technical scope of the project, find contractor resource to build new functionality within the platform and technically lead the website redevelopment through to launch."

Mike Collins, Managing Director at Tropical Sky
Our solution
In partnership with Tropical Sky, we kick-started the website rebuild within a week of receiving the brief. Our head of recruitment sourced and hired contracted Microsoft .NET backend web developers from our pre-verified talent pool in less than seven days, and two days later they were writing code.
The two contractors were based at our offices and overseen by a project manager and one of our senior web developers, who had worked with Tropical Sky previously. We managed the website rebuild project while keeping costs down for the client, by charging them contractor day rates instead of our agency day rates.
We adopted a mobile-first approach to create a fully responsive platform, and we have included more detailed cruise information on the new website.
We built an online payment solution to allow customers to book holidays through the digital platform. Agents can send a link to a payment portal to customers over the phone.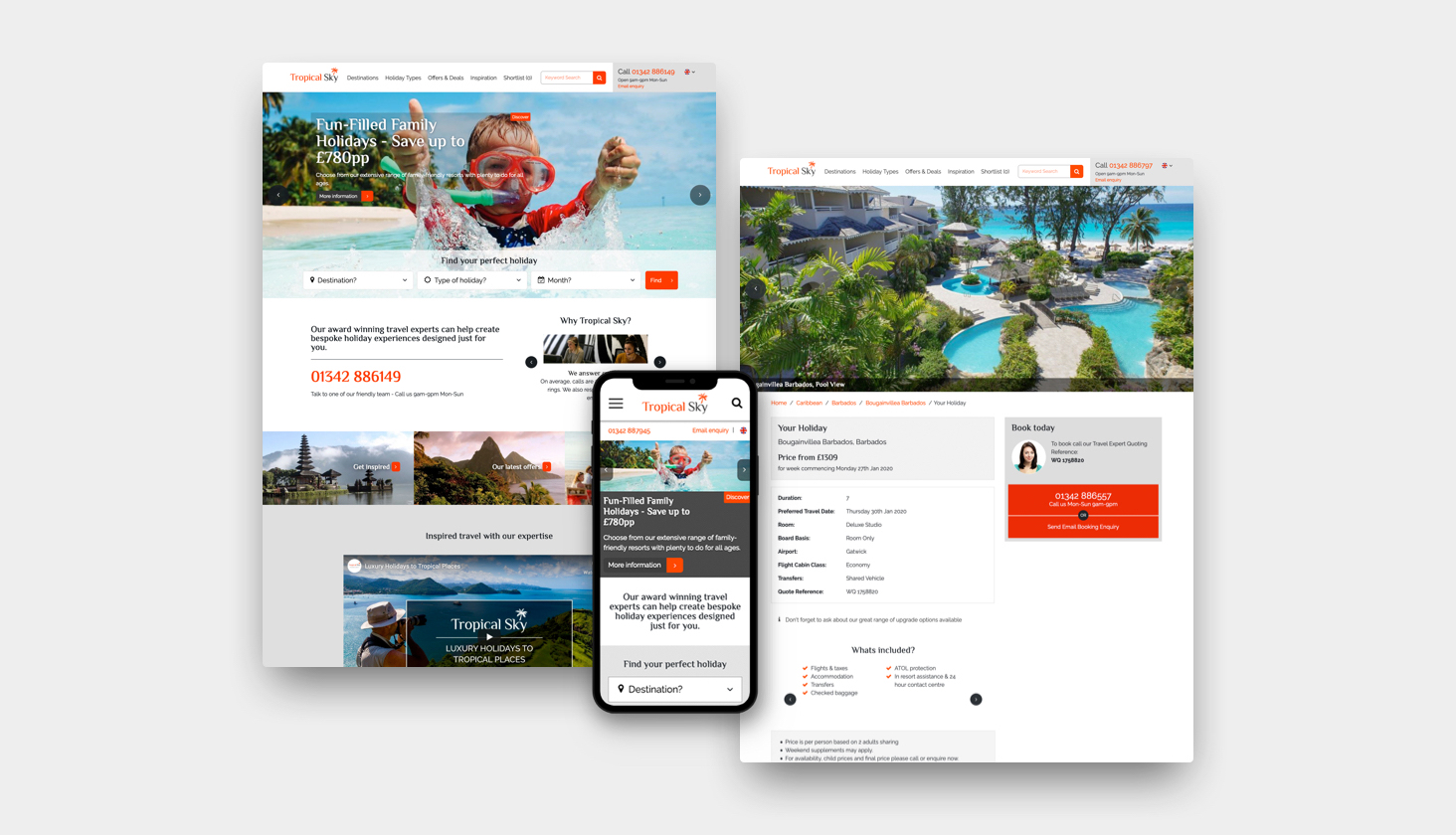 Our Fresh Egg Expert, Sree says
Without our amazing people, there's no Fresh Egg. It's a privilege to work alongside such fantastic talent, sharing ideas, knowledge, helping one another and learning - It's what makes us.


Sree Polasa, Contract Developer 
The outcome
We were able to complete the project milestones on brief within the agreed timeframes, and sometimes ahead of schedule.
In October 2019, we launched the main website tropicalsky.co.uk and eight sub-websites, including tropicalsky.ie, tropicalsky.com, www.americansky.co.uk, www.canadiansky.co.uk and www.newzealandsky.co.uk.
New website features include:
A refreshed, responsive design
Upgraded imagery
Improved user journeys
As a result of the of the support, Tropical Sky has launched all key websites to schedule.
Post-launch, we have continued to manage contractor resource, recruiting an ASP.NET developer to support Tropical Sky with further projects.
"Working with internal and contractor resources alongside a client team could have impacted progress. But with a process of clear ownership and running in an agile fashion, the teams integrated well with great communication and collaboration. The client relationship has grown from strength to strength as the quality, speed and confidence in our work has been proven consistently throughout the lifecycle of the initial project and beyond."

Karl Twort, Senior Project Manager
Our recommended user-research-based optimisation of the healthcare charity's website increased online donations by 61%.

Our audience research for a UK charity helped them drive measurable engagement across digital marketing channels.

Our Google Analytics consultancy helped the children's charity extract maximum value from their Google Ad Grant.

We built a new website for the London estate agent which outperforms competitors.

We helped NHS England London launch a website to deliver microtargeted mental health services at scale across the capital.

We upheld search visibility for the financial services provider when integrating six websites into one.

We personalised and optimised the student application process on the UK university's website and increased new applications by 55%.

Our powerful combination of SEO and CRO increased search visibility and conversion for the recruitment agency's suite of websites.

Our tactically adept CRO programme for the healthcare provider helped them hit business targets and increase sales.

Our SEO expertise maintained website traffic for the fashion retailer during a complex migration to a new platform.

We tested and evaluated a metered content system for the e-learning provider to help them turn website visitors into subscribers.

We designed and built a brand new website for a top UK tennis player which she can update while on tour.

We designed, developed and delivered a new SEO-friendly website on the Kentico platform for the e-learning provider.

Our three-year digital marketing strategy gave the UK charity a raft of insights to better engage with donors.

The innovative ideas from our split tests generated a 32% revenue uplift for the ecommerce website.

Our content and search intent analysis identified multiple opportunities for the largest UK university to improve its web content.

We integrated three ecommerce websites and migrated them to a new Shopify platform to increase revenue by 234%.

We created a promotional microsite for the education services provider which was conversion-driven for three separate products.

We rebuilt the asset-based lender's website on a headless Content Management System (CMS) and improved site speed by 70%

We developed a crucial digital transformation strategy for the UK charity and helped embed it across the organisation.

Our improved content design for the UK charity's membership page was based on user research and increased sign-ups by 21%.

Our critical user research for the UK charity saved time and money on the scoping of a new website.

We personalised the retailer's website with smart product reviews and pop-up reminders to increase revenue-per-visitor by 24%.

We generated valuable insights from audience research which helped the insurance provider deepen the engagement of its members.

We produced a six-figure increase in donations in one year.

Our pivotal user testing for the local government's new website increased the take-up of its online services.

We rapidly found and placed the perfect candidate for KFH in a specialist digital role.

We increased revenue by 221% and sales by 107% during Wineware's crucial Christmas trading period.

Our contracted PPC expert aided roadmap momentum while we placed the perfect candidate.

We discovered 53 impact A/B test ideas in two weeks for Simplyhealth.

We helped the RSPCA recruit people into key digital roles as part of their digital transformation aspirations.

We helped a leading global pharmaceutical company in their digital transformation by designing a digital capabilities strategy

We expedited the CRO programme and facilitated in-housing for John Lewis Finance

We captured user needs and created actionable personas and User Experience recommendations with immediate actions for the National Literacy Trust.

Headless rebuild of kfh.co.uk doubles primary CTA and increases Google crawl by 462%

£2.6m uplift for Ageas through a single A/B experiment.