Earlier this month I attended UX Cambridge, a three-day event dedicated to all things user experience. There were plenty of interesting keynote talks, presentations and hands-on workshops to get stuck into and I thought I'd share my takeaways.
Our focus at Fresh Egg is moving increasingly towards a user-centric approach with customer journey mapping at its heart, so the event was particularly relevant for us and our clients.

The art of assistive technologies
UX design is all about understanding the user's needs and making things easy for them. A seamless, straightforward user flow of actions through your website.
When roadblocks are identified, we find ways to remove them – smoothing the path once again for the user.
But not everyone has the same access needs. The Office for National Statistics states that there are over 10 million disabled people in the UK – around 15% of the population.
At UX Cambridge there was a real focus on accessibility, and how to improve the experience for users with specific requirements.
Interestingly, the focus was on people rather than compliance – a real user-centric approach – one that we try to embody with our work here at Fresh Egg.
Accessibility guidelines such as the Web Content Accessibility Guidelines (WCAG) – that refer the use of colour, language, context and navigation – are all well and good, but following these is of no use if users with specific access needs aren't actually able to use them effectively.
The first of two talks on accessibility given by Molly Watt and Chris Bush, was around assistive technologies and how they can help to address different access needs for people with disabilities.
Speaking with real-life experience, Molly suffers from Usher Syndrome, an incurable condition that causes deafblindness, and is the director of usability and accessibility consulting group, Molly Watt Ltd.
It was fascinating to learn about the different challenges faced by users of assistive technologies and how as UX designers we can help overcome them.
A lot of what we do at Fresh Egg starts with putting ourselves in the user's shoes. If you understand what it feels like to be a user of your website, you can enhance and improve that experience to better meet their needs.
During the workshop we did just that, testing out glasses that simulated severe visual impairments, used special gloves to represent dexterity issues, and tried assistive technology on iPhone and Android to navigate the BBC website using screen reading technology.
This helped us to understand how various access issues affect the use of technology and how we could optimise accessibility for disabled users with smart UX design.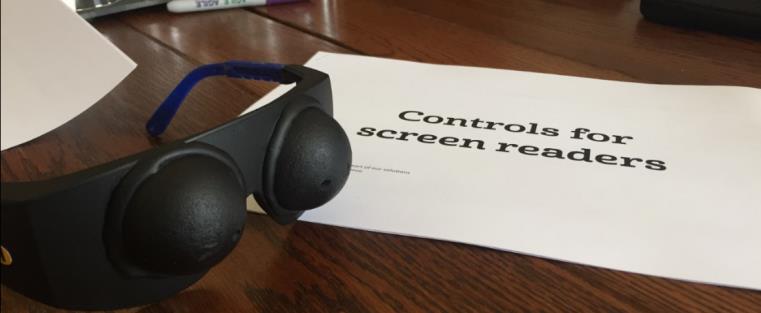 Interestingly, it doesn't have to be a disability that causes a user to have different access needs – a number of environmental or social factors could have an impact.
The below image shows how conference attendees may have different access needs to the typical user: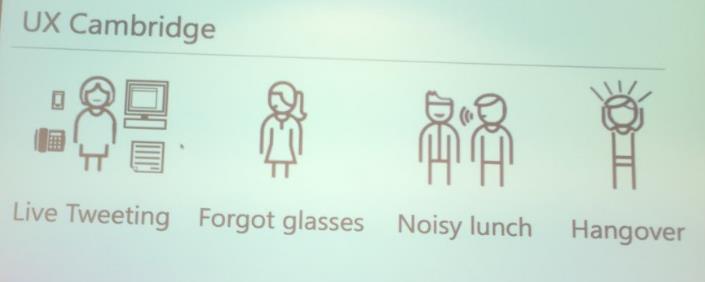 Using jobs-to-be-done to design better experiences
"People don't want to buy a quarter-inch drill. They want a quarter-inch hole." (Theodore Levitt, Harvard marketing professor).
This was an interesting one for me. The jobs-to-be-done concept is about focusing on the job that someone is trying to do – rather than just the means of achieving it. The framework looks closely at the reason that customers buy products, services, and solutions to answer their needs, desires and solve their problems.
It's based around finding the motivations people have for making a purchase – in other words, the audience intent .
By focusing on the task that a user is trying to complete, you can map out the path in more detail and explore how external factors may affect the user journey.
This user-centric approach is something that we're already embodying in our work at Fresh Egg – so the jobs-to-be-done framework is something we could make good use of across our UX projects.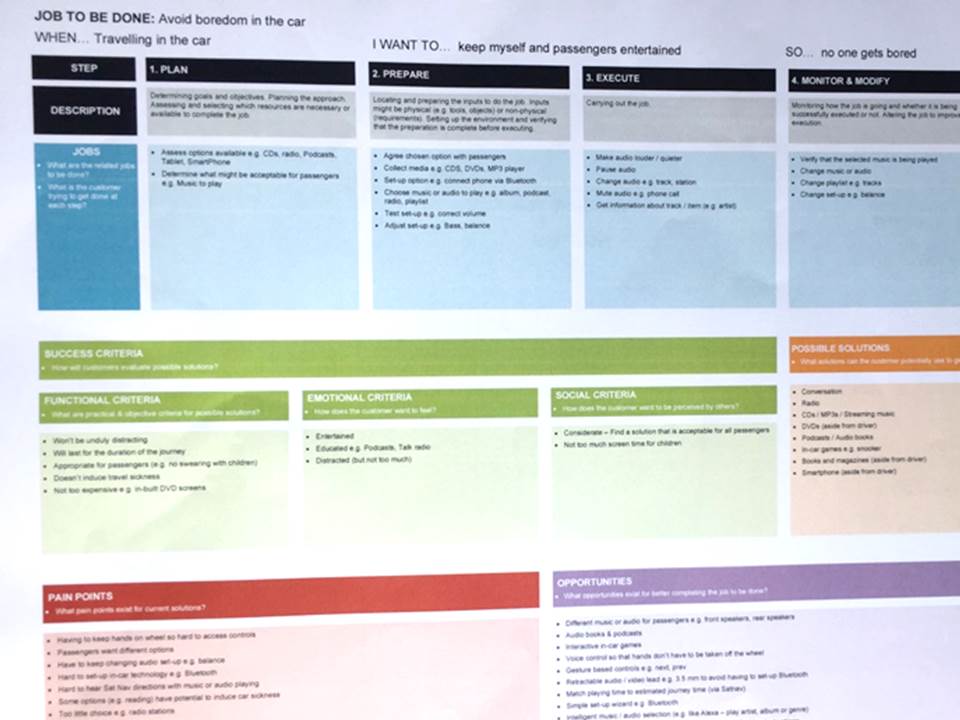 Chatbots and 'designing' conversations
With 48% of consumers preferring to connect with a company via live chat than any other way of contact ( HubSpot, 2017 ), chatbots are a hot topic in the UX world, and were much-discussed at UX Cambridge.
Nowadays users expect businesses to have a 24/7, always-on response. You must be reactive, agile and flexible to survive in this ever-changing digital world – so in the interests of resourcing, chatbots make sense. But a balance must be struck between the convenience of automated technology, and real human interaction.
Questions are raised about how much 'human' you should inject into your chatbot – what should its personality be, and how should that relate to its purpose? If it greets you by name, is that creepy, or a welcome familiarity?
During a session ran by the team from WebCredible we discussed how a chatbot for UX Cambridge might work, mapping out the main use cases and exploring how it would respond to different event related enquires.
The bottom line was that user research is crucial to building a good chatbot. As with all user design, understanding your audience's needs and behaviours is key to creating an experience they enjoy and feel comfortable with.
The importance of user research to underpin UX work was, as expected, a strong theme throughout the whole conference, and something we continue to put at the forefront of our work here at Fresh Egg.
Read how we use Customer Experience Journey Mapping and audience intent to inform our work.
The range of sessions at UX Cambridge was great. Over the three days I attended well over ten talks and workshops on some very diverse topics.
If you haven't been already and are interested in UX, I would recommend UX Cambridge. I'll definitely be going along next year – possibly to present as well as attend – so see you there!
Learn more about how Fresh Egg optimises user experience for our clients.