How do you REALLY know that you are consistently delivering work of the highest quality for your clients?
As head of client delivery here at Fresh Egg, there's a long list of things that might contribute to keeping me awake at night.
At its core, my role is to oversee and direct the management and delivery of the agency's projects. So my success, and therefore that of the agency is measured in a large part against our clients' satisfaction. At Fresh Egg, we use several methods to measure how we are doing. For instance, clients complete detailed project feedback and we also undertake internal reviews that allow us to capture learnings and implement best practices.
However, like many of our clients and much of the wider marketing industry, we use Net Promoter Score (NPS) as an ongoing metric to measure client satisfaction.
NPS is calculated using responses to one, simple, question "How likely is it that you would recommend Fresh Egg to a friend or colleague?". Our clients answer this by selecting a score between 0 and 10 - with 0 being "not likely at all" and 10 being "extremely likely." Detractors are the respondents who score us between 0-6, Passives between 7-8 and Promoters either 9 or 10. The overall NPS is then calculated by subtracting the % of Detractors from the % of Promoters. Passives count towards the total number of respondents but do not directly affect the overall score.  If they wish, clients can also provide an additional comment about the agency and their experience working with us.  
We recently conducted our bi-annual NPS survey, sending it to the clients we have worked with over the last six months.  We are absolutely thrilled to share its result as it's the best we have ever received - a total score of 75, with 58 Promotors and 19 Passives.
The word cloud below shows some of the key comments our clients used to describe us, which I think speaks for itself!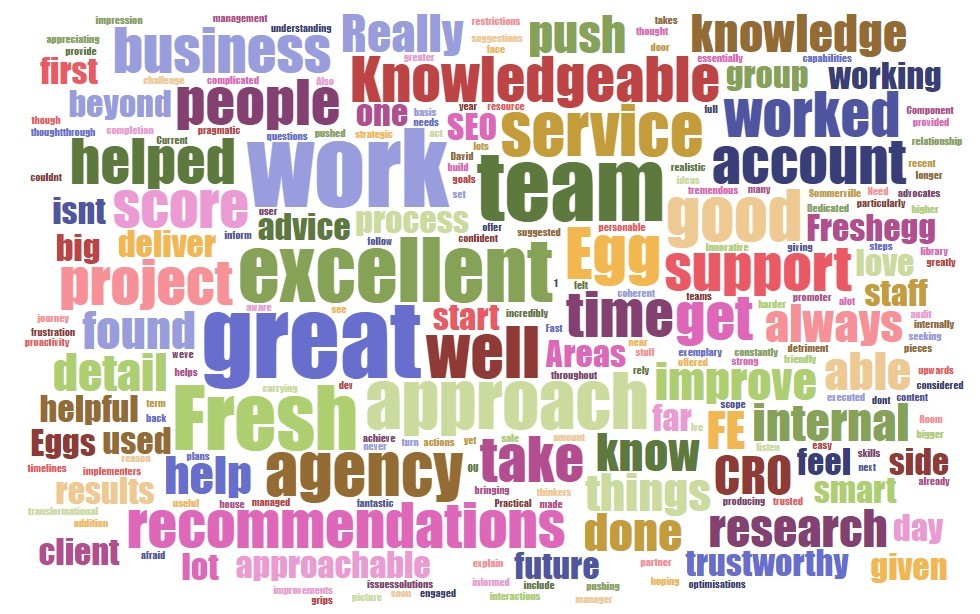 We take the results of NPS very seriously. We are always looking for ways to improve and welcome the feedback our clients provide us with. 
"I could not be prouder of the result of our most recent NPS survey.  Having read through all of the comments and feedback it's become even more evident how everyone at Fresh Egg believes and realises our company values of being helpful, truthful, tenacious and pioneering.  2018 has been a phenomenal year for the agency, with us being awarded multiple awards and commendations for our work.  However, to my mind, there is no better commendation than receiving it back from your clients and our fantastic NPS reflects this."
Pip Stafford, Founder & Business Operations Director.
We would like to thank all of our clients for their feedback and we look forward to continuing our success in 2019!