Paid Media | 5 MIN READ
Are you ready to embrace Google Ads AI in a more meaningful way? The recent Google Marketing Live event revealed some fascinating enhancements coming to the Google Ads platform over the coming months, and it will shake up the paid advertising world.
If you use Google Ads, what can you expect to see?
If you've not seen the news, the world of Google Ads is focusing its attention on these three themes:

What does this mean?
The new elements coming to Google Ads will help marketers connect with new (and existing) customers through new creative features and help instil confidence in customer confidentiality, another current hot topic in the marketing space.
The new features will be available soon. Read on and discover how these changes will impact marketers in the days, weeks, and months ahead.
Connecting with audiences
Engaging customers with video views and demand gen campaigns
Google AI tech will make it easier than ever for advertisers to connect and find audiences. This will be achieved in two primary ways.
Video view campaigns – combines all video ad formats and allow users to maximise results. It will be charged on a cost-per-view basis. The new feature simplifies the process of getting a video pushed out to your target audience by allowing users to create one video with Google and then tailoring the format to fit the placements across the Google networks.
Demand gen campaigns - allows advertisers to target their audience on their most visually engaging platforms, YouTube, Gmail and Discover. It will use AI-generated lookalike audiences and tailored audience segments to measure conversions and show the performance impact of brand uplift and recall.
What this means...
Increased visual emphasis for advertisers
Introduction of new video campaigns for streamlined and tailored video placements
Demand generation campaigns for visual-focused advertising
Use of AI to target new audiences and measure campaign impact
Connecting customers with new, search generative audiences
What's coming down the line will take search to a new level. Get ready - it's an entirely different experience.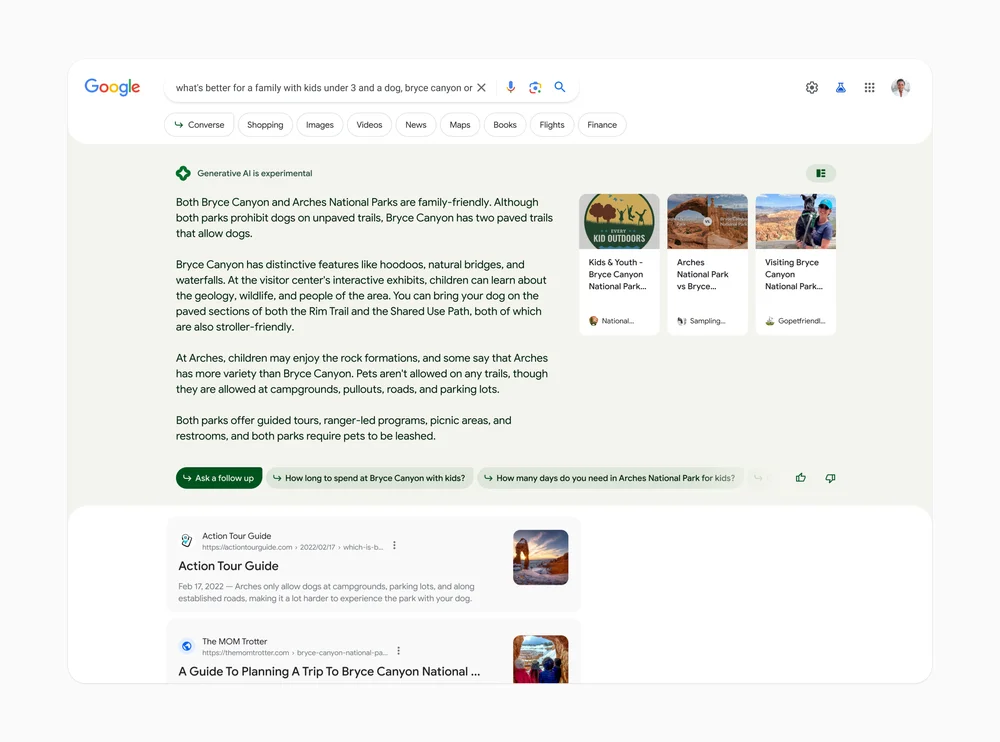 What this means...
Google's new feature will use machine learning to give users more tailored search results based on the user's journey.
When users click on the topics below the answer, the search takes them to the new conversational mode, where they can ask Google more about the topic and discover more about the subject.
The context will move from each question, naturally continuing the user's search.
Creative freedom powered by Google AI
Marketers will be able to create more in less time with new powerful AI features aiding creative output with two key innovations.
Google PMax adds generative AI to create assets
Google's newest campaign type will offer a more automated experience with Google AI fed into the campaign setup process.
Advertisers will now be able to give AI text prompts to create custom assets in real time for their PMax campaigns.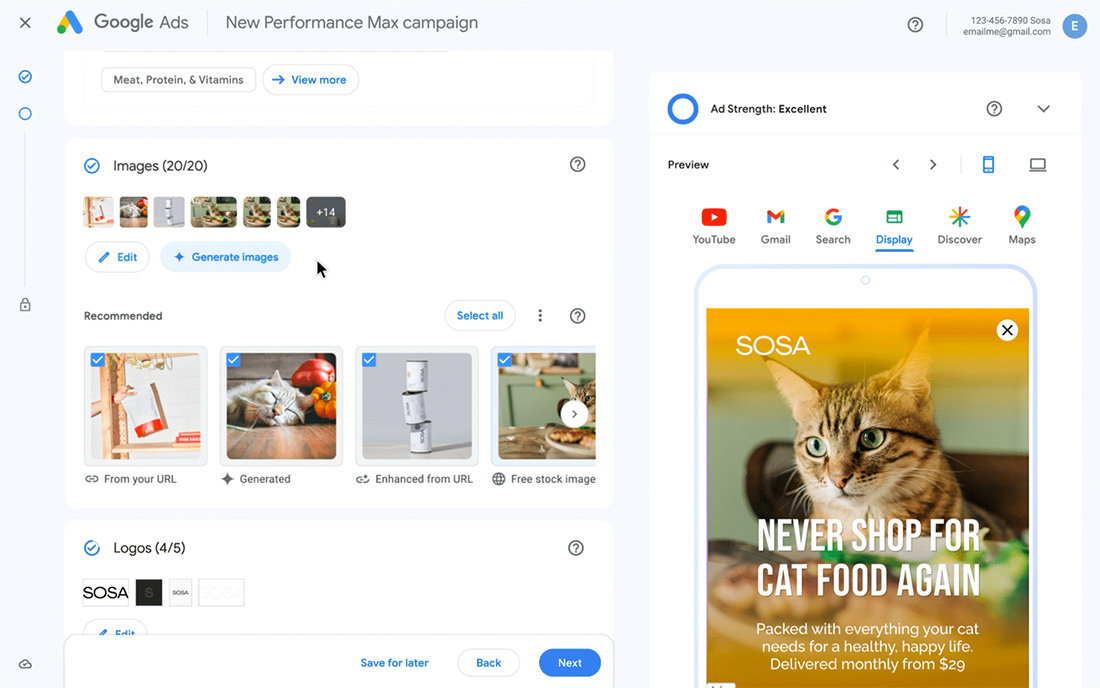 Campaign creation using conversational AI
Marketers will can now build campaigns in Google Ads with the help of the AI chat box function directly in the interface.
A real-time walk-through campaign building will be a game changer for new advertisers or beginners to PPC and allow users to create and enable campaigns quickly and effectively.
What this means...
AI-driven campaign creation with real-time suggestions for assets and messaging
Conversational search experience, enabling users to explore topics through prompts
AI-powered campaign building for smaller businesses and a more straightforward campaign creation process potentially increase competition
Collaboration between marketers and AI to optimise campaign messaging
Confidence in advertisers
Privacy concerns are driving changes in customer behaviours
Marketers must consider privacy rights with Google data and highlight how important this is to advertisers. Targeting the right consumer is crucial in maintaining strong levels of consumer confidence, and two new features will help advertisers enhance targeting options.
Google data shows 49% of people would switch brands for a better privacy experience. If you are not looking after this vital aspect of customer concern, you are likely to see a user exodus.


Fiona Smithson, Head of Paid Media 
Google Analytics 4 audience builder
The new feature allows advertisers to build new audiences from Google Analytics right in their Google Ads account.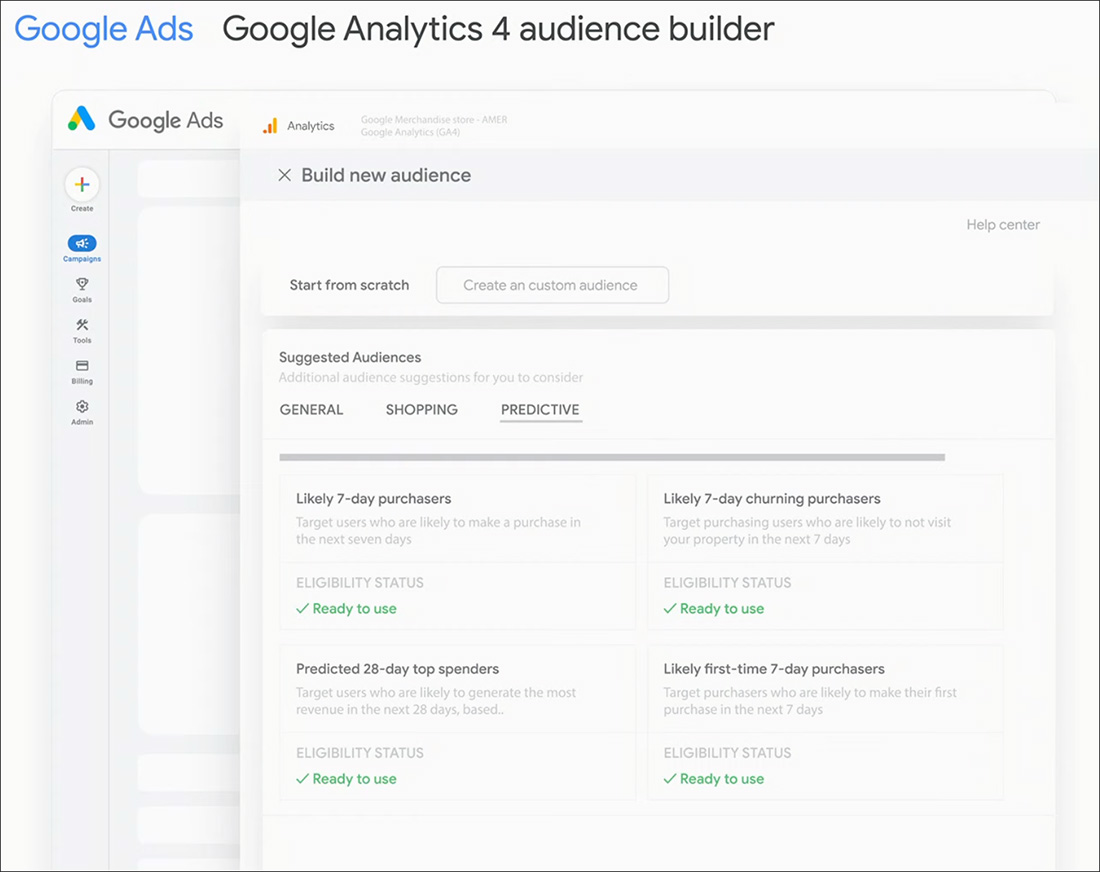 What this means...
It uses AI to build predictive audiences, which Google says will help advertisers reach people more likely to purchase
The new feature seamlessly connects audiences to the Google Ads account and opens more audience target options across Google Ads.
Performance Max improved search term insights
Advertisers have long requested more transparency on how Performance Max campaigns drive results.
What this means...
Will give greater visibility on performance results with an improved search insights report
New insights will allow marketers to see how PMax responds to changes allowing marketers to refine customer campaigns further.
Don't take our word for it
Here's how Google lets you create campaigns using conversational AI
In conclusion
What does this mean, how will it impact paid media specialists and teams?
As with all innovations, there are pros and cons, and the announcements by Google are no different. Here's our final word on how the changes will affect marketers.
It's a game-changer for smaller time-poor teams; you'll be able to do more
It could lead to increased competition and opportunities for smaller businesses
It's possible the tech will lead to a lack of brand clarity/disjointed messages
It will lead to quicker creative turnaround and the need to keep assets fresh
The updates highlight the Importance of high-quality creative and the need for continuous testing and adaptation
Excitement and anticipation for the upcoming features and their impact on digital advertising
Want to know more about how we can support your paid search performance? Contact us for support on how we can help your organisation get the best from its Google Ads spend and maximise opportunities from paid search.