Culture | 3 MIN READ
We caught up with Jake Lambert, who joined to head up our Conversion team. We asked Jake about his career, vision for the role, and what colleagues and clients can expect.
Firstly, welcome Jake. Tell us about your career and how you arrived as Head of Conversion Services at Fresh Egg.
Hello, thanks for having me! I arrived having been the Head of Experimentation at Feel – a vitamins and wellness company - where I took the CRO programme from a couple of tests a month to the core decision-making tool we used to make website changes. Before Feel, I worked with several agencies, like Conversion.com and Yieldify, and clients on developing their experimentation practices to provide the most value possible.
What made you choose Fresh Egg as your next career step?
I had two boxes I needed to tick before taking the next step – can I build something I'm going to be proud of, and will I enjoy spending time at work? Fresh Egg checked both as I felt it was an exciting time to join with everyone I spoke to, wanting to drive things forward while maintaining a culture I wanted to be a part of. It hasn't disappointed so far!
I consider the most significant wins when you shift the mindset of a business from using research and experimentation for revenue generation to the method of making decisions.


Jake Lambert, Head of Conversion Services 
How has the world of conversion changed as a specialism during the last year?
The market is maturing because conversion is no longer a thing you employ a single person to do and hope they make some money by moving things around on the website. Every year I see genuine innovations emerge from a company using the latest research or CRO practices to make a vital decision, which will only continue.
What is the one tool that you cannot do your job without?
Teams/Slack – especially in the post-Covid world. We work with such a variety of experimentation, programme management and research tools that if one was retired, I feel we could pivot to another and still be very successful. Still, if you took away the ability to communicate with everyone, it would be a challenging environment to work in.
What is there from your previous jobs that you feel you'll bring to your new role?
I bring relevant experience from experimentation agencies such as Conversion.com that can apply to some of our processes here at Fresh Egg. The luxury of having worked at a competitor is that I can bring the good bits whilst leaving those that didn't work so well behind.
What's been your biggest win in CRO/Experimentation?
There have been plenty of significant uplifts from single experiments, going all the way to 8-figure revenue lifts from an annual programme. Still, I consider the most significant wins when you shift the mindset of a business from using research and experimentation for revenue generation to the method of making decisions - I've had the pleasure of seeing this with several brands such as Just Eat, T.M. Lewin & Unity Technologies.
How do you see conversion rate optimisation progressing in the future? What are you excited about?
There is so much opportunity to have CRO embedded at the heart of your business. Everyone talks about being data-driven, but what sets companies like Amazon apart is their ability to make multi-million-pound failures (remember the Fire phone!) without being constrained by fear. They know that without those risks, they won't innovate to make billion-pound gains, and I'm excited to help other companies embed those practices.
What can our clients look forward to with you taking the reins on your first project?
Value and strategic innovation are my two cornerstones. I am determined to hit whatever goals we have in place for our programmes. If we say we'll deliver something, we'll go above and beyond to do so whilst demonstrating the possibilities of the latest techniques and innovations in this industry.
How do you stay on top of changes in the ever-changing world of conversion services?
The great thing about this industry is that we're pretty open – we like to shout about the "cool" things we are doing because we're all passionate about them. Conferences, LinkedIn (if you can get past the shameless self-promotion!), webinars and blog posts are all good places to start.
What gives you the greatest satisfaction when doing your job?
It's definitely watching others develop to share the same passion for CRO and research that I have. We can discover some exciting things about how humans behave (and respond) to specific triggers and use that to improve experiences.
If you could only use one website (or app), which one would you choose?
It would have to be Amazon. It's so convenient to buy anything I need with just a few clicks!
What do your friends and family think you do for a job?
"Make websites better" is how it's been described before! Talking about the whole process behind my work tends to be met with glazed eyes after I've been speaking for half an hour and still have a couple more to go, so I'll stick with that.
What's your go-to hobby out of work?
For me, it's watching or playing almost any sport. I recently began playing golf and have become slightly addicted to that, so it would be the one I pick, but you'll usually find me watching one of the several games at the weekend.
Finally, (the most important question) what is your favourite way to eat an egg?
At Easter, when they're made of chocolate!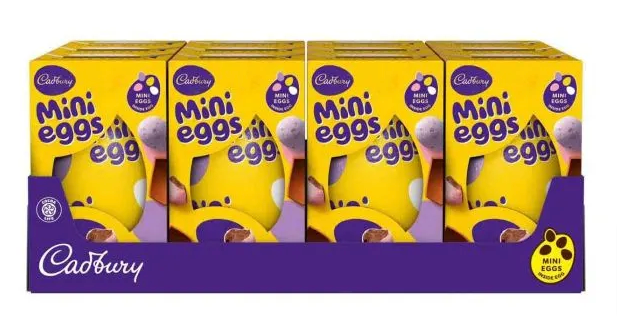 Image copyright: Cadbury Gifts Direct