A guide to
performing
audience-led
keyword
research
We'll explain how audience-led keyword research will help influence and shape content strategy.
Without essential data and research on the audience, how can you create a succinct content strategy? Think about it, have you ever been in a meeting where a decision on creating or removing a piece of content has happened based on a gut feel or a meaningless search volume statistic? Has that decision led to a meaningful result?
The fact is, to make a success of your content strategy, thinking about how your audience searches and consumes content should be step one. Without this essential information, the strategy has already been set up to fail.
The power of keyword research is often misunderstood or underestimated by a lot of marketers. It isn't as simple as finding the keyword with the highest search volume and targeting it to be 'position 1' in Google. Our approach to keyword research is led by an audience-first mentality, driven by a detailed understanding of who to target with marketing activity before getting stuck into a content strategy.
We'll take you through the following:
Call us to discuss how audience-led keyword research will help your search engine visibility
Identifying target audiences
It's probably fair to say that you already have at least some idea on who your audiences are when it comes to starting keyword research. However, sometimes the needs of audiences can be forgotten in favour of chasing keywords that are high in search volume and might attract traffic into the website.
As a starting point, we sit down with key stakeholders from across the business and decide on priority audience(s). This session can often lead to many different audiences coming to light, so it is important that we work with stakeholders to prioritise them according to opportunity. When we're prioritising, there are a few key things to think about:
What audiences currently convert on the website?
What audiences are most likely to use search engines to access the website?
Are there audiences that have the potential to bring a lot of conversions but currently don't?
Once these key questions have been answered, we can select the most important 2-3 audiences for the next part of the process. Don't worry, all audiences can eventually go through this process, it's just important that focus is given to the priority audiences - you can't optimise content for everyone at once.
With our priority audiences agreed, it's on to the next step…
How empathy mapping works
A completed empathy map allows us to construct questions for further audience interviews (which is the ideal next stage) or gives us a great starting point to begin keyword research. Through empathy mapping, we can inform the focus of the keyword research and identify any needs that may have been missed without this process.
Empathy mapping for organic search purposes might seem unusual, but it allows us to think beyond the query and allows us to focus on how audiences are searching - it's a method we use extensively as part of our processes. It's a quick and simple way of visualising the experiences that customers have and brings the following benefits:
Introduces a new way of thinking about how marketing activity is structured
A chance for key stakeholders outside of marketing to provide input. This will often give us insights that might not have previously come to light. For example, getting some of the call centre team in is always a good idea as they are in contact with target audiences on a regular basis
Even if we know a lot about your audiences, you'd be surprised at how empathy mapping can give new perspectives on a customer group
Here's an empty empathy map to give you an indication of what they look like if you haven't encountered one before: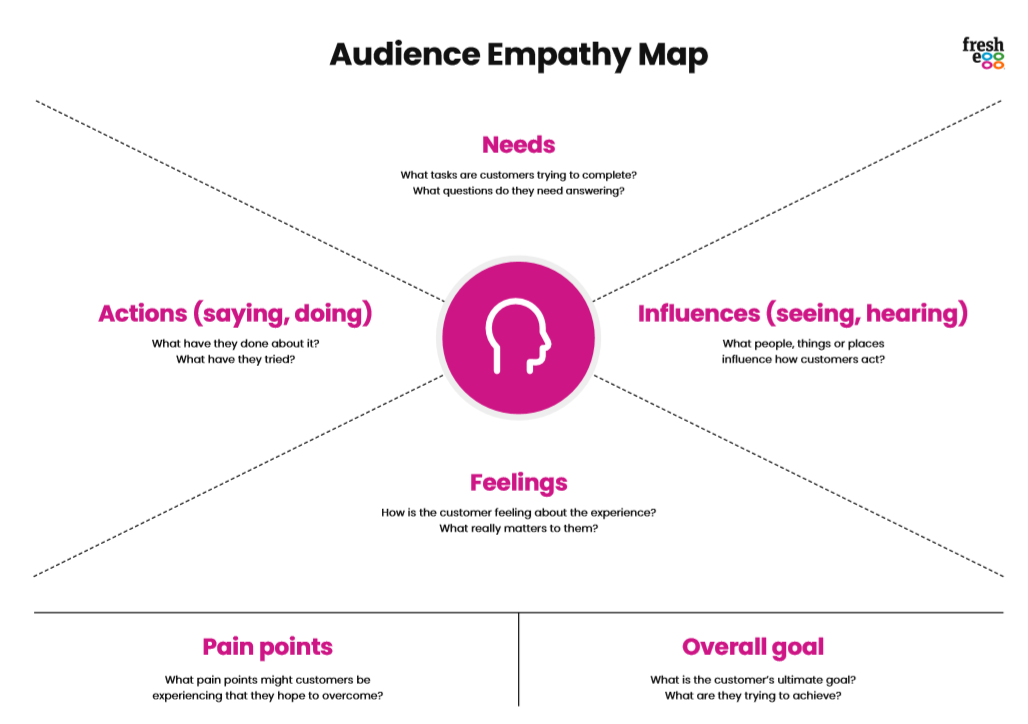 Stakeholder interviews
If time allows, we sit down with key stakeholders in the business to ask further questions around audience focus.
While it might seem excessive to conduct stakeholder interviews ahead of keyword research, the information we collect from employees is always incredibly valuable when we start to mine for relevant search queries.
Once we have our priority audiences and know their needs, actions, feelings and influences (through empathy mapping and stakeholder interviews), we can move into the keyword research stage of your content strategy development.
Keyword research
The starting point is going back to our focus audiences, taking what we've found out about them through empathy mapping, stakeholder interviews, and other data available to us and using it to begin creating a list of queries. There are many different keyword tools we use for this job but a few to get started with include:
Do not underestimate how long this task can take. It isn't as simple as going into the tools and pulling out the lists that they give you. We look at each query presented to us; does it make sense in context to out focus audiences? We think about how that query can be broken down and explore those options further. We also never restrict ourselves to a set number of queries as this limits focus and will influence the next stage of keyword research.
Once we have our big list of queries, it is time to look at how to break these down further. At Fresh Egg, we use Google's micro-moments to sort queries and it's a useful way to think about how users search intent changes depending on the type of query being used.
Using Google's micro-moments
I want to know - informational search
The user is seeking advice, answers to questions or needs to understand something. This could apply to potential new customers very early in their journey, but also existing customers seeking aftersale service.
I want to do - instructional search
Users are seeking guidance on how to complete a task, which may include a search for relevant tools. They may be planning ahead or the need could be immediate.
I want to go - navigational search
This includes both online and offline forms of navigation, so could be searching for a website or place by name, or perhaps looking for events they can attend.
I want to buy - transactional searches
The user is considering a purchase and is searching accordingly. This group will include direct product searches, price, and payment-related information, or local stockists, for example.
Understanding your current performance
So, you have your sorted list of keywords - now what?
Add them to a keyword tracking tool. STAT Search Analytics is our tool of choice but there are plenty of others out there that give you data on each keyword.
Things to assess for each keyword include:
Monthly search volume
Whether visibility changes depending on the device being used to search
What URL (if any) is currently visible for the query?
What SERP features are visible for the query (e.g. Google Answers, video, images)?
Who else is appearing for the query within search and why?
Scoping out the content strategy
Using all the data we've collected throughout this process, we can now begin to focus on areas that interest our target audiences and increase our chances of competing in search.
It's at this stage that we start prioritising actions based on what we know our audiences are looking for, kicking off the content strategy.
In summary: conducting audience-led keyword research is a great way to gain the most traction from crafting a content strategy. Without it you are heading in blind and are likely to be producing content that doesn't get the results you need.
Webinar: How the search landscape has changed overnight and what to do about it
The team discuss that while SEO fundamentals aren't changing, user behaviour is rapidly evolving in hard-to-predict ways - but there are things you can do to stay ahead of your competition.